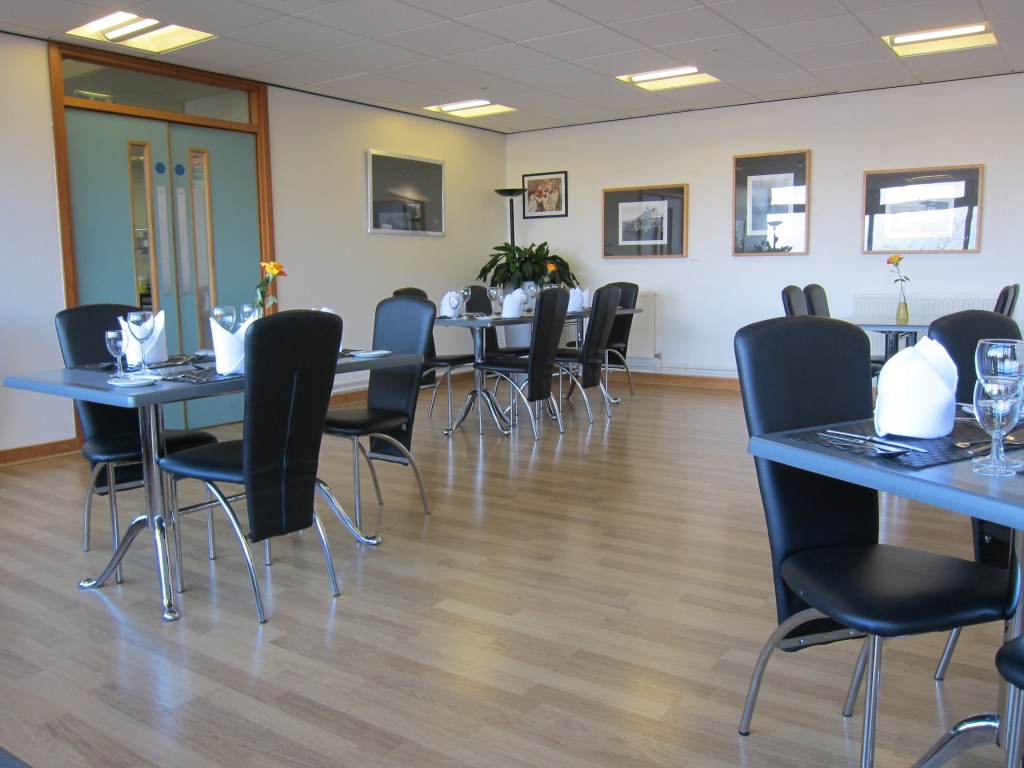 It's not often that a meal out ends with the chefs coming out of the kitchen to hear what you thought of their cooking  and to share the tricks of their trade, but that's what happened at the end of my Fine Dining evening at the City View Restaurant. In fact everyone in the crowded restaurant gave the young chefs a round of applause in appreciation of their cooking skills.
Before I visited City View I didn't know what a Lemon Liaison was, now I know how to prepare one.
The chefs at the restaurant at the Shooters Hill Campus on Red Lion Lane are students studying for NVQs in catering and hospitality. At the Thursday Fine Dining Evening they all wear the red caps showing they are advanced, level 3 catering students – the level 2s wear black caps and level 1s white caps.  As well as preparing and cooking food for City View, students take on the role of greeters and waiters at the restaurant and prepare food for the campus canteens which cater for up to 250 students a day. Last year 100% of the students passed their NVQs;  work destinations for alumni include the Ivy, the Tate Modern restaurant and the Tudor Barn.
Earlier this year students had the opportunity to work with Michelin-starred chefs Richard Corrigan and Ron Blaauw on the catering for Sail Royal Greenwich Olympic tall ships cruises on the Thames. The London Calling  web site explained their task:
Michelin-starred chefs Richard Corrigan and Ron Blaauw (from Holland) have combined their skills to create recipes and menus designed specifically for the Sail Greenwich Ltd Olympic cruises. Under Corrigan's and Blaauw's guidance and supervision, three choices of menus (Walking Dinner, Gourmet Buffet or Buffet – each with a lunch and dinner variant) are produced by catering and hospitality students at Shooters Hill Post 16 Campus college. These students are already famous for their successful City View Restaurant, and the food served on Thalassa promises to be equally appetizing.
There are some great pictures of Richard Corrigan and Ron Blaauw with Shooters Hill students on the
Uretopia Flickr site
.
The menu for the evening looked interesting; it included several dishes I hadn't tried before:
Tomato & Basil Soup
Garnished with Chicken Quenelles and Lemon Liaison
SECOND COURSE
Smoked Salmon and Prawn Parcels
Lime and Dill Mayonnaise
MAIN COURSES
Pan Fried Calves Liver with Crispy Pancetta with Lime Butter and Raspberry Vinegar
Served with Boursin, Sage & Potato Beignets
Grilled Parrot Fish with Ginger Garlic Dill & Turmeric Marinade
Served Creamed Potatoes
Cassette of Baby Vegetables
& Wild Mushroom "Choron"
Followed by
A Choice of Dessert, Fresh Fruit Salad or Cheese from the Sweet Trolley
Coffee
The food was really very good; my only criticism was that the portions were too generous, and I had no room to try any of the amazing looking confections on the well-stocked dessert trolley. Our menu started with Tomato & Basil Soup garnished with Chicken Quenelles and Lemon Liaison which was delicious. The quenelle was surprisingly light, with a definite lemony nip to the chicken filling. A  bottle of Australian Chardonnay, costing a fraction of the price charged by most restaurants, matched it well. The Smoked Salmon and Prawn Parcel had a generous portion of creamy prawns with a tang of lime, wrapped in smoked salmon.
Then the delicately flavoured fish,  perfectly cooked, on a mound of smoothly creamed potato, with a creamy dill, prawn and caper sauce. And was it my imagination or had the sauce been shaped into a picture of a blue whale? When the post-prandial cup of decaffeinated coffee was accompanied  by a dish of chocolate-swirled cinder toffee I was starting to feel like my "
waffer thin mint
" moment was approaching.
The Fine Dining Evening costs £20 per person excluding drinks, which  just about covers the cost of the ingredients. The restaurant is decorated with photographs and art work produced by students and has great views over the city.  There's been some changes since City View was last mentioned on e-shootershill: they now accept payment by card and cheque and they have relocated the smoking area. There are plenty of car-parking places in the evening, though we enjoyed the walk  down the hill.
City View also opens at lunch time from Tuesday to Friday. A full four course menu is available, but it is possible to choose which courses you have – for example just the soup course. When I visited at lunch time the main course was a generously portioned slow cooked braised lamb shanks served with buttered mash and greens, but I stuck to a starter of polenta crusted salmon goujons with spiced tomato and red pepper relish, which was delicious and enough for lunch.
Both lunch and the Fine Dining Evening can be booked through the City View web pages or by phone on 020 8319 9790. The web site has been redesigned recently and now includes a City View blog page for diners' comments. If you want to really spoil yourself the college also have very reasonably priced, well equipped  hair and beauty salons.
City View Restaurant is well worth a visit, and you never know you may have a meal prepared by a future celebrity chef.