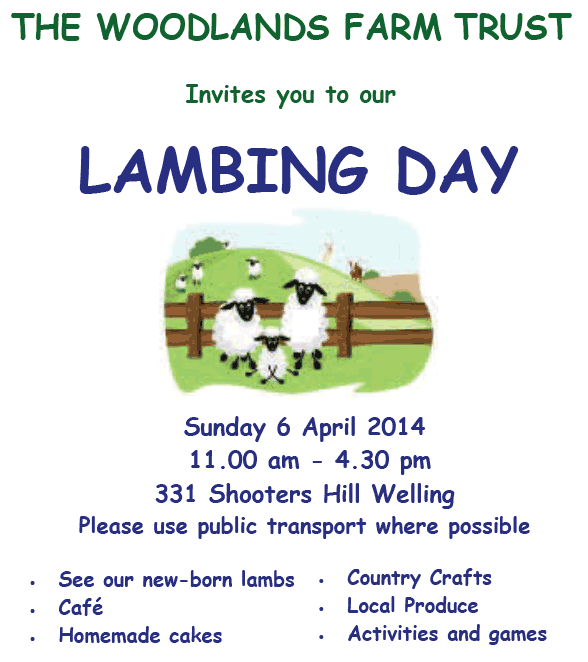 The first of this spring's lambs have already been born at Woodlands Farm, and there seem to be a lot of triplets this year. It's a busy time for farm manager David Jones and the lambing-trained volunteers at Woodlands. There's an opportunity to see the new lambs at the farm's Lambing Day on Sunday 6th April. Maureen from the farm wrote with details:
All are welcome at the Woodlands Farm Trust Lambing Day on Sunday 6 April, from 11am-4.30pm. Come and see our new-born lambs, and enjoy the chance to buy quality local produce at reasonable prices, including home-made preserves, cakes and honey.  Relax in our café, enjoy the treasure hunt or get involved in craft activities. Entry is £1 for adults and 50p for children, all proceeds from entry charges and our stalls go towards keeping Woodlands Farm here as a conservation project and valuable resource for the community. A great family day out!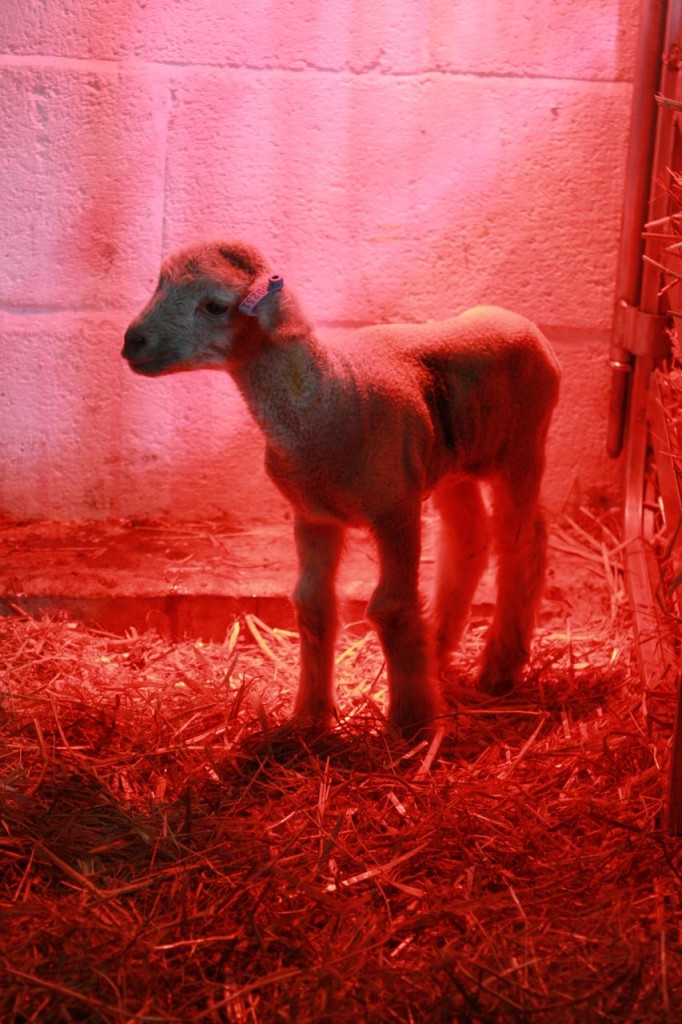 In the week following Lambing Day Hannah Forshaw, the farm's Education Officer, will be hosting their Easter holiday activities for children. Hannah wrote with details:
Wednesday 9th April – Make a willow snail 11am and 2pm £2 per child
Learn how to weave your own willow snail to take home.  This will sit nicely in a plant pot in your garden, but don't worry this is one snail which won't eat your plants!  Booking is essential, to book call 020 8319 8900.

Thursday 10th April   – Guided Farm Tours 11am and  2pm Free
Join us for a guided tour of our animals at Woodlands Farm.  Meet our new born lambs and there will be a chance to stroke our chickens and get up close to our guinea pigs Leah and Tandi.  Booking is essential, to book call 020 8319 8900.

Friday 11th April – The Woodlands Farm Easter Egg Hunt 10am-2pm £1
Can you follow our trail to find all the eggs hidden around the farm?  If you manage to find them all you will get your own chocolate egg to take home.  This is a drop in activity so pop in anytime between 10am-2pm.

For more information, see our website or contact Hannah Forshaw on education@thewoodlandsfarmtrust.org
Woodlands Farm is located on the borders of the London boroughs of Bexley and Greenwich.  At 89 acres, it is the largest city farm in the UK.  Our priorities are education and conservation, and we are part of the Natural England Higher Level Stewardship Scheme.  Our education programme attracts visitors from pre-school to third-age groups.  The Trust aims to involve local community groups, schools, volunteers and businesses in farming and conservation, helping to bridge the current town-country divide.
We are open 9.30am-4.30pm, Tuesday-Sunday (except Christmas Day).  There is no entry charge except for special events, though donations are always welcome.
Nearest tube: North Greenwich
Nearest BR: Welling
Buses: 486 and 89
We are a farm so sensible shoes and clothing are recommended!  We do allow dogs, but please note that these must be kept on a lead and not taken into any farm buildings.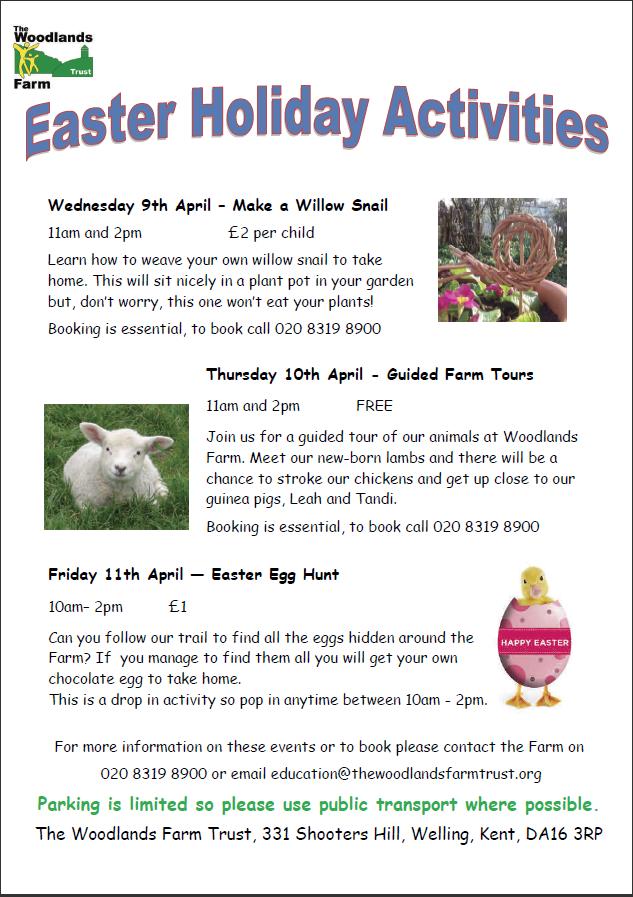 Children taking part in the Easter activities will be able to use the farm's brand new education centre which was opened on Monday by Horticulturalist and former Blue Peter gardener Chris Collins with the Mayors of Greenwich and Bexley.  The opening was well attended by members of the farm and local politicians including a number of Greenwich councillors and Eltham MP Clive Efford.