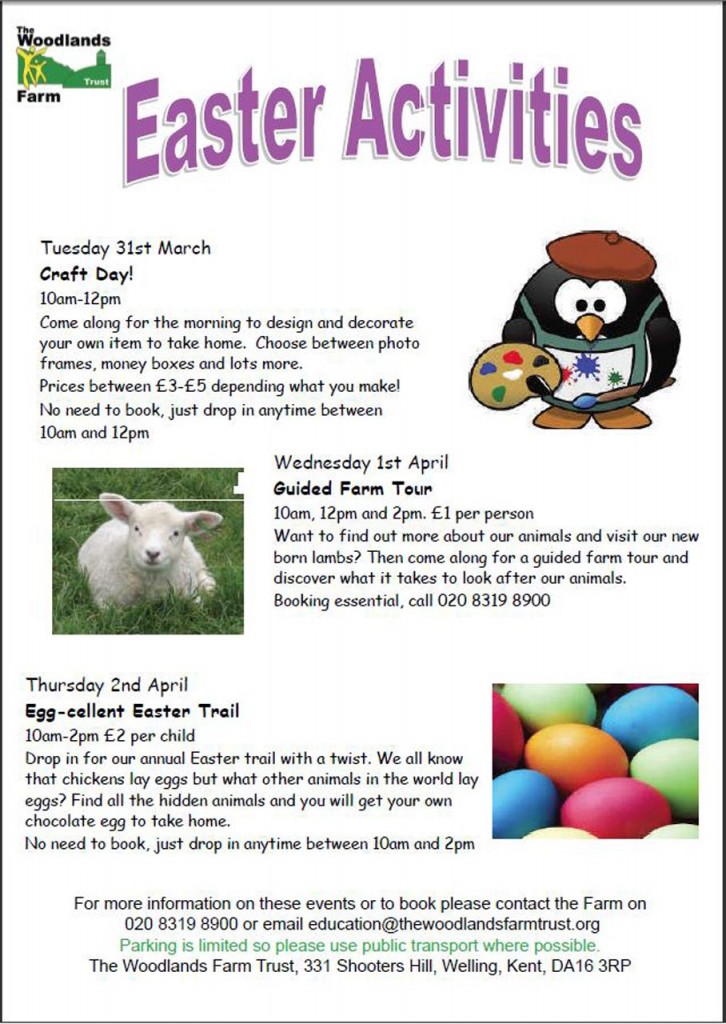 Woodlands Farm's Easter holiday activities for children include a craft day, a guided farm tour and an Easter trail. Hannah, the Education Officer, sent me the details:
Easter Holiday Activities 2015
Tuesday 31st March 10am-12pm Craft Day!
Come along for the morning to design and decorate your own item to take home.  Choose between photo frames, money boxes and lots more. Prices between £3- £5 per child depending what you make.  No need to book just drop in.
Wednesday 1st April 10am, 12pm and 2pm Guided Farm Tour
Want to find out more about our animals and visit our new born lambs?  Then come along for a guided farm tour to find out what it takes to look after our animals.  Booking is essential, to book call 020 8319 8900.  £1 per person.
Thursday 2nd April 10am-2pm Egg-cellent Easter Trail
Drop in for our annual Easter trail with a twist.  We all know that chickens lay eggs but what other animals in the world also lay eggs?  Find all the hidden animals and you will get your own chocolate egg to take home.  £2 per child.  No need to book, just drop in anytime between 10am and 2pm.
For more information, see our website or contact Hannah Forshaw on education@thewoodlandsfarmtrust.org
While down on the farm, take the opportunity to visit the refurbished dipping pond which was opened by the Mayors of Greenwich and Bexley last Friday. Work on the pond was funded by a grant from HSBC and volunteers from the bank helped to clear the old pond which was very overgrown. Most of the rest of the refurbishment was done by the farm's regular volunteers. The Bexley Wildlife web site has more about the official opening including photographs of the event.
You may also be able to see Rufus, the farm's visiting boar, provided he hasn't succeeded in his task of getting the two sows pregnant, and the first lamb of the season which was born yesterday. There will be many more lambs before Lambing Day at the farm on Sunday 12 April 2015.