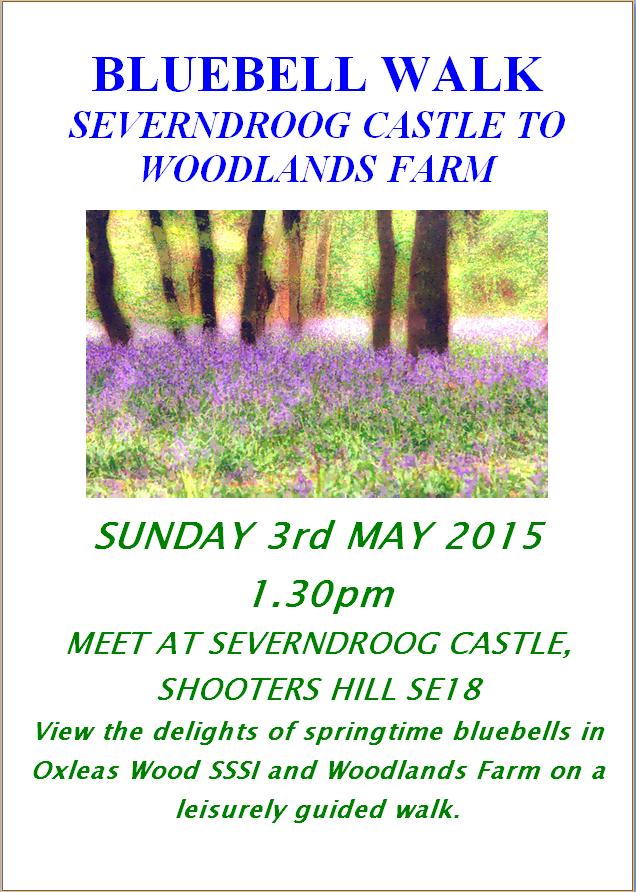 If you're interested in the ecology and history of Oxleas Woods then make sure you go on the Bluebell Walk through the woods and Woodlands Farm on Sunday May 3rd. Hannah from the farm wrote with details:
Enjoy a leisurely walk through ancient Oxleas Woodlands on the bank holiday Sunday May 3rd. The walk is led by staff of the Woodlands Farm Trust and starts at the historic Severndroog Castle on Shooters Hill and end at Woodlands Farm. Barry Gray, Chair of the Woodlands Farm Trust said 'Oxleas Woodlands are a riot of new growth at present, with bluebells, wood anenomes, wood violets and many other plants coming into flower. Perfect for a walk describing some of the interesting ecology, history and uses of Oxleas over the years'.

The walk starts at Severndroog Castle at 1.30pm and ends at Woodlands Farm, and should take between 1 ½ – 2 hours. Why not get to Severndroog early for a guided visit and a coffee or brunch in the café. The café at Woodlands Farm will be open for further refreshments at the end of the walk.

For more information please contact Woodlands Farm on 020 8319 8900 or email admin@thewoodlandsfarmtrust.org
The last time this walk took place we saw not only bluebells but many other wild flowers, including Stitchwort, Ladies Smock, Wood Sorrel, Wild Garlic and Wood Anemones. We learned about and saw plants that are rarely seen outside ancient woodland, such as the Wild Service Tree and  Butchers Broom – species that would be threatened if a road was ever built through the woods. You can see photographs of the plants and wild flowers of Oxleas Woods in a Flickr album here. We also walked by the historic cants of coppiced Hazels and Chestnuts deep in the wood and heard about their place in medieval life.
Very highly recommended.