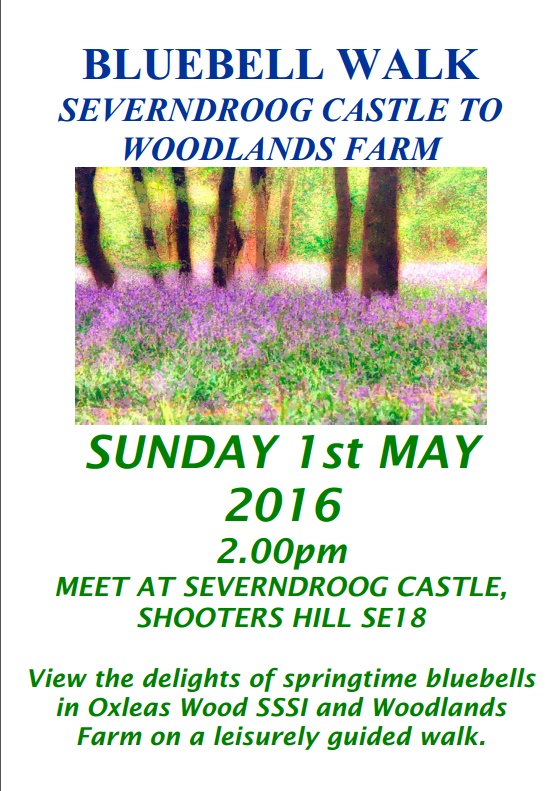 Our local woodlands are awash with bluebells and other wild flowers: it's the perfect time for a walk in the woods, and there's a great opportunity this Sunday, 1st May, when Woodlands Farm have organised a guided walk through the woods from Severndroog Castle to Woodlands Farm starting at 2.00pm.
Hannah Ricketts, the farm's education officer, wrote with details:
Bluebell Walk
View the delights of springtime bluebells with this guided walk through Oxleas Wood and Woodlands Farm. Starting at Severndroog castle this walk will meander through Oxleas Wood taking in the signs of spring as well as a chance to find out more about the history of the woodland, it will end at Woodlands Farm with a trip up to Clothworkers Wood if you still have the energy to enjoy the farm's display of bluebells. This walk is free, donations are welcome. For more information call 020 8319 8900.
This is more than just a chance to admire Oxleas' and Woodlands' bluebells. Previous bluebell walks have revealed some of the woods' hidden treasures, such as the Redwood trees planted by the London County Council  in the middle of our native woodlands, not to mention native plants that are indicators of ancient woodland, such as the Wild Service Tree and  Butchers Broom – species that would be threatened if a road was ever built through the woods.  One year we heard about the historic cants of coppiced Hazels and Chestnuts deep in the wood and their place in medieval life. This walk is very educational and very highly recommended.
You can see photographs of the plants and wild flowers of Oxleas Woods in a Flickr album here.