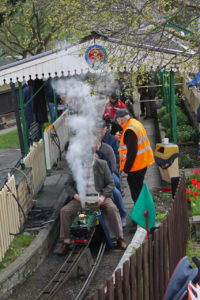 Welling and District Model Engineering Society  have just announced their programme of public running dates and other events for 2018, as their web site says:
We look forward to welcoming you back in 2018 for another summer of nostalgia, riding behind our steam and electric locomotives. The dates and timings have now been confirmed.
The railway and clubhouse will be open from 2:00-5:00pm. Train rides will be available for children and adults(!), with the last ticket issued at 4:30pm. Refreshments are available in the clubhouse.
Due to a reduction in car parking space, there is no parking on site on Public Running Days except for those with Blue Badges.
    Sunday April 8th 22nd
    Sunday May 6th 20th
    Sunday June 3rd 17th
   Sunday July 1st 15th 29th
    Sunday August 12th 26th
    Sunday September 9th 23rd
    Sunday October 7th (last running)

Santa Special 2018
Tickets for the 2018 Santa Special, to be held on Sunday December 16th, will be on sale at the last two Public Running Events, September 23rd and October 7th. Prices are yet to be determined. Please note we can only accept payment in cash. Tickets are prices are to be confirmed, with a maximum of 4 tickets per family, Admission to the Santa Special is by ticket ONLY.
The maximum age of children will be 8 years, and each ticket allows one adult to travel with the child. Please note that no parking will be allowed on site on the day of the Santa Special.
Open Day 2018
We will be holding an open day for visiting clubs on Saturday 6th October.
Before heading down to Falconwood it's worth checking the Welling and District Model Engineering Society web site for any updates or late cancellations.
Details of how to get to the WDMES site, plus a sound recording and video of the miniature railway in action can be seen in previous posts about the model railway.
For this year's dates see http://e-shootershill.co.uk/tag/model-railway/