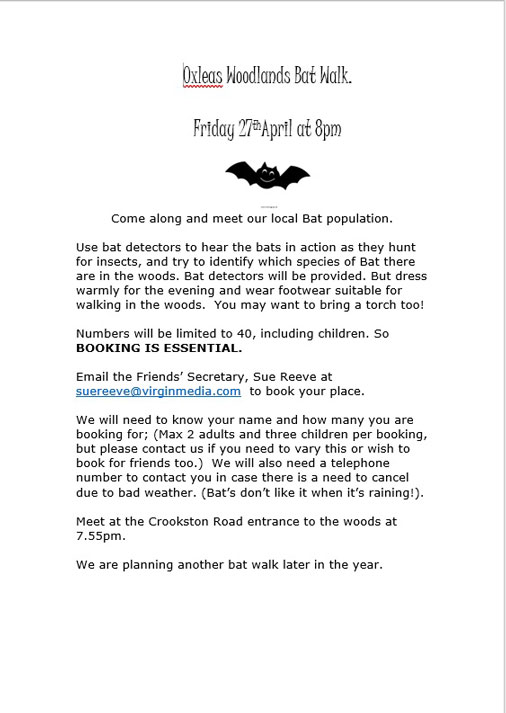 The recently formed Friends of Oxleas Woodlands are holding a bat walk next Friday, 27th April starting at 8.00pm at the Crookston Road entrance to the woodlands.  The walk is free, but places are limited and booking is necessary. Their poster gives the details:
Oxleas Woodlands Bat Walk.
Friday 27thApril at 8pm
Come along and meet our local Bat population.
Use bat detectors to hear the bats in action as they hunt for insects, and try to identify which species of Bat there are in the woods. Bat detectors will be provided. But dress warmly for the evening and wear footwear suitable for walking in the woods. You may want to bring a torch too!
Numbers will be limited to 40, including children. So BOOKING IS ESSENTIAL.
Email the Friends' Secretary, Sue Reeve at suereeve@virginmedia.com to book your place.
We will need to know your name and how many you are booking for; (Max 2 adults and three children per booking, but please contact us if you need to vary this or wish to book for friends too.) We will also need a telephone number to contact you in case there is a need to cancel due to bad weather. (Bat's don't like it when it's raining!).
Meet at the Crookston Road entrance to the woods at 7.55pm.
We are planning another bat walk later in the year.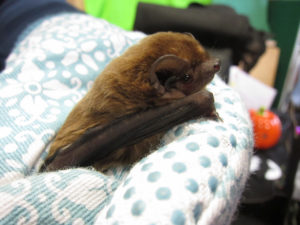 This is the Friends' first event since their inaugural general meeting on 7th March, but they plan to hold  other events such as history walks and  wildlife and plant surveys. They have also held a number of litter picking sessions; the next one is on Saturday 21st April meeting at the café at 10am, or at the traffic lights at the Welling Way/Rochester Way Junction at about 10.15.
The bats should be out of hibernation now, feeling very hungry after the long winter, and trying to make up ground on their feeding schedule which will have been delayed by the poor weather. Usually the females will form maternity colonies in May before giving birth to a single pup during June.
Recent bat walks in the area, such as those at Shrewsbury Park and Woodlands Farm have also spotted hedgehogs as they looked for bats, so if you get a place on the walk keep a look out.
The Friends plan to hold another bat walk later in the year, so if you don't get a place on this one there will be a further opportunity later on.