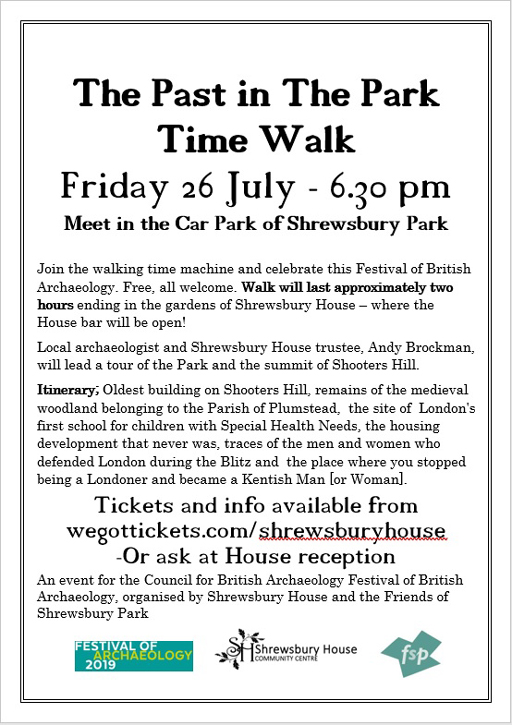 Local Archaeologist Andy Brockman is leading a local history walk, The Past in the Park, this Friday starting at 6.30pm in the car park in Shrewsbury Park. The Shrewsbury House poster gave the details:
The Past in The Park Time Walk
Friday 26 July – 6.30 pm
Meet in the Car Park of Shrewsbury Park
Join the walking time machine and celebrate this Festival of British Archaeology. Free, all welcome. Walk will last approximately two hours ending in the gardens of Shrewsbury House – where the House bar will be open!
Local archaeologist and Shrewsbury House trustee, Andy Brockman, will lead a tour of the Park and the summit of Shooters Hill.
Itinerary; Oldest building on Shooters Hill, remains of the medieval woodland belonging to the Parish of Plumstead, the site of London's first school for children with Special Health Needs, the housing development that never was, traces of the men and women who defended London during the Blitz and the place where you stopped being a Londoner and became a Kentish Man [or Woman].
Tickets and info available from wegottickets.com/shrewsburyhouse
-Or ask at House reception
An event for the Council for British Archaeology Festival of British Archaeology, organised by Shrewsbury House and the Friends of Shrewsbury Park
Andy has run a number of Time Walks and they've all been fascinating. A great way to learn about the history of Shooters Hill.