"]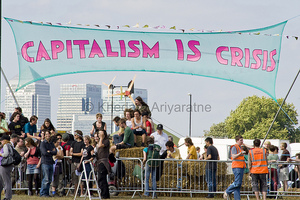 Shooters Hill Road is currently home to Climate Camp 2009, in the kite field! No wonder they are finding it a bit blowy, those popular little 2 second tents don't look designed to deal with bracing blackheath, but we'll see.
There is a six day programme of free activities ranging from workshops, to live performances, to sustainable living, so it all feels rather jolly and festive, and innocent bystanders seem to be quite safe.
Shooters Hill's own Councillor Danny was there as the envoy of Greenwich Council, and lots of other local people are visiting the campers – who have pitched up in clear view of Canary Wharf, a symbol of the interests being held to account for profiting from arms trading, carbon "gambling", and coal power.
The police are doing an excellent job of staying out of trouble, and are standing by at their own camp over the road just in case they are needed; which so far hasn't been the case. It should however be mentioned that if you do visit the site, it would be wise not to take anything that could potentially be construed as a weapon; which primarily includes glass bottles, penknives, and dogs, although I did see a nice whippet there.