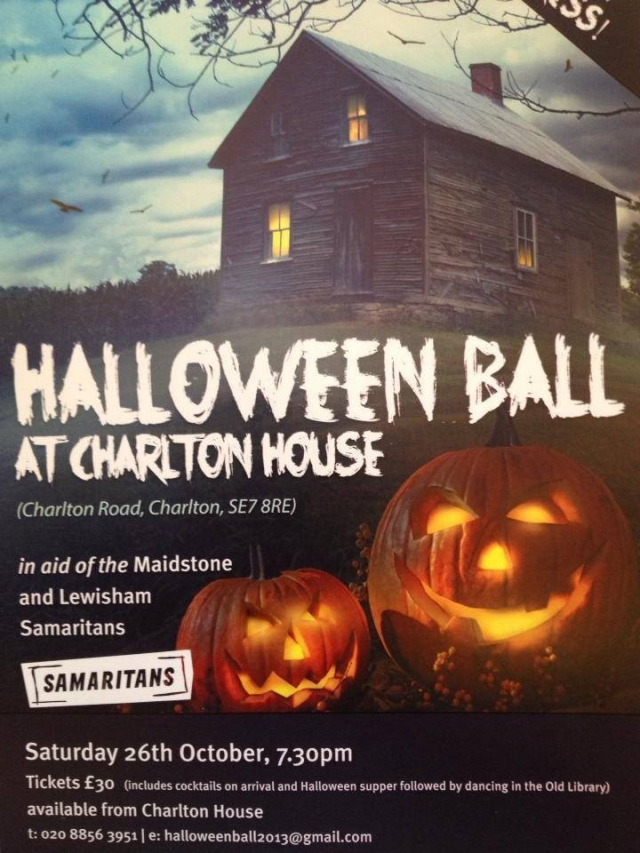 Charlton House, with its resident lusty ghost, phantom rabbits and other paranormal phenomena, is a great venue for a Halloween event. So the fancy dress ball in aid of the Maidstone and Lewisham Samaritans this Saturday (26th October) is likely be a spooky affair. Tickets are available from Charlton House and cost £30.00, which includes welcoming cocktails in the Long Gallery and a Halloween supper in the Grand Salon, and is followed by dancing 'till midnight in the Old Library.
The best known ghost at Charlton House is Sir William Langhorne, who was thwarted in his desire to father an heir while he was alive, despite marrying a 17 year old local maiden when he was 80 years old, and has continued to look for a fertile bride after death. He is reputed to have turned the door knobs of rooms where female guests were staying, and is blamed for invisible-fingered bottom pinching. But he is not the only ghost in the house: a grey lady carrying a bundle believed to be a dead baby has also been seen, and phantom rabbits haunt the Long Gallery. There have also been reports of poltergeists mysteriously moving people's belongings around, unexplained lift ascents and strange sounds.
All this paranormal activity has prompted psychic research organisations such as the Society for Psychical Research (SPR), the Association for the Scientific Study of Anomalous Phenomena (ASSAP), and the Ghost Club to investigate. The most spectacular occurrence witnessed by investigators occurred late one evening in 1995. A police siren sounded and there was an explosion, following which the seven pieces of a shattered blue and white tea cup were found laid out in a circle in the centre of the Long Gallery. In another test by the Ghost Club in 1999 a wooden mushroom shot ten feet across a room accompanied by a loud bang.
Are you brave enough to dance in a Halloween Ball at such a spooky site?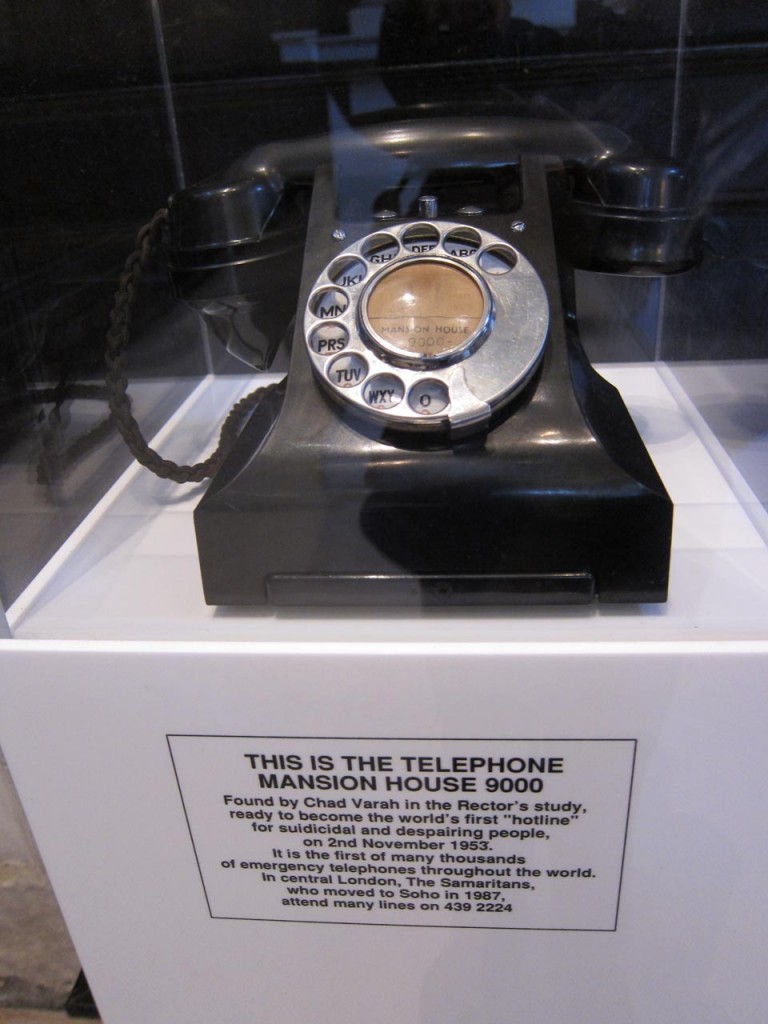 This year is the 60th Anniversary of the founding of Samaritans by the Reverend Chad Varah, who vowed to stop the isolation and ignorance that would lead people to suicide. Chad answered their first call on 2nd November 1953. Now 20,665 volunteers answer a call, email or text every six seconds. To mark the anniversary, and 60 years of  continuous running, 7 days a week, 365 days a year, 60 volunteers from Central London Samaritans will be walking 8 miles through the city of London starting at Samaritans' first base, Sir Christopher Wren's St Stephen Walbrook church, and finishing at CLS current centre in Marshall Street, Soho. They are aiming to raise awareness of Samaritans work and raise money to help fund it – if you'd like to sponsor them there is a donations page on Virgin Money Giving.