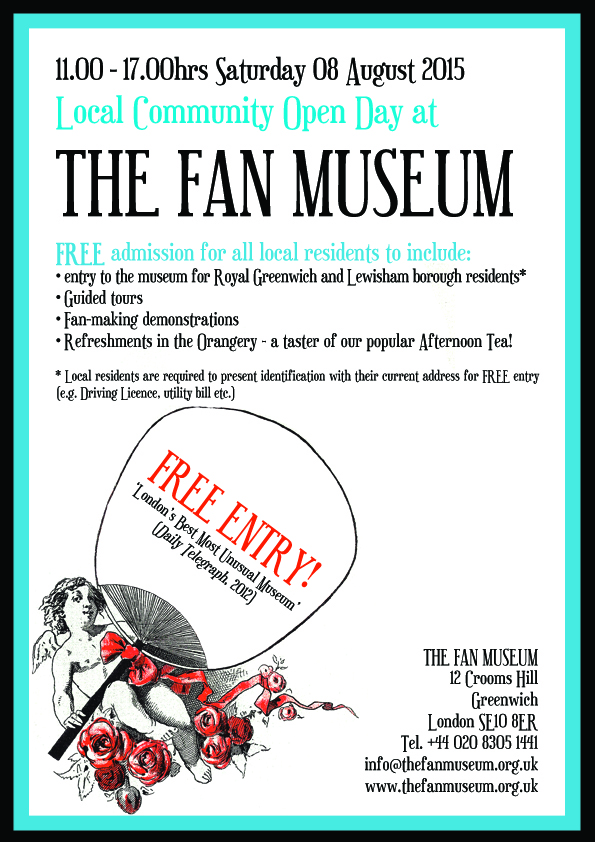 The Fan Museum in Crooms Hill is holding what has become its annual open day tomorrow, Saturday, between 11.00am and 5.00pm. Residents of Greenwich and Lewisham can get in free provided they bring along some form of identification with their current address (e.g. Driving Licence, utility bill etc.). The museum's press release gives some background:
Located in the heart of historic Greenwich, The Fan Museum occupies two handsome Grade II listed Georgian townhouses – lovingly restored internally and externally. It is the only museum in the UK devoted in its entirety to the history of fans and the ancient craft of fan making. The museum houses in excess of 5,000 objects (not all on show at any one time) including works by Salvador Dali, Paul Gauguin and Walter Sickert.
The museum comprises two distinct displays. One is permanent, and serves as an introduction to fans: their history, manufacture, types and sources. The other is thematic, and changes several times a year. The museum's current exhibition, Fans of the Belle Époque features a glittering array of fans dating from 1890s-1910s.
There will be curator-led mini tours for visitors and fan-making demonstrations throughout the day, plus a chance to sample their acclaimed afternoon teas.