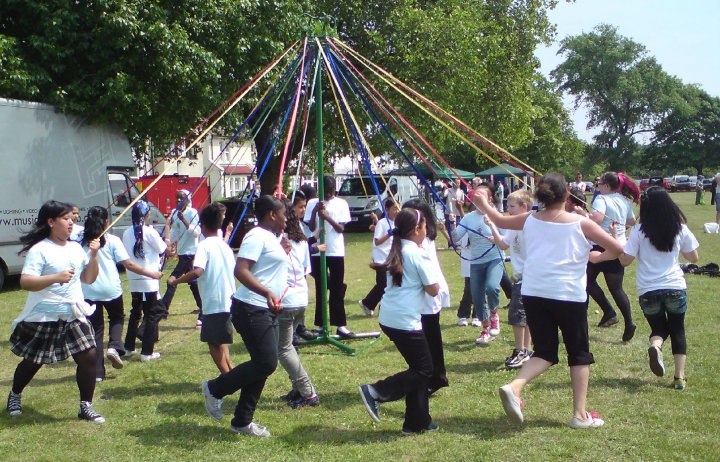 Plumstead make Merry are looking for volunteer event stewards and stall holders for this year's event which will be held on Saturday 2nd June on Plumstead Common. They already have a brilliant set of acts lined up for their main stage and tea tent, with more to be announced. They are also looking for teams of no more than 10 adults to compete in their 'Alternative Games' – an it's-a-knockout style series of inflatable obstacle courses, funny and giant costumes, old-school style sports day races, and much more.
The organisers wrote:
The committee for the Plumstead Make Merry are pleased to announce that we are still taking stallholder bookings for the forthcoming Plumstead Make Merry on Saturday 2nd June from 12-6pm. We are continuing the 'Best Dressed Stall' award at this year's event. Stalls will be judged on general display and promotion of yourself or organisation. We would like to encourage all stallholders to bring their own creative and artistic flair to the event. Previous events have shown a diverse representation of stalls, from community groups, local individuals and businesses, who all take part in the success of the event. You may wish to consider fundraising or promotion for your group through this medium. The lucky winner will be offered a free stall space for the 2013 event, a trophy, and the chance to be photographed for inclusion in press and publicity material. The deadline for applications is the 15th May 2012. More information and application forms can be found on our website, www.plumsteadmakemerry.co.uk or call Holly on 07889 598343.

Additionally, we are currently looking for volunteers to help with the event. Being an Event Steward can be a great addition to you CV. If you would like to get involved we would love to  hear from you. Please email Wendy at plumsteadmakemerry@yahoo.co.uk or call her on 07818 236871.

About the Plumstead Make Merry
The Plumstead Make Merry is the longest running festival in the London Borough of Greenwich. From the very first recorded festival in 1978 on Plumstead Common, the festival has grown in size, amenities and diversity. This festival has continued annually, with one exception, in 2011. Due to a lack of funding from the London Borough of Greenwich as a result of  government cuts, the festival was replaced with a scaled down event called 'Not the Plumstead Make Merry'.

The Plumstead Make Merry Association are a voluntary community  initiative that provides an annual festival of music, arts and activities for all of the local community. The festival provides a celebration of the history of Plumstead and a celebration of our diverse community. We are committed to celebrating our community.