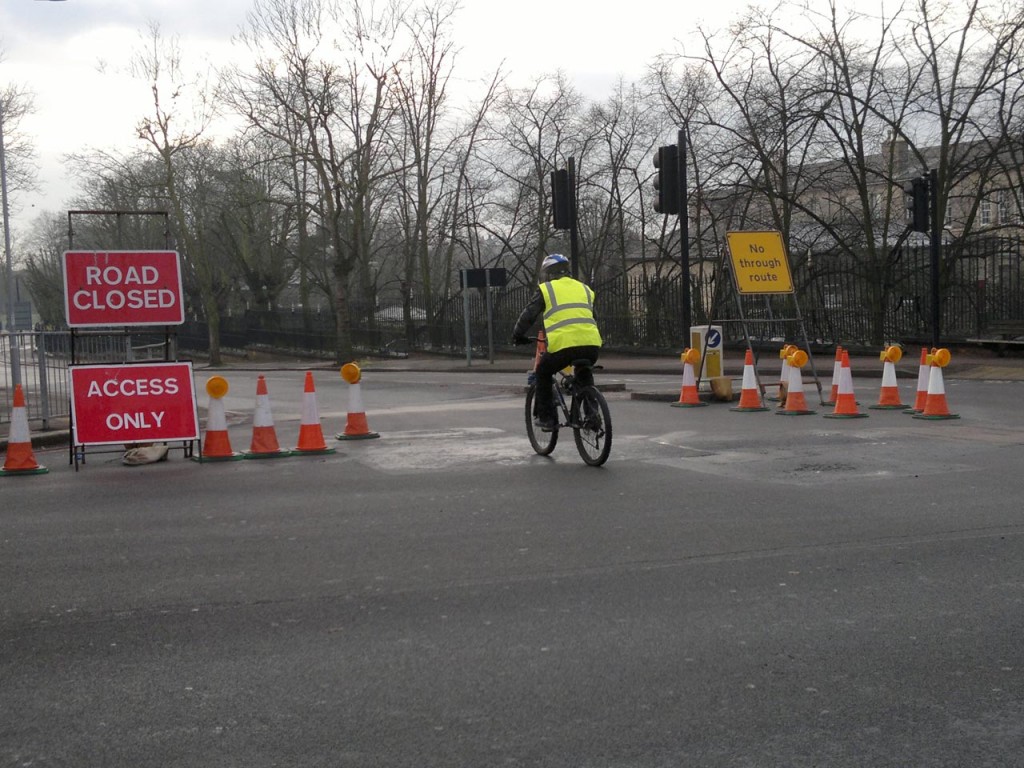 Well Hall Road on the South Circular could be closed for another two days while Thames Water fix a burst water main near the junction with Westmount Road, just outside the entrance to Greenwich Cemetery. The road is closed from the Well Hall roundabout to Shooters Hill Road for all but local access traffic.
This had led to traffic jams and long delays in the last couple of days as traffic tries to find a way round the blocked section of the busy South Circular Road.  Last night it took me almost 15 minutes to drive from the Well Hall Road traffic lights up to the Bull because there was so much stationary or slow-moving traffic.  Alternative routes are quite a distance – either via Falconwood to the east or westward down to the A2, as you can see on the Google Maps snippet below.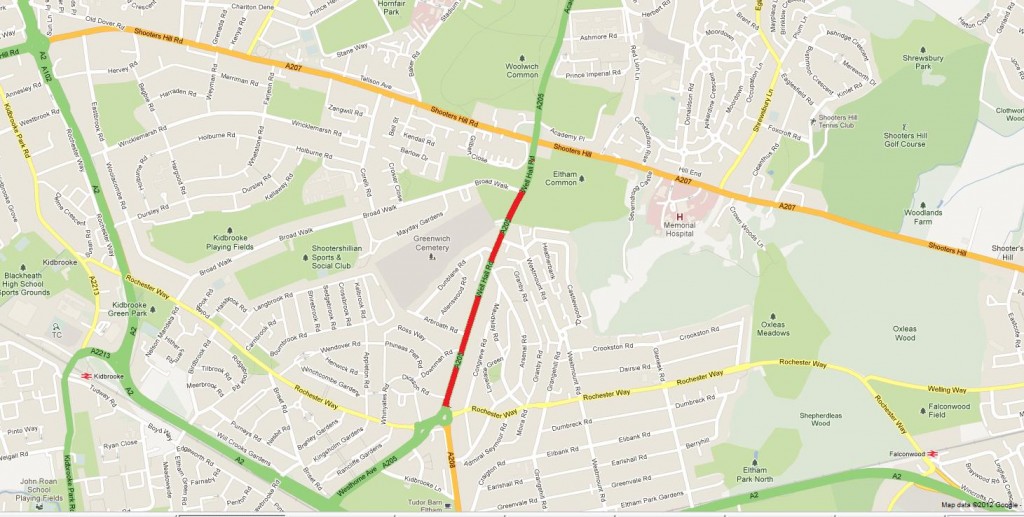 It is possible for non-HGV traffic to get round the closed road by going down Broad Walk and along Rochester Way, and north-bound traffic is directed this way by Diversion signs. However Broad Walk is a residential road, with speed bumps, cars parked on both sides of the road and a seven foot width restriction at the Well Hall Road end, so is likely to be congested in the rush hour.
Burst  water mains seem to be a big problem in the current cold weather. According to an article on the Utility Week web site numbers have increased in London and the Thames Valley by 50% since the start of December, with about 1000 leaking or burst pipes being reported to Thames Water.
Update: Well Hall Road will definitely be closed 13/12/2012 and 14/12/2012,  @ThamesWater tweeted: "Hi, the repairs are still ongoing, the road will be closed tomorrow. Sorry for the inconvenience. Shaun" and "We were informed yesterday that it would be closed for another 2 days, so tomorrow should be the last day. Thanks Kate "
Further update: The road was fully open this afternoon, 13/12, so I guess they must have finished quicker than expected.