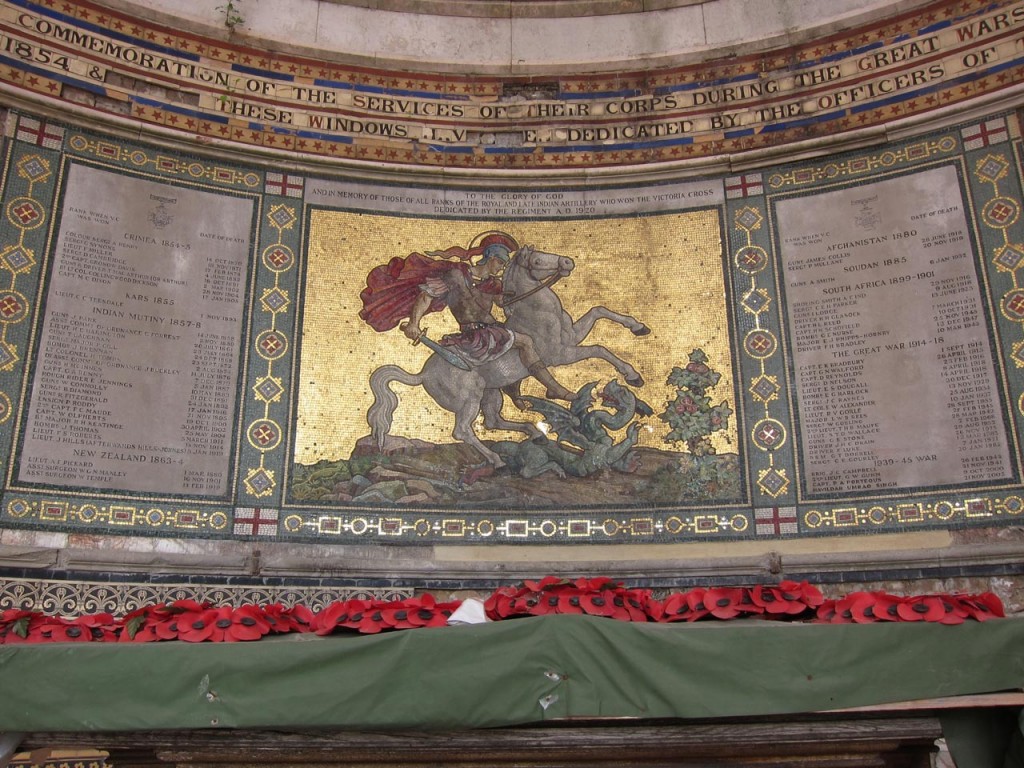 St George's Garrison Church will be open for London Open House weekend, despite not appearing in the Open House brochure. Between 10am and 5pm on the 19th and 20th September we'll be able to see the marvellous mosaics after phase 1 of their restoration and the new tensile fabric roof that protects them. It is planned to have a mini-autumn festival at the church, with food and arts and craft stalls. There is no charge for stalls, if you'd like to take part contact Julie Ricketts, the Heritage Project Officer, on hpostgeorgeswoolwich@gmail.com. Also contact Julie if you're interested in helping other Friends of St George's to show visitors round on either of the two days.
It's a mystery why the restored church isn't included in the Open House brochure, especially when an article about the restoration and the new roof appeared in the RIBA journal. The only reason I've heard is that they "had too many churches already".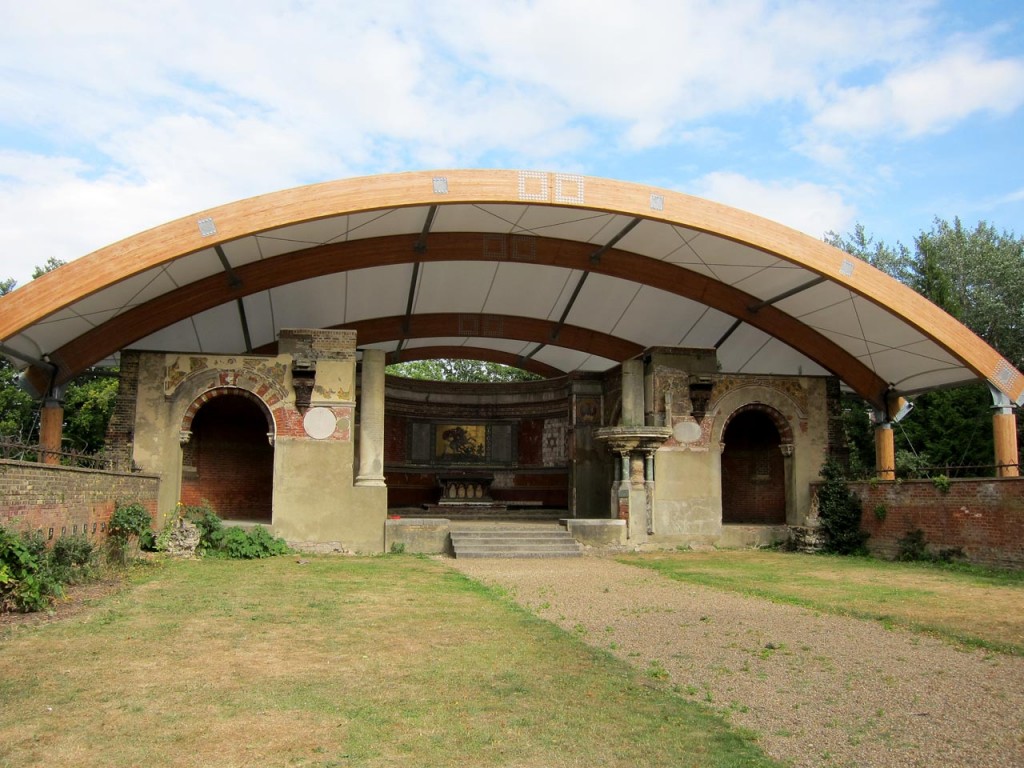 The weekend of 19th and 20th September looks like being packed with interesting local events. As well as St George's Garrison Church and London Open House, Shrewsbury House is hosting its own open house on the Saturday, there's the Woolwich Carnival also on Saturday, Severndroog Castle are holding an autumn festival as part of their Open House on Sunday,  and The Walking Time Machine has a Battle of Britain Anniversary Special walk on Sunday. More about all of these below.
Shrewsbury House's Open House is free and runs from 12 'til 4 on Saturday. It includes:
Activities & Presentations by User Groups
Photography, Yoga, Keep Fit, Singing, Fencing, Wine Making, Short Matt Bowls, Tai Chi, Beavers, Jujitsu, Pilates, etc etc
Children's & Family Activities
Toddler & Pre-School activities, Face Painting, Ballet & Street Dance.
Live Music & Dance
in the Princess Charlotte Room
Bubbly & Cake on the Kent View Balcony
A Pop Up Indulgent Cafe with a View complete with Millinery, Hand Made Jewellery & More
Tours of the House
with Spoken Guide by Local Historian
There is also a "What do you want your Shooters Hill to be?" wall chart quiz which sounds interesting.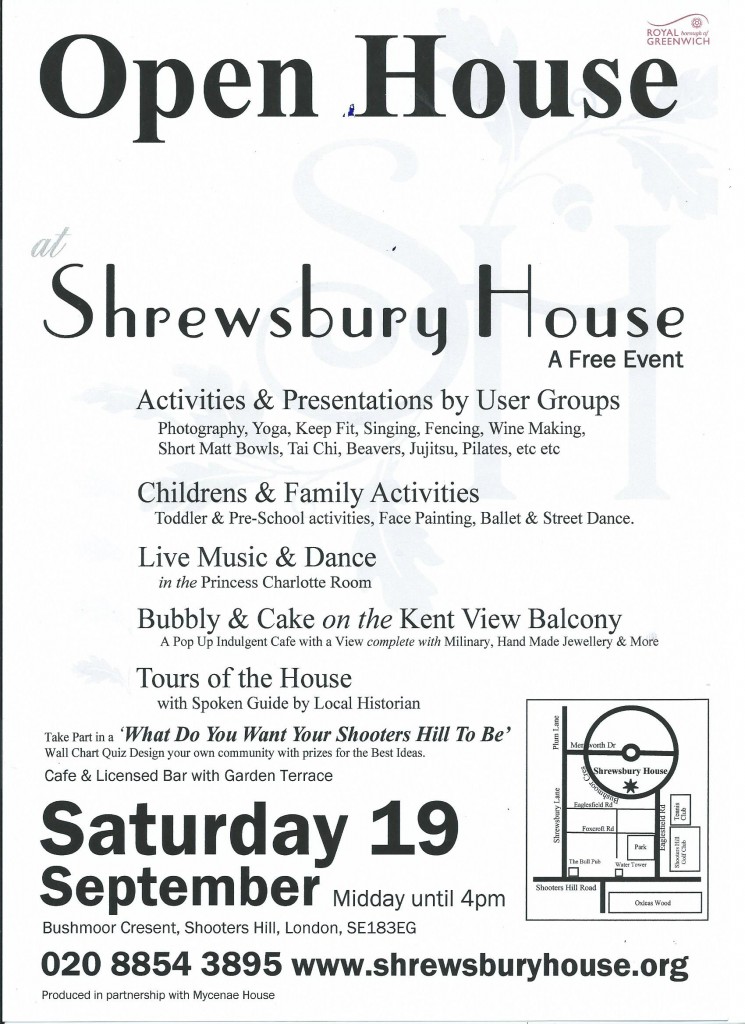 Woolwich Carnival is on Saturday 19th between midday and 5.00pm. Sounds good from their description:
Inspired by the diverse and active community groups in the Greenwich area the Woolwich Community Carnival Committee are bringing back carnival to Woolwich this summer on Saturday 19th September.
Woolwich Carnival will be a celebration of local culture and community. There will be a parade, costumes, live music, dance, community stalls, food and crafts, steel drums and plenty of good vibes – a great way to bring neighbouring communities together for a day of collective summer festivities.
This year's theme is Feeling Good – all things that make us happy.
The local highlights of London Open House for me are the Gordon Square walk and talk and the opening of the Christ Faith Tabernacle Cathedral (formerly Granada Cinema), both on Saturday, and the Severndroog Castle Autumn Festival on Sunday.
The Gordon Square walk and talk is intriguingly entitled "Many Ways to Sit: The Social Dynamics of Gordon Square".
Meet: Sat 10.30am next to the big TV screen, General Gordon Square SE18 6HX. First come basis. N D T
A tour and talk looking at the problems and potential of seating in public places, focusing on Gordon Square, Woolwich. A ten minute documentary film will be shown in a nearby venue, made in collaboration with users of Gordon Square.
Gustafson Porter 2011.
An unexpected highlight of Open House a couple of years ago was a walk and talk about the Woolwich Squares. This gave a fascinating insight into the challenges of designing and developing Gordon and Beresford Square and the solutions that were adopted, often with tricky negotiations, such as the late addition of a requirement to have the large screen in Gordon Square. The description of the project to transform the square has some fascinating snippets:
This project aims to transform Woolwich into one of London's best-connected, most sought-after riverside areas. Developed with the local community, the landscape masterplan draws on the town's rich architectural and military heritage to create two multi-functional, fully-accessible spaces called 'Garden' and 'Ballroom', connected by Greens End's revitalised streetscape.
Gordon Square is a daytime garden which can be layered with different uses, including specialist markets and public events. A scrim of water in its lawned amphitheatre can also be transformed into an ice rink. Beresford Square is a more formal space supporting a daily market. Its east side illuminates with the setting sun and changing patterns of light encourage local residents to linger and meet against the dramatic backdrop of Arsenal Gate.
I've never heard the water feature called a "scrim of water" before, and love the thought that it could be turned into an ice rink, though the slope might make it interesting!
The former Granada Cinema at the end of Powis Street, which is now the Christ Faith Tabernacle Cathedral, is a very welcome new addition to Open House this year. It will be open on Saturday between 1.00pm and 5.00pm. Its description in the Open House guide barely does it justice: "Lavish and atmospheric former cinema with interior by Theodore Komisarjevsky, converted to Bingo Hall in 1960s. Grade II* listed." Komisarjevsky, once a stage designer for the Russian ballet, designed the interior in gothic style and used motifs from European cathedral buildings such as Amiens, Rouen and Lyons in the auditorium, so it doesn't seem inappropriate that it is now used as a cathedral. I was allowed to have a look round the cathedral last year, some of my photos are here on Flickr, and was very impressed both by the building itself and by the care with which it had been restored. Well worth a visit.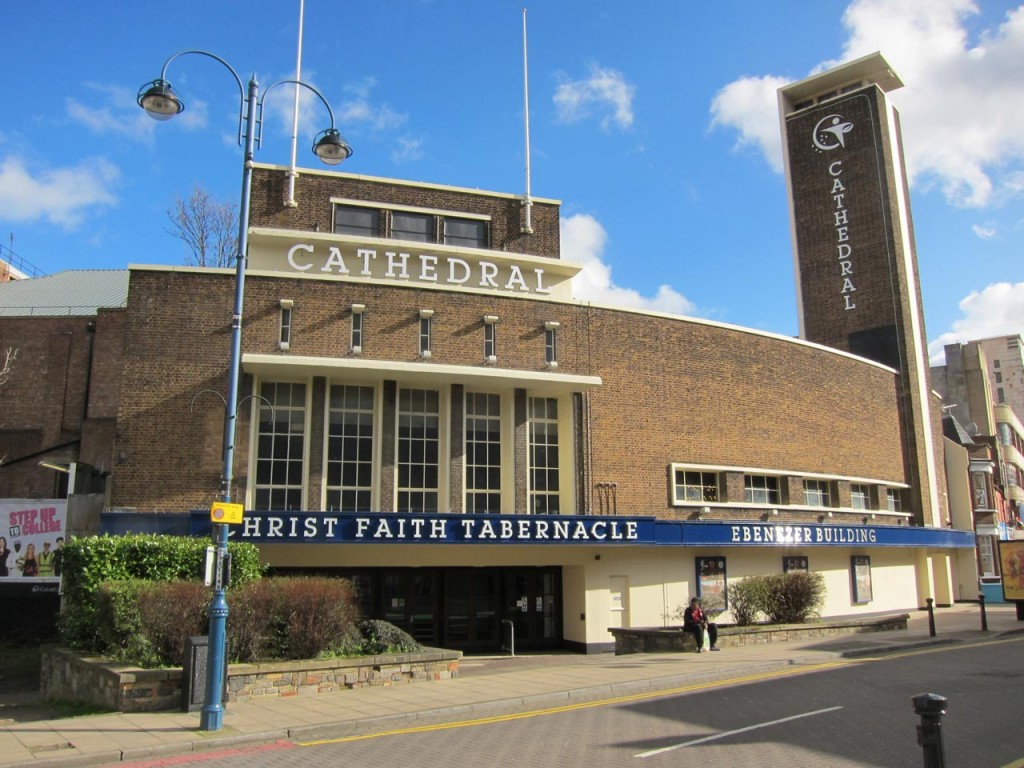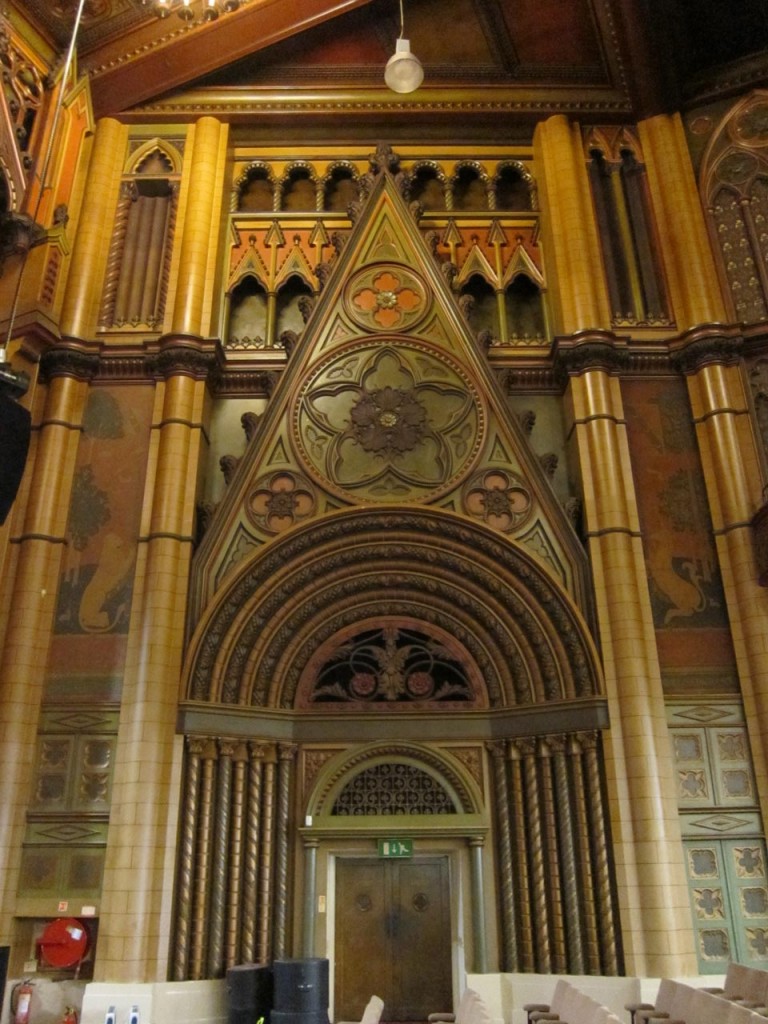 Severndroog Castle is always worth a visit, both for the building itself and the excellent views from the top. For this years Open House the volunteer team are also planning an Autumn Festival, with "singers, musicians and folk or Morris dancers. Also, local food producers, in particular fruit and vegetables or cheese." The castle will be open on Sunday between 10.30am and 4.30pm, with tours every half hour.
On Sunday it would easily be possible to combine a visit to St George's Garrison Church and Severndroog Castle with an afternoon guided walk, the Walking Time Machine Battle of Britain Anniversary Special, led by local archaeologist Andy Brockman. Andy's last guided walk was fascinating, and this one promises to be equally so. It starts at at 2.00pm at the Oxleas Wood Cafe, and is described in the History Mill Facebook group:
To remember the 75th Anniversary of the Battle of Britain and the Blitz the History Mill invites you take take part in a special guided walk to see how in the Autumn of 1940 Shooters Hill and Plumstead prepared to face the Luftwaffe and a possible German Invasion.
Where: Meet at the Oxleas Wood Cafe
When: 2pm Sunday 20 September 2015
Duration: Approximately two hours ending at the Old Mill Pub, Plumstead Common.
The Battle of Britain and the Blitz are part of the mythology of modern Britain but seventy five years ago they were all too real.
In September 1940 the sky above London was criss crossed with the vapour trails of Luftwaffe bombers and British Spitfire and Hurricane fighters while down below the ARP Service, the Home Guard and other civilian services worked with the anti-aircraft and barrage balloon crews to help protect London and its civilian population from the German onslaught.
At the back of everyone's mind was the fear of a German invasion which could come at any moment and would inflict on London the damage wrought in Madrid and Warsaw.
This special anniversary History Mill timewalk will be led by conflict archaeologist Andy Brockman and will visit the sites associated with that momentous Summer of 1940 on Shooters Hill, including some of the sites seen in the Time Team "Blitzkrieg on Shooters Hill", and demonstrate how the local landscape was taken over by a Total War, the effects of which we are still seeing today.
Families and well behaved dogs welcome.
Please dress appropriately for the weather and wear comfortable footwear suitable for a two hour walk on pavements and through local parks.
Free: Donations to the Plumstead Make Merry welcome.
What a great weekend in prospect, I feel exhausted just thinking about how to get round everything. Oh, and I almost forgot that Woodlands Farm has its Autumn Equinox Walk on Sunday at 10.00am too.