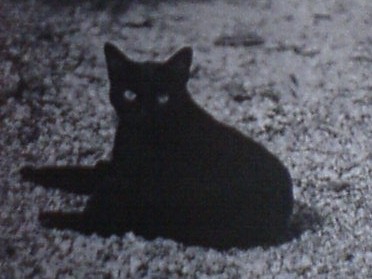 The behaviour of dogs and their owners was recently considered, and now it's time to think of the cats of the hill too. Paget Rise appears to have by far the most cats, and quite a few of them are very friendly and/or elegant too, but this story is about a cat on Artillery Row, a very muddy road, which, as an aside, is where Aphrodite had his studio (he is one of the pioneers of drum and bass, in fact this whole area played an important part in the foundation of this form of music on account of how far radio waves carry from here).
Anyway, yesterday it was raining cats and dogs (groan), and so I found myself wondering how to get to the other side of the biggest, muddiest puddle of all the big muddy puddles on Artillery Row (a private road with no storm drains) and I noticed a lost cat sign, which is included here minus the contact details, as I did not, (and never do), approach sources.
If you do have any information about where this cat is hiding from the terrifying tv repair man, then either email the webmin address at the foot of the page, or add a comment, and I will contact the household, or, if you've got welly boots, go to Artillery Row.
Here is the message verbatim, I wonder why it's written from the cat's perspective?
As you can see I am an adorable young female black cat, I ran out frightened of the tv repair man and haven't been able to get back into my home as I am lost and confused.

Please let my owners know if you see me, thank you very much.

Bella
xxx