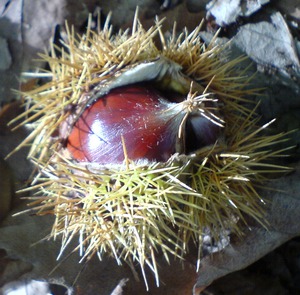 It was a lovely sunny day yesterday and lots of dogs were out taking their people for a walk and cavorting around the woods at this time of the changing seasons. In august I remarked on the bumper crop of blackberries to be found on the hill, and it's also been a good year for the Sweet Chestnut trees in Oxleas Woods, with their crop in full swing around about now.
In just a few prickly minutes, my pockets were full, and before long the nostalgic aroma of roasting chestnuts filled the kitchen (luckily this wasn't joined by the sound of explosions as they had their tips cut off before going under the grill), I also saved a few to plant in pots. Italian chestnuts, which are about twice the size, are also in season, and can be bought in the run up to Christmas; and the west-end chestnut sellers will probably be setting up their little fires around this time.
I'm now looking forward to the first frost, which will be the cue to make sheperdleas sloe gin, this time of year is also a busy one for fungi, who make a strong showing in Oxleas Woods in autumn, especially on the lower, damper slopes, although I'm not really sure which ones are poisonous/hallucinogenic/inedible/edible, perhaps the rangers might be able to answer this kind of question on one of their parkland rambles.