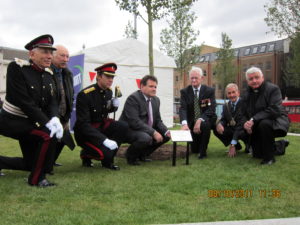 There has been a long association between Woolwich and the army, as Lieutenant Colonel Adam Crawley of the 2nd Battalion of the Princess of Wales' Royal Regiment said in his address at the culmination of Woolwich Back to Business Week in General Gordon Square. So it is particularly appropriate that three trees in the square were dedicated to victory in the Second World War and to the remembrance of those who served and died in it.
The trees were dedicated to the memory of those who served in the Burma Campaign, to Victory in Europe and to remember those who died in the Holocaust and Jewish servicemen who were killed in the war.
But the brass plaques describing the dedication for each tree seem to have been removed immediately after the ceremonies. The holes in the grass where they were planted are still there, but no plaques. I wonder what happened to them, and if they will return?
Postscipt: I noticed yesterday, 31st January 2012, that the plaques are now back in place – three months later.