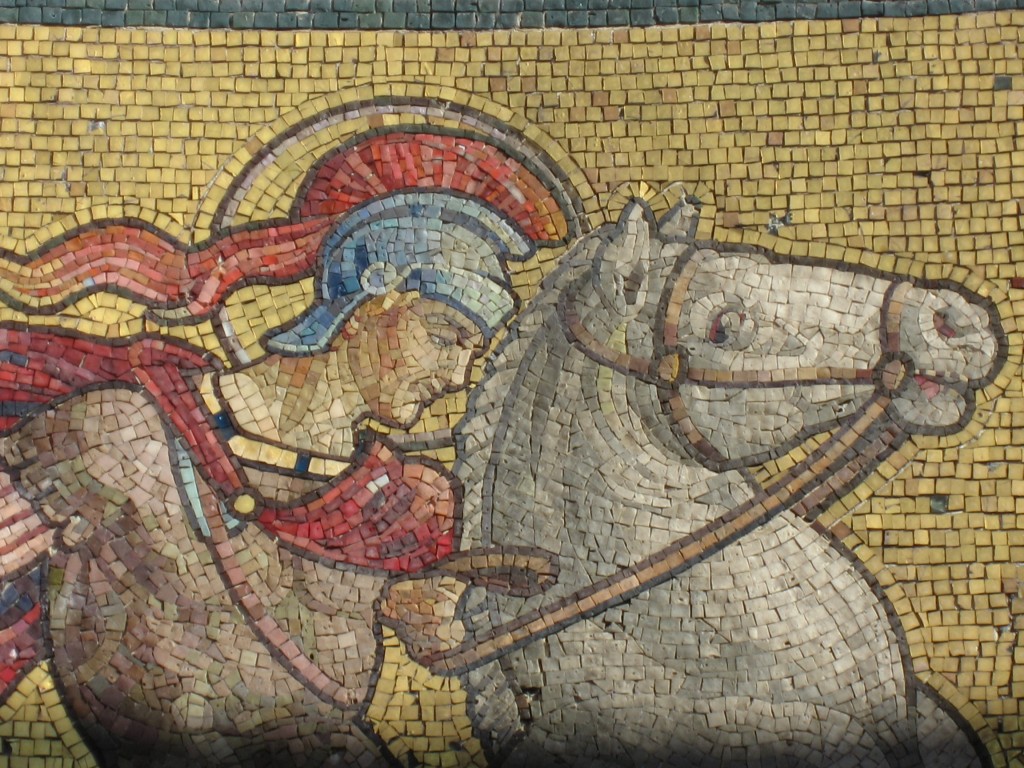 I was really pleased to read in the Mercury that the Heritage Lottery Fund had awarded a £396000 grant to put a tensile roof (of similar material to the O2 Dome) above the ruins of St George's Garrison Church to conserve the remains, and to preserve the stunning mosaics that still decorate the walls. And also pleased that it is planned that the site will be fully accessible to the public once the work is complete in just over 2 years time; the detail of these marvellous mosaics should be seen by many more people.
The Heritage Lottery Fund web site describes the project, and also some of the history of the church:
"St George's Garrison Church – built between 1863-67 to serve the Woolwich Garrison community – was designed in the Lombardi style of stock brick construction with red and blue vitrified detailing, and was decorated internally with mosaics, inlaid marble, and monuments to battles and servicemen fallen in armed conflict. It became the Royal Garrison Church in 1928 after a visit by King George V, however was reduced to a roofless shell after being hit by a V2 Flying bomb in 1944. Subsequently partly demolished to leave only the lower sections of the perimeter walls, the remains of the church now enclose a walled garden that has the feeling of a 'secret' garden.

Today, the church remains consecrated and is used for open air services by Service personnel in the Royal Artillery Barracks, and significant decorative interior remains. Notably, this includes the Victoria Cross memorial with a mosaic depicting St George and the Dragon, flanked by marble tablets inscribed with the names of all deceased gunners who won the Victoria Cross from the Crimean War to mid World War II. Ownership, as part of this project, is due to be transferred from the Ministry of Defence to HOLT Op at the start of November."
I visited the church on one of its rare openings, on London Open House day a few years ago, and was struck by the detailed and colourful mosaics. These include the Victoria Cross Memorials' St. George and the Dragon, a Peacock and a Phoenix rising from the ashes. An article from Dulwich OnView gave some background on the mosaics:
"Recent research by English Heritage has revealed that the mosaics were added in 1903 by Messrs Burke & Co of Newman Street in London – they include a wonderful peacock, the symbol of the Resurrection, and a phoenix, the symbol of immortality."
The BBC Inside Out London programme on Monday 7th November at 7.30 will feature an item about the church and the efforts to conserve it.