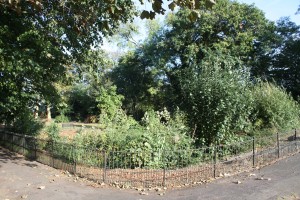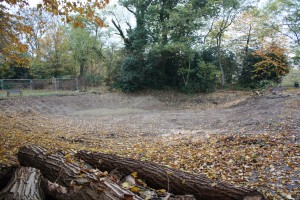 The Friends of Eaglesfield Park's hard work in securing funding for the restoration of the Lily Pond has started showing some results as the work has now commenced. As the pictures show it is currently work-in-progress and a bit messy, more like the Bagnold's Clay Pit than a pond. But it will be a great improvement when complete, and hopefully meet its original objectives of improving the park, promoting biodiversity and providing an educational resource for local schools.
I'm very disappointed though that the Mulberry Tree on the eastern side of the pond is no longer there. I'll miss it: the piquancy of  the mulberries used to complement the sweetness of blackberries foraged from the lower part of the park. I wonder why it was removed?
I find it fascinating to track changes to a local area through old maps, such as old ordnance survey maps, and Shooters Hill is particularly interesting. There is a feature on the 1866, 1894 and 1914 maps where the pond is currently, and of about the right size and shape, though they are not explicitly marked as a pond. In the 1866 map the pond feature is set in the middle of what looks like an orchard behind what was then the Bull Inn. This Bull is in a different place to the current Bull, closer to Cleanthus Road, and considerably larger. I guess the area round the pond was the gardens known as "the Shrubbery" mentioned in the history section of the Park Management Plan: the 1866 map is certainly consistent with it being a laid-out garden. At that time much of the surrounding area was farmland, with few of the roads we now know: there's a field boundary instead of Eaglesfield Road. By 1894 the Bull Inn is no longer there, but there is a Bull Hotel located where the current Bull is. Some of the old Bull Inn buildings are still there but the orchards round the pond feature are gone. There is still no Eaglesfield Road, but there is a drive-way leading along the same route to a large house called Lowood, now the Golf Clubhouse. By 1914 this drive-way had become Waldstock Road (later to become Eaglesfield Road) and the Eaglesfield Recreation Ground lay on either side of it. The pond feature is still there, and has a drinking fountain next to it.
The Friends of Eaglesfield Park first started thinking about restoring the Lily Pond shortly after they were formed in 2007; it's a great tribute to their commitment and persistence that it is now in progress.