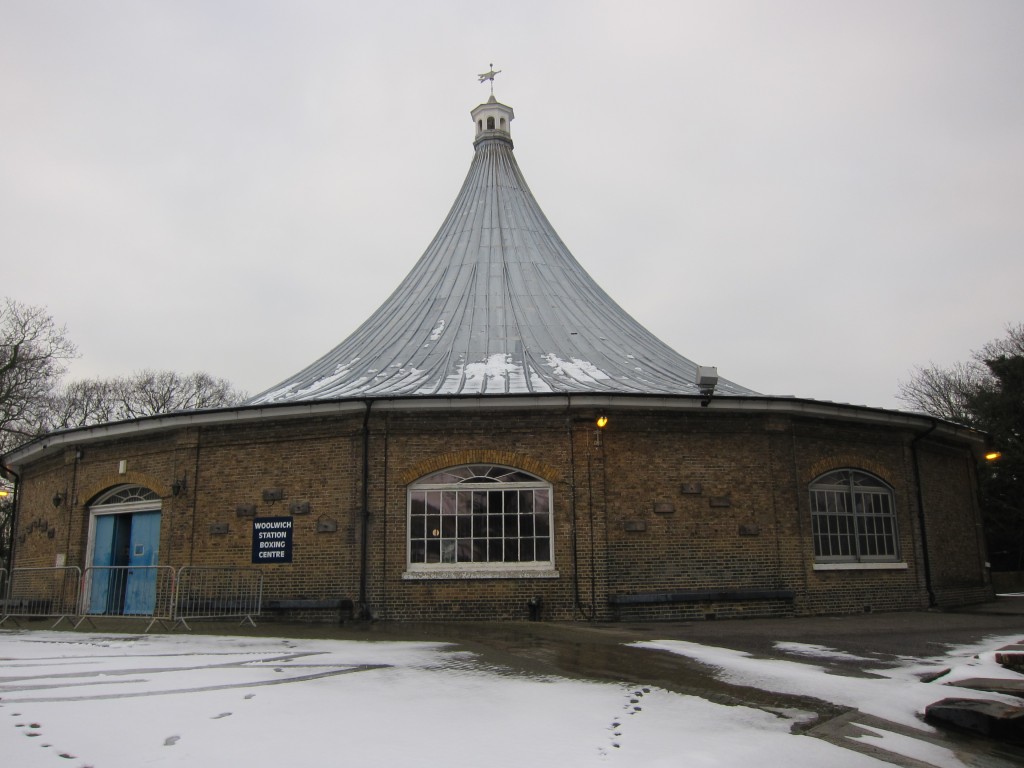 A new sign has appeared on the Grade II* listed Woolwich Rotunda – "Woolwich Station Boxing Centre" – which could be good news for its future. Good news in that the building, which has been empty since its artillery museum exhibits moved to Firepower in 2001,  now has a use as a boxing gymnasium. However we can't raise our hopes too high as there is still no definite information on whether it will be restored.
The building's slow decay  has been a concern for some time; for example the Greenwich Phantom blog has published several posts about the Rotunda over the last few years. It is on the English Heritage "Heritage At Risk" register, which describes it as a:
24-side polygon, single storey building designed by John Nash. Concave conoid lead-covered roof; first erected in grounds of Carlton House in 1814 for (premature) celebration of Allied victory in Napoleonic wars. Housed the reserve collection of 'Firepower' museum but now vacant. Lead-sheet roof covering is failing.
The change of use is a result of the King's Troop's move to their new Woolwich barracks at Napier Lines. They have some 60 soldiers who are keen boxers and need somewhere to train. Inside the Rotunda the transformation to a Boxing Centre is well advanced – two boxing rings have been erected and gym equipment and punch bags have been installed.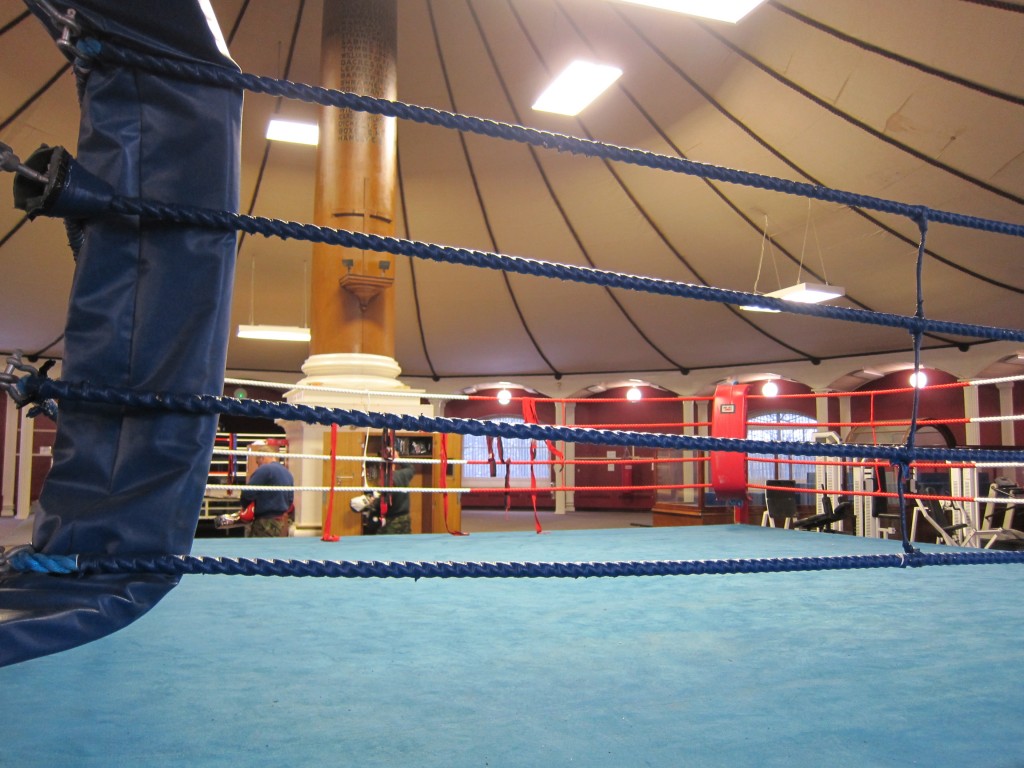 The Rotunda is an amazing structure, and I recommend Jonathan C. Clarke's fascinating paper, Cones, Not Domes: John Nash and Regency Structural Innovation which talks about its history and John Nash's design. Originally the building was self-supporting, it didn't have the central "tent-pole" that was added after it was moved to its present site, and was described in 1830 as having "no equal but the dome of St Paul's Cathedral."
The Rotunda was originally part of a complex of temporary buildings and rooms erected for the Prince Regent in 1814, taking ten weeks to build. It was the centrepiece of a fête in honour of the Duke of Wellington on 21st July 1814 to celebrate the abdication of Napoleon and his exile to Elba. Jonathan C. Clarke describes the role of the Rotunda:
The Rotunda, or 'Polygon Room' as it was originally called, was the showpiece of the ensemble of interconnecting temporary structures which were designed collectively to accommodate 2,500 guests, including royalty, nobility, foreign ambassadors, ministers and officers of state. The temporary buildings were laid out in an H formation to the south of Carlton House, and included refreshment rooms, promenades, giant supper rooms, a botanical arbour and a Corinthian temple to Wellington. At the centre of the whole arrangement was the Polygon Room, with three apartments to the east, west and north (Crook & Port 1973, p. 317).
Of course Napoleon escaped from Elba and was not finally defeated until the Battle of Waterloo on Sunday 18 June 1815.
It's quite a contrast for the Rotunda  – from the magnificent focus of a major national celebration to a boxing gym in nearly 200 years – but at least it's now back in use and there's hope that this beautifully and elegantly engineered building will be saved.