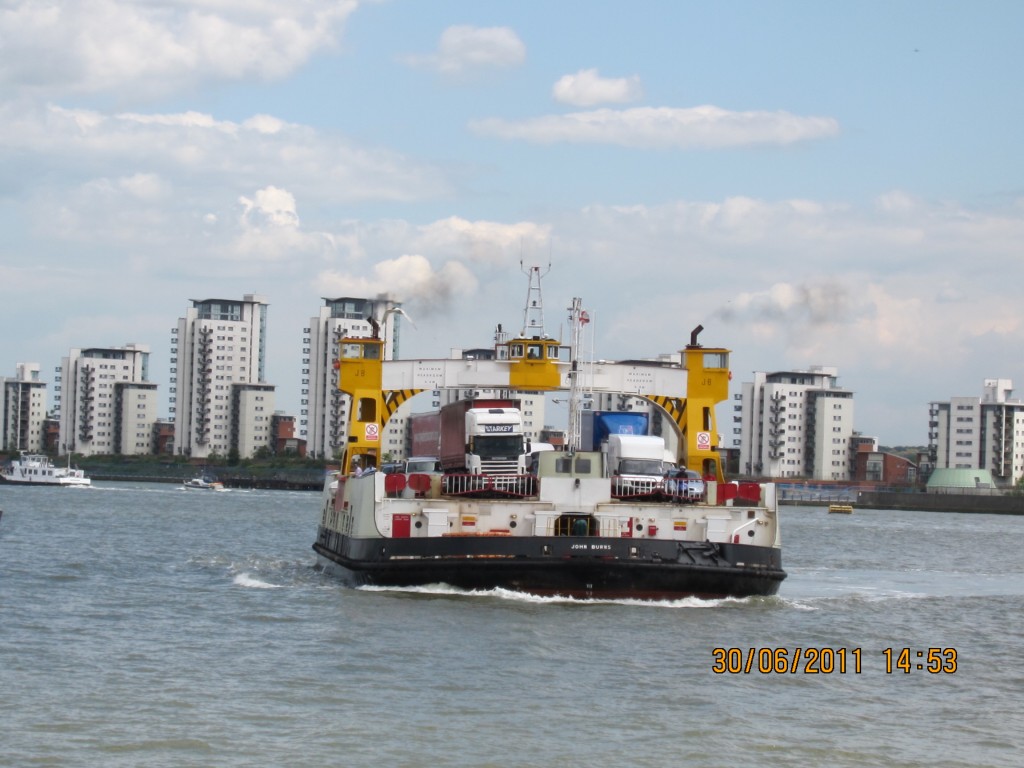 The Woolwich Free Ferry could be gone by 2017 if Transport for London's latest proposals on Thames crossings are implemented. They have just launched a public consultation on proposals which include a new Silvertown Tunnel and a new ferry at Gallions Reach which would replace the Woolwich Free Ferry.
The earliest that a ferry is recorded as running across the Thames at Woolwich is in 1308 when it was sold for £10. There was also a privately run ferry in the early 1800s, established by an act of Parliament in 1811.  Later in the 19th Century, after pressure for a ferry from Woolwich residents,  the Free Ferry was instigated by the Victorian engineer Sir Jospeph Bazalgette, better known as the builder of London's sewage system. It has been part of Woolwich life for over 120 years. It was opened on Saturday 23rd March 1889 by Lord Roseberry – an occasion for a major celebration in Woolwich, illustrated in the picture on the right posted by Mary Mills on twitter. In 1996/7 the ferry carried over 1 million vehicles and approximately two and a half million passengers, around 2000 vehicles a day southbound and 1500 northbound.
Personally I think it would be a great shame if we lost the ferry; I use it occasionally, and usually find it quite an efficient and relaxing way to get over to the north circular and Essex – when there's no problems and two ferries running of course. However I've experienced quite long delays there as well, and can sympathise with commuters who have to cross the river regularly when the service is impaired.
Sentiment aside I have a couple of concerns about the proposed new ferry at Gallions Reach. Firstly, where will the traffic for the ferry come from? Some, I assume, will come from the direction of the Woolwich Ferry – heading down the South Circular then turning right along Woolwich High Street to Thamesmead and the new ferry. How much will be tempted to take an earlier right turn and cut across through Shooters Hill or Plumstead I wonder? And what about the traffic that comes in to London on the A2 – again how much will cut across through East Wickham and Plumstead to get to the new ferry. It seems very likely that there will be an increase in traffic along streets that aren't designed for heavy use.
The increase in traffic will lead to demands for improved roads and before we know it Oxleas Wood and Woodlands farm are under threat again – a subject of previous posts on this blog. It appears to be a re-run of the very old plans for Ringway 2. The Google Earth snippet below is taken from an overlay provided by the cbrd.co.uk web site's excellent UK roads database. It shows Ringway2 running down through Oxleas Wood and Woodlands Farm, ploughing across Plumstead to Western Way and thence to the Thames. Underneath is an extract from the TfL consultation documents showing the proposed new road to connect to the Gallions Reach ferry. Spot the difference!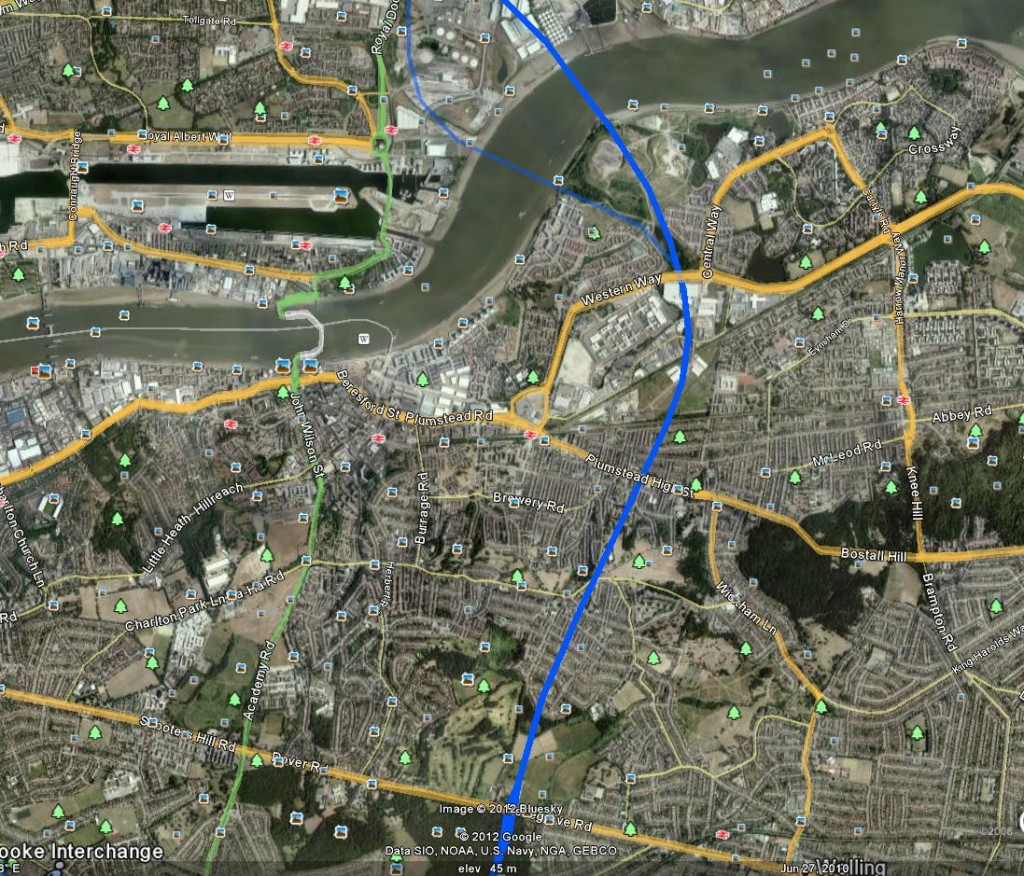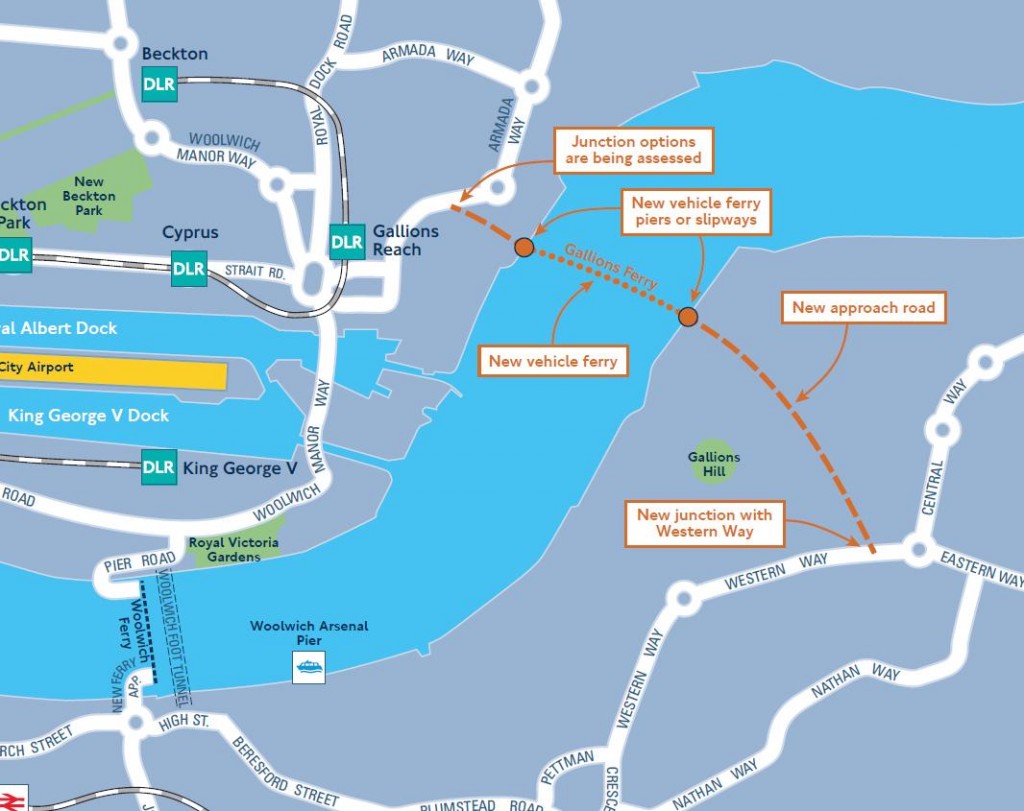 My concern is aggravated by suggestions in a 2009 presentation by a TfL Planning Manager that the Gallions Reach ferry could be replaced by a fixed link (i.e. a bridge) "depending on local development and demand, and impact of congestion relief at Blackwall and Dartford." Sounds like that could lead to Ringway2 by stealth.
I'm also concerned about the effect of the proposed development on people living in Thamesmead. I went for a walk up Gallions Hill yesterday to take a look at the route of  the proposed new road. I was immediately struck by the loud and frequent  aircraft noise. The area is directly under the flight path for London City Airport and aircraft are quite low here on their landing approach. I was also struck by the landscaping and rows of new, young trees that had recently been completed on the land to the North-west where the new road would run; it has been converted into a park, soon to open to the public. So residents would have a major road and ferry port to add to the aircraft noise, and potentially lose a new park!

The consultation on the new proposals is open now. It only takes 5 minutes to complete – just 17 questions including the now standard ones on age, ethnicity etc.  – and allows us to say whether we support the new Gallions Reach ferry and Silvertown Tunnel. It runs to midnight on 5 March 2012.