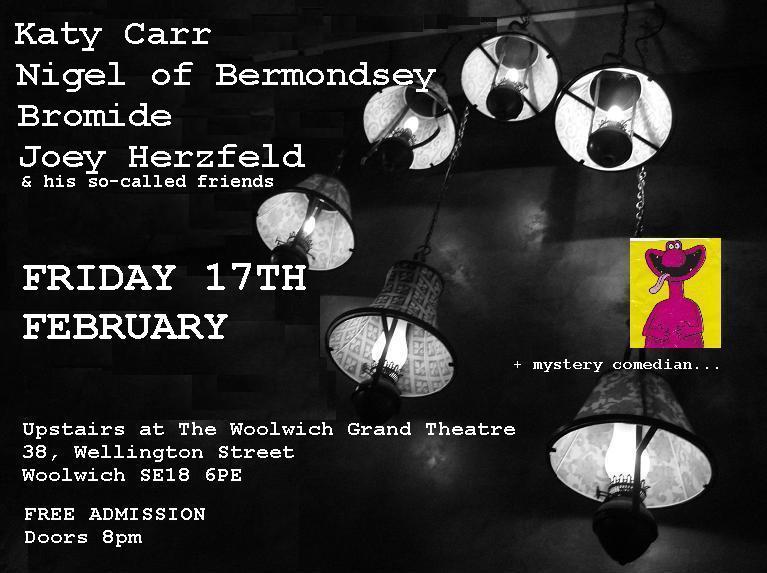 The Woolwich Grand hosts another evening of music next Friday, 17th February. If it's anything like the last one it will be well worth dropping in to.
Friday's line-up is Katy Carr, Nigel of Bermondsey, Bromide and Joey Herzfeld & his so-called friends. Katy Carr, who  has been described as evoking Kate Bush and P.J. Harvey (and even Edith Piaf), has had three CDs – Screwing Lies, Passion Play and Coquette, with a fourth, Pazsport, in the pipeline. Coquette includes the track Kommandant's Car which is about the escape of Kazimierz 'Kazik' Piechowsk from Auschwitz, where he was interred by the Nazis in1940  for being a boy scout. Katy later met Kazik in Poland and recorded a documentary about the meeting. As she says in this interview, she:
"…  has since then through an Arts Council grant been able to bring Kazik to England to elaborate further on his experiences. At one event in March at the Polish Embassy in London he made an official address and the film was screened, and at another at Baden Powell House he was presented with a special letter of honour from the Chief Scout, Bear Grylls."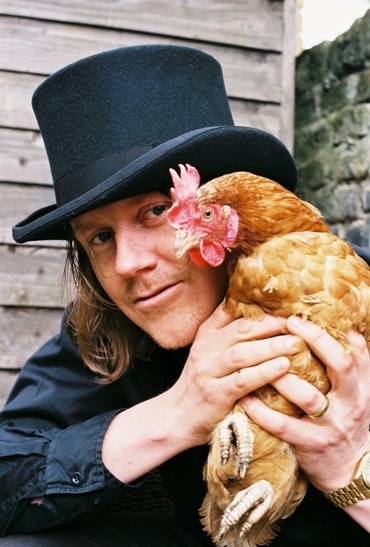 Nigel of Bermondseydescribes his work as:
Psycho-geographical songs and stories from Bermondsey, South London. Also songs and tales of Wapping, Rotherhithe, Walworth. Now incorporating Covent Garden and Bloomsbury. Soon to be  adding The Strand.
Nigel also has three CDs: Nigel of Bermondsey, London Dream Time and Bermondsey Folk.
One of Nigel's psycho-geographical interests is the Cross Bones graveyard on Red Cross Way in Southwark, in the shadow of the Shard, which I used to walk past regularly on my way to work. It's not normally accessible to the public, but the large double gates are festooned with ribbons and messages commemorating the outcasts who were buried there. Perhaps Nigel will talk on Friday about the prositutes, known as the Bishop of Winchester's Geese whose bones are there.
is london-based, essex-born, capri-owning, cat-worshiping, singer-songwriter simon berridge and anyone he can con into playing with him.

bromide plays mid-fi acoustic/electric folk pop. people have likened his music to elvis costello, american music club, ray davies, the only ones, lloyd cole, robyn hitchcock and kevin ayers. bromide has no idea so will take their word for it.
Bromide's CDs are iscariot heart, no.space.anymore.even.inbetween.words and 'the trouble with.. bromide'.
Joey Herzfeld is, I think, this guy:
After 5 years writhing and screaming in cabaret/rock band Hooverville (myspace.com/joeyherzfeldandhooverville) Mr Joey Herzfeld has strapped on an accordion to deliver his mix dark humour and psychosis on mainly acoustic instruments. Formed at the end of 2010, Joey Herzfeld and The Haunted have been gigging regularly and have already recorded most of an album. Storytelling songs of murder, lechery and insanity are interspersed with the odd instrumental – spooky waltzes, toe-tapping blue-grass, and gypsy stomps.
Though I guess that will be confirmed on Friday, and also whether his so-called friends are the Haunted.
Sounds like another great evening at the Grand.