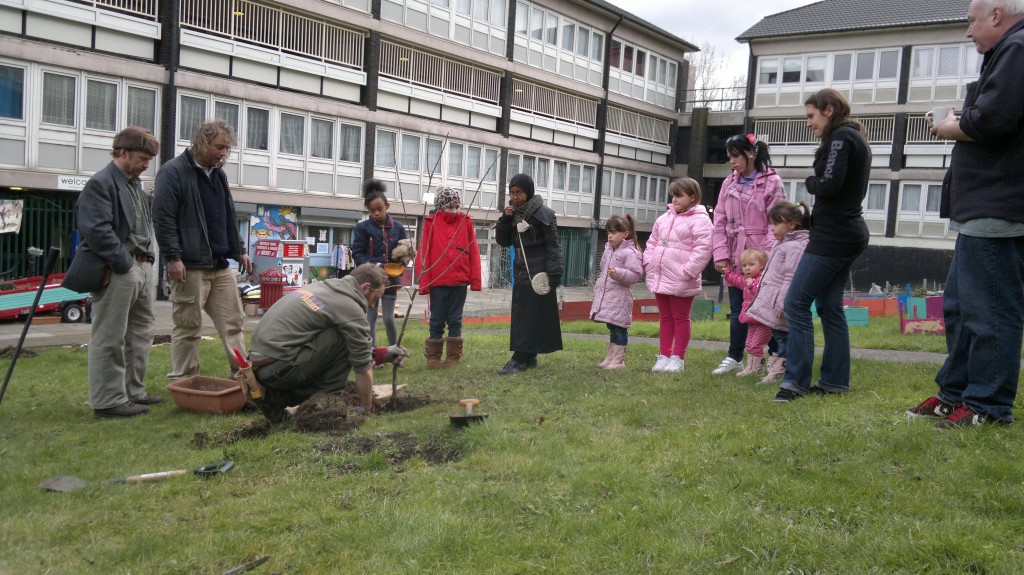 I joined Avant-Gardening, The London Orchard Project and other volunteers to plant a plum tree in The Place Where Plums Grow  on Thursday.  In fact we planted two plum trees, and some apple and pear trees, as part of Avant-Gardening's  The Place Where Plums Grow project, which kicked off in the Nightingale Estate. One of the apple trees was the sweet cooking apple, Howgate Wonder, known for keeping its shape and texture when cooked. It is also known for sometimes producing very large fruit; the world record largest apple was once a Howgate Wonder weighing 3lb 11oz with a 21 inch circumference. It has since been beaten by 4lb 1oz apple grown in Japan.
The London Orchard Project was founded in January 2009 by Carina Millstone and Rowena Ganguli to promote orchards and fruit trees in London. They "are working with Londoners to plant and harvest apple, pear and plum trees all over the city, and help us all to rediscover the pleasure of eating home-grown fruit". As well as planting new community orchards and training orchard leaders to look after them they rejuvenate and restore neglected orchards. One of these orchards is at the Bethlem Royal Hospital in Monks Orchard Road Beckenham. Last week I joined a a group of volunteers to help plant some 40 or so apple trees there – including interesting and unusual varieties such as Lanes Prince Albert, Laxtons Fortune and, what bliss, Pitmaston Pineapples! There's a detailed photographic description of the tree planting technique we used in the natural flow blog. One good thing about planting in Nightingale Vale was that the snow had melted and we didn't have to break through 2 inches of frost-frozen soil to start digging.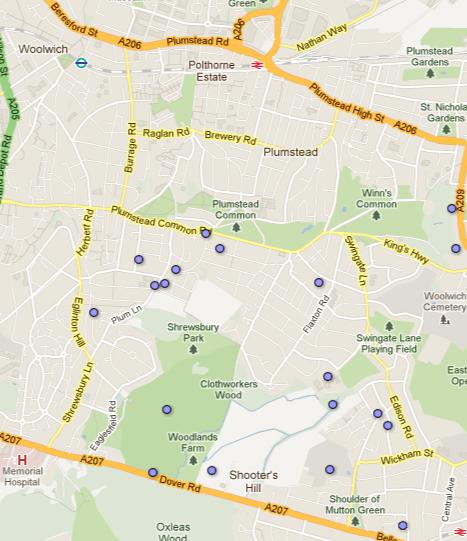 Another of the London Orchard Project's activities is mapping orchards, both where they are now and where they were historically. An extract of their map of orchards in London in the 1890s is shown on the right. This was taken from an analysis of Ordnance Survey maps of 1894-1897. There seem to have been even more 30 years earlier, judging from the 1866 Woolwich Ordnance Survey map. If the neat rows of tree symbols indicate an orchard, there was one just south of Nightingale Vale, another in the bend enclosed by Eglinton Road and Herbert Road and many more around Plumstead Common. The 1866 Shooters Hill map shows a large orchard in the grounds of Tower House, which could be the one shown in Brinklow Crescent on the London Orchard Project map, plus another large one just to the North of that, and yet another in the grounds of the old Bull Hotel – the present Eaglesfield Park.
I guess it'll be a while before we see the fruits of our tree planting labour. But with a young adopter of each tree looking out for them the trees should have a good chance of survival. I'm looking forward to seeing some large Howgate Wonders in Nightingale Vale.