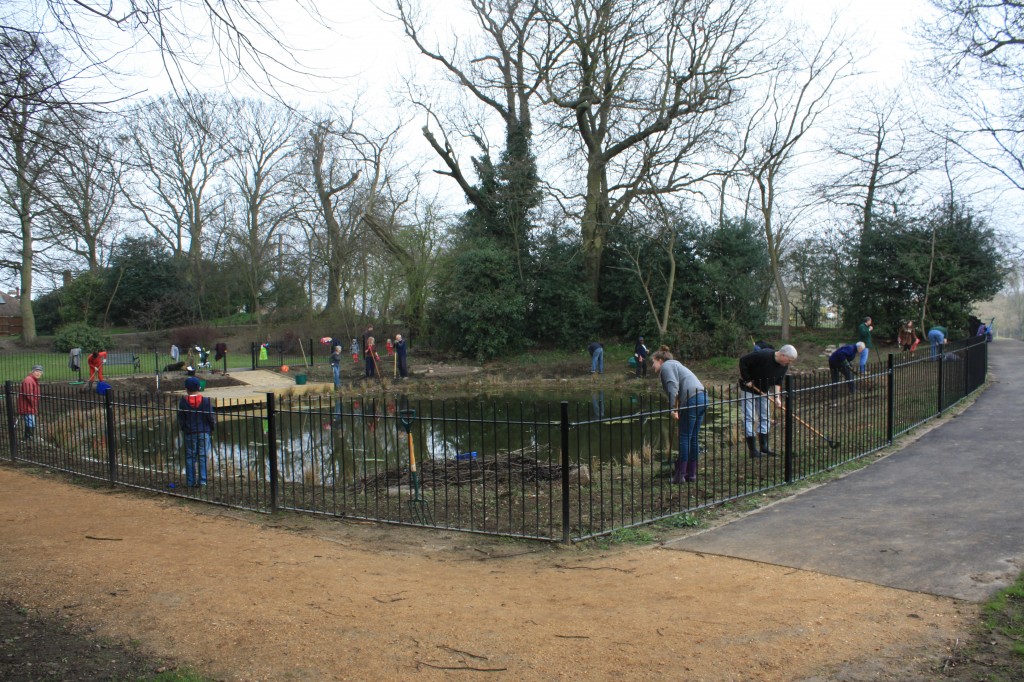 There was an excellent turnout of gardeners to help plant a wildflower meadow at Eaglesfield Park Lilly Pond; there must have been between more than 20 people (of all ages) at different times. The gardeners, led by the Friends of Eagesfield Park, transformed the area round the pond, clearing, raking and preparing the ground and planting British wild flowers and seeds. There is still a some work to do to complete the meadow, and the friends are planning to reconvene next Sunday at 10.00am.
Madeleine from the Friends e-mailed me with more details:
Friends of Eaglesfield Park (FOEP) and supporters had a really successful and productive morning on 25th March – clearing, digging and thorough weeding of the area around the newly restored pond. We achieved a great deal – planting wildflower perennial plug plants and sowing a mix of wildflower meadow plants. We are really grateful to everyone for their hard work and are looking forward to seeing the results in the summer. It wasn't all hard work though! It was a good opportunity to meet and chat to park users.
However, we still have quite a lot of preparation and planting to do. We are therefore meeting again on Sunday 1st April 10.00 am – 12.00 noon. All offers of help would be much appreciated. At the moment FOEP do not have any tools, so if you can join us, it would be helpful if you could bring your own tools (particularly Long Handle Garden Fork/Spade, Rake (not a lawn rake), hand trowel. Don't forget to wear old clothes, wellies and bring some gloves.
We are always looking for new members and would welcome comments about the pond restoration and any other aspects of Eaglesfield Park.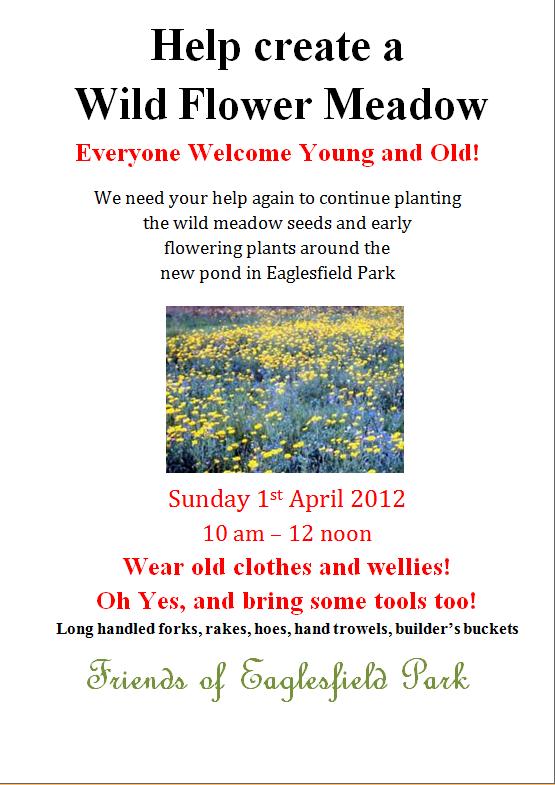 The plants that the volunteers planted were  from British Wild Flower Plants, whose catalogue has pictures of the mature plants,  and included:
Yarrow (Achillea Millefolium).  Height 10-45cm. White or pink flowers June-August. Attractive to butterflies and bees. A common plant of meadows and pastures, grassy banks, hedgerows and waysides. Food plant of the Essex Emerald, Lime Speck Pug, Wormwood Pug, Straw Belle and Ruby Tiger Moths.

Agrimony (Agrimonia eupatoria).  Height 30-60cm. Golden yellow flowers June to October. Native to hedgebanks, roadsides and edges of fields. Seeds loved by Finches.

Red Valerian (Centranthus Ruber). A perennial of sunny sites, especially found in places such as the  base of sunny walls. Height 30-45cm. Red, or less commonly white, flowers June to August. Introduced from Southern Europe, and naturalised especially in the West Country. Excellent nectar plant. Food plant of the Large Ranunculus Moth.

Basil (Clinopodium vulgare).   Height 15-35cm. Rosy pink flowers all July-September. Will grow well in grass for a flowering lawn. Excellent nectar plant that will withstand drought.

Dropwort (Filipendula vulgaris).   Height 20-40cm. Pretty cream and pink flowers May-August. Excellent nectar plant. A dwarf version of Meadowsweet for dry sunny soils. Food plant of the Scarce Darter Moth and the Brown Spot Pinion Moth.

Lady's Bedstraw (Galium verum). A perennial for sunny sites Low growing spreading ground cover. Stems 15-40cm. Yellow flowers July-August, then black seeds into autumn. Food plant of the Elephant Hawk Moth, Gallium Carpet Moth, Plain Wave and Riband Wave Moth, Oblique Striped Moth, Bedstraw Hawk Moth, Archer's Dart and Red Chestnut Moth.

Field Scabious (Knautia arvensis).   Height 30-60cm. Pale blue flowers July-September. A good butterfly nectar plant. Food plant of the Marsh Fritillary and the Narrow Bordered Bee Hawk Moth.

Oxeye Daisy (Leucanthemum vulgare).   Height 30-45cm. White flowers May-October. A common plant of grassland, which will grow magnificently on fertile soils. A good nectar plant attracting both butterflies and bees.

Marjoram (Origanum vulgare). 30cm stems of pink flowers August – September above rosettes of aromatic leaves. Much sought by bees and butterflies. Attracts the small copper butterfly in large numbers. Use as a herb in Italian cookery. Food plant of the Black Veined Moth and the Lace Bordered Moth.

Selfheal (Prunella vulgaris).   Height 10-30cm. Red-purple flowers June-September. Found in lawns where constant cutting will give flowers all summer. A good nectar plant.

Sorrel (Rumex acetosa).  A perennial for sunny sites. Height 30-50cm. Red-brown flowers May-June. Food plant of the Small Copper and Blood-vein White Butterflies. Plant with Marjoram for a 'nectar fix' when Small Coppers are passing and they'll stay! A good salad leaf.

Wild Clary (Salvia verbenaca).   Height 30-45cm. Violet/blue flowers June- August. Native of dry pastures and roadsides. Rich in nectar and pollinated by bumblebees. Food plant of the Twin-Spot carpet moth.

Globeflower (Trollius europaeus). Perennial of northern meadows, forming clumps of shiny green leaves and flowering from late may through the June. Lemon yellow globular flowers. Food plant of the Sweet Gale Moth.
It should be fabulous when the plants mature and flower.
I've added the photograph at the top to the sequence on Flickr showing the transformation of the Lilly Pond.