Both the Blackheath Art Society and Second Floor Studios & Arts have open studios this weekend. Eleven Blackheath Art Society  artists' studios, situated in Blackheath and surrounding areas are open from 12.00 noon to 6.00pm on both Saturday and Sunday, 19th and 20th May. The snippet of their flyer, below, gives the addresses of the studios (click to enlarge). Second Floor Studio & Arts is London's largest creative hub of arts and crafts practitioners, with over 160 studio members and 45 Thames Barrier Print Studio members. Their open studios event has its opening night on Thursday evening, and is open from 11.00am to 6.00pm on both weekend days. There is also a chance to see print demonstrations in the Thames Barrier Print Studio and visit their recently opened  social enterprise Arts Canteen. SFSA is located in the Mellish Industrial Estate, Harrington Way, (off Warspite Road),  SE18 5NR.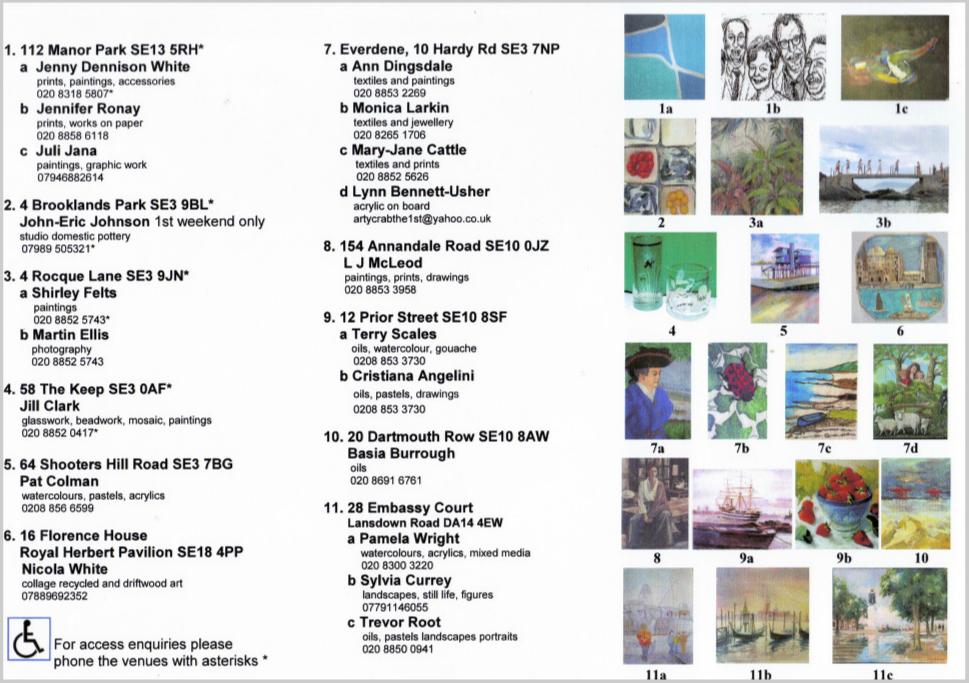 The BAS artists' studios were open last weekend too, and I visited three of the artists closest to home. All three were very welcoming, with offers of drinks and nibbles, a chance to view and purchase artwork  and all were prepared to share their artistic techniques generously. The first studio visited was in the Royal Herbert Pavilions; Nicola White makes her art from flotsam and jetsam found along the banks of the Thames. The art she has created from found items such as  lengths of driftwood, fragments of glass worn smooth by the tide and a surprisingly large number of broken clay pipe pieces was unexpectedly effective, demonstrating a quirky sense of humour. I especially liked the way in which the curve of a piece of driftwood mimicked a bird's breast, and the essence of a fish captured in broken glass.
Further down Shooters Hill Road was the studio of  Pat Colman, who had works in acrylics, water colours and pastels on display. Her dramatic and moody acrylics of local scenes such as the Thames Barrier and Dome, the Royal Observatory and the Yacht Club were particularly striking.  Pat also teaches art at the University of the Third Age in Greenwich. Finally to Roque lane to see the paintings of Shirley Felts and photography of Martin Ellis. Shirley is an accomplished water colourist and prolific book illustrator, with a long held interest in the South American rain forests which many of her paintings depict. My favourites however were smaller giclee prints of still lifes, capturing the shine on an apple or the rich red of cherries.
If you're interested in art and local artists next weekend could be busy.