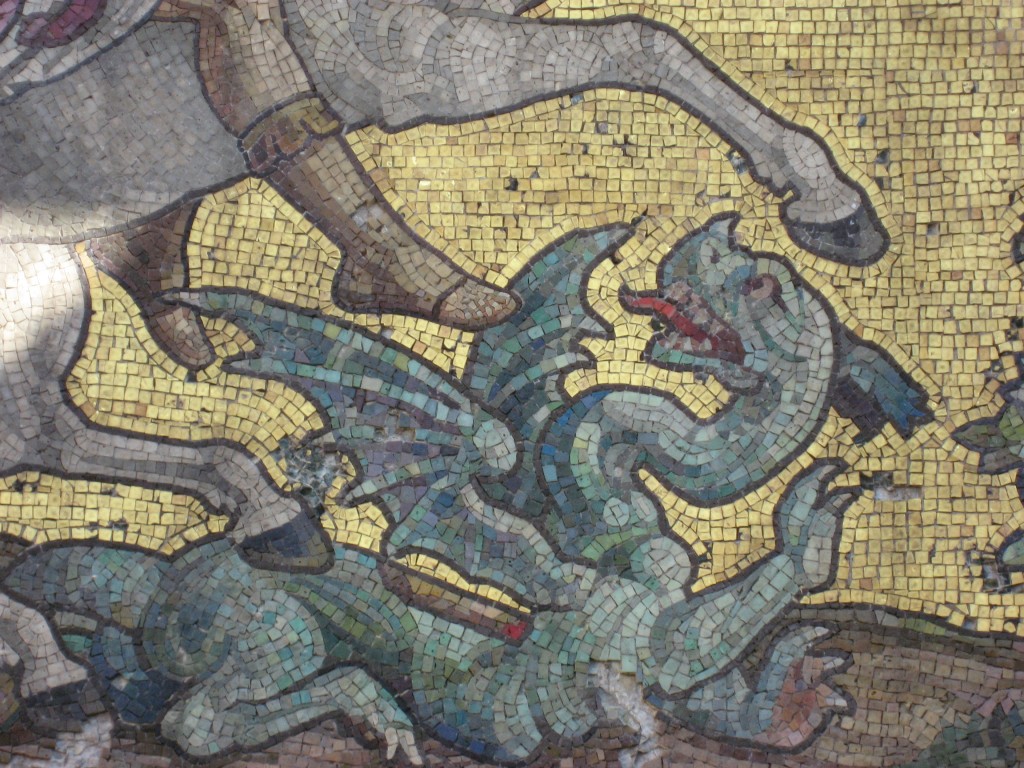 I see work has started on the restoration of the grade II listed St George's Garrison Church, another "Heritage at Risk" building close to the Olympics shooting and archery venue. Hopefully this will  result in more people being able to see its marvellous mosaics. The organisation responsible for the restoration, Heritage of London Trust Operations, aims to make the church suitable for use as a small scale venue for appropriate events. It "intends to run occasional events at the chapel that will cater for fifty to a hundred people" as well as to provide access for "formal and informal educational visits". A local friends group of volunteers will be established to help co-ordinate the running of the venue.
The first step of the work, currently underway,  is to convert two rooms near the entrance to the chapel into a kitchen and toilet, but the major change is to construct a new cover for the apse, which is where the memorial mosaics are located together with the marble tablets listing the names of Royal Artillery soldiers who were awarded the VC and the war in which they won it. APEC Architects, who prepared the planning documents, considered various options for the new canopy but the final decision was for a free-standing glulam timber-framed arch with a tensile fabric covering as envisioned in the picture below.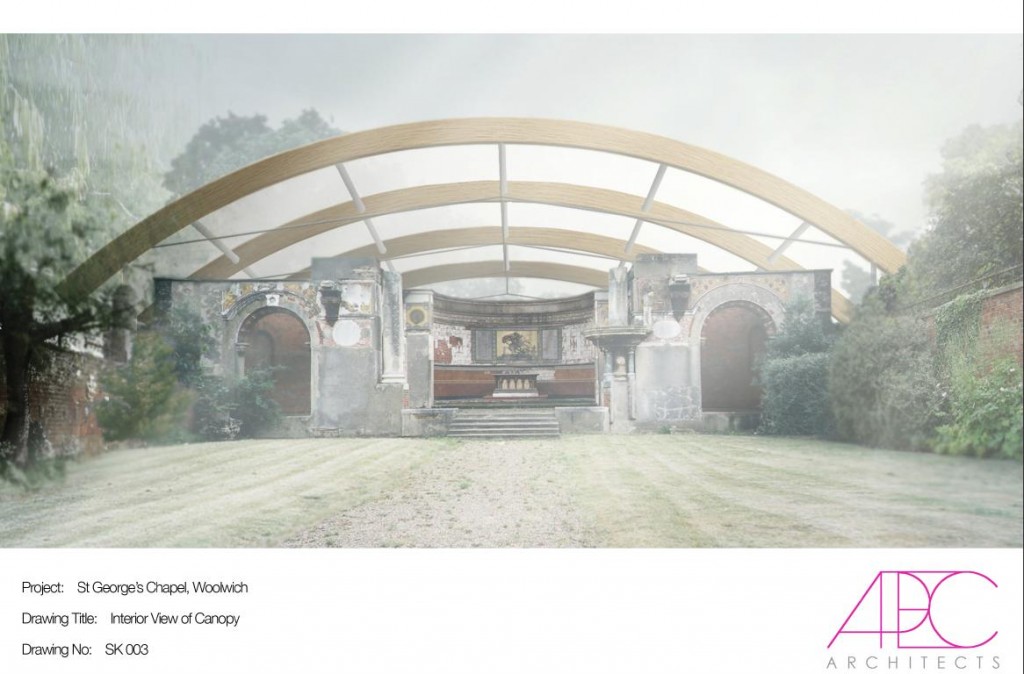 Restoration work will take place in slower time than the contruction, which is not surprising as it does include specialist restoration of the mosaics themselves. Another of the planning documents contains photographs and details of the proposed internal restoration work:
Remnants of steel framed glazed roof (damaged in high winds)

Proposal: Remove the damaged roof as it is no longer required. Repairs to brickwork at the top of the walls to be carried out as required.

Victoria Cross memorial mosaic

Proposal: Mosaic to be restored by appropriate specialist

Other memorial mosaics/remnants of glazed roof structure

Proposal: Mosaics to be fully restored by appropriate specialist. Remnants of glazed roof structure to be removed and brickwork repaired as appropriate.

Memorial mosaics/damage to brickwork

Proposal: Mosaics to be fully restored by appropriate specialist. Damaged brickwork to be repaired.

Entrance gates

Proposal:All gates to be removed for X-ray inspection. Any defects are to be repaired before the gates are reinstated.

Undercroft access

Proposal:The bricked up access to the undercroft space is to be opened up to provide a space for storage. A timber plank door, within a timber frame, is to be installed within the arch. Steel reinforcement is to be in place on the inside face of the timber door for security reasons.
It doesn't sound like it will all be done in time for the Olympics, though the initial work may be, but at least the process of  preserving the ruin and making it more accessible has started.