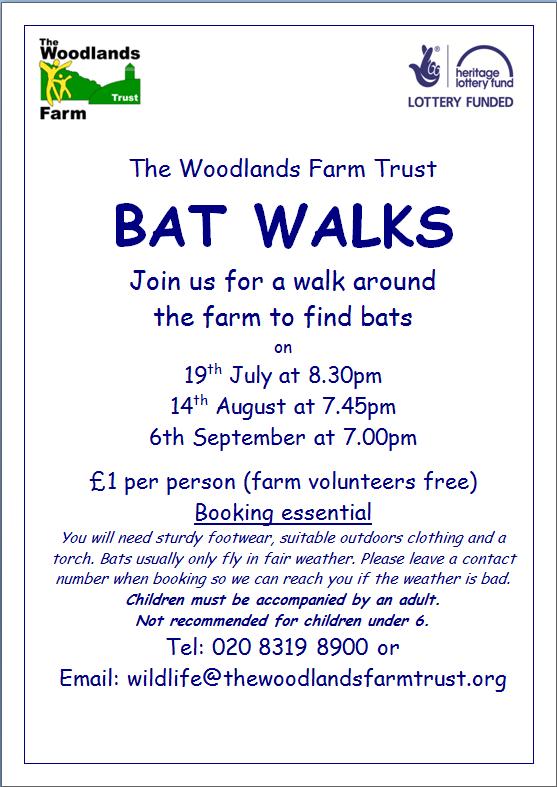 Another opportunity for bat enthusiasts, following the successful Shrewsbury Park bat walk, Woodlands Farm are holding a series of bat walks over the next few months, part of their recently launched  Heritage Lottery Funded Farm Conservation project.
The walks will be held on the evenings of:
19th July at 8.30p
14th August at 7.45pm and
6th September at 7.00pm
and will cost £1 per person. Contact the farm Wildlife Officer, Lorraine, on 020 8319 8900 to book a place, or e-mail the farm at wildlife@thewoodlandsfarmtrust.org
Incidentally this weekend is the Bat Conservation Trust's Sunset/Sunrise Survey weekend. This is a survey that anyone can take part in, and doesn't need any specialist equipment such as a bat detector. Details are on the BCT website:
The Sunset Survey couldn't be easier! Simply spend the evening in your garden and watch out for any bats that fly past. Record how many bats you see, which species they are (if you think you know) and, most importantly, which direction they are flying from.

The Sunrise Survey involves going out just before dawn to look for bats swarming before they return to their roost. If you have already done the Sunset Survey and saw bats flying past, you should walk in the direction from which most of them seemed to be coming.

This survey is aimed at beginners and is an excellent way of contributing to the monitoring programme if you don't have any previous experience of bat surveying.
I've heard that one of the bat species that can be seen at Woodlands Farm is the Daubenton's Bat, which hunts its insect prey over the ponds there. So here, to whet your appetite for bat viewing, is a fascinating clip from Springwatch of Simon King filming Daubenton's Bats hunting.