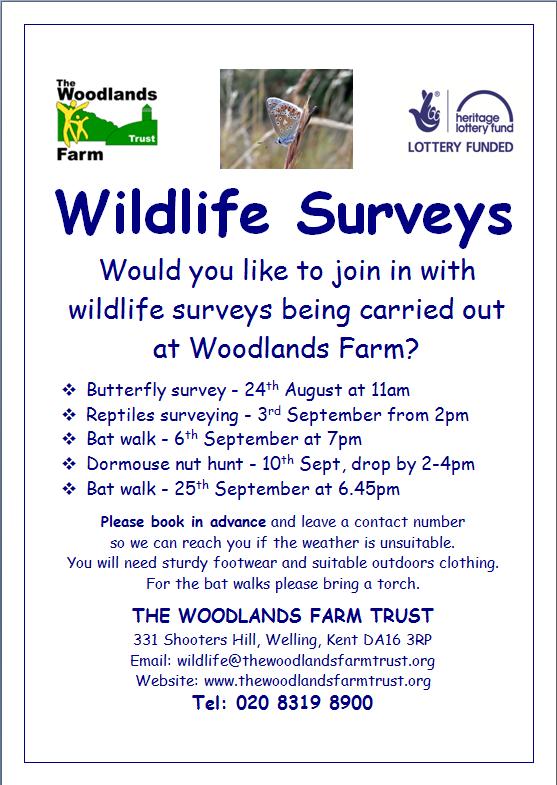 Lorraine, the Wildlife Officer at Woodlands Farm sent me an e-mail with details of their forthcoming wildlife surveys and walks, part of their Heritage Lottery Funded Farm Conservation project. Lorraine wrote:
Please find attached information about upcoming Wildlife Surveys and Bat Walks at Woodlands Farm, including the following surveys and walks:

Butterfly survey – 24th August at 11am
Reptiles surveying – 3rd September at 2pm
Bat walk – 6th September at 7pm
Dormouse nut hunt – 10th Sept, drop by 2-4pm
Bat walk – 25th September at 6.45pm

We will also be setting out kit across the farm for Reptile Surveys on Monday 20th August, starting at 2pm.

If you would like to join us for one of the wildlife surveys or bat walks, or to help with the reptile work, please get in touch (contact details below).

Best wishes

Lorraine

Lorraine Parish
Wildlife Officer

The Woodlands Farm Trust
331 Shooters Hill
Welling, Kent
DA16 3RP

Tel: 020 8319 8900
Email: wildlife@thewoodlandsfarmtrust.org
Website: www.thewoodlandsfarmtrust.org
Charity Number: 1051680
There are some more new farm animals to see at Woodlands: as well as the rare Irish Moiled cattle, there is a new British White calf. Clover gave birth on the day before the Olympics opening ceremony, and her calf has been named Olympus.