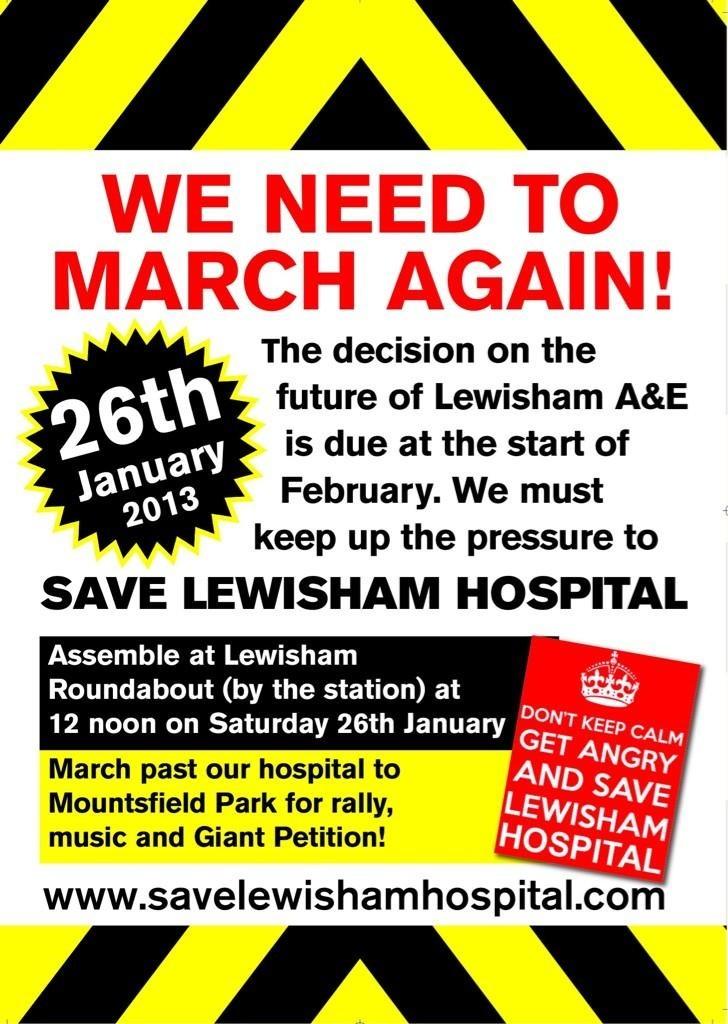 The campaign to save Lewisham Hospital's Accident and Emergency Department have organised a march to object to the SLHT Administrator's recommendation to close it to help sort out financial issues at the South London Healthcare Trust,  which includes our local Queen Elizabeth Hospital.
Why should we be concerned? Well apart from the effect on the health of people living near Lewisham Hospital who will have to travel much further if they need emergency medical help, and apart from the outrageous unfairness of closing a facility in a financially stable hospital to solve a problem elsewhere, and apart from the real terms reduction of the health care budget for south-east London and the flawed consultation process it will also add to the pressure on Queen Elizabeth A&E and increase the waiting time for patients there.
There is widespread support for the campaign,  including health professionals, Archbishop Desmond Tutu and Millwall football club and many others detailed on the Save Lewisham Hospital web site, which also gives the arrangements for Saturday's march:
The demonstration will assemble at the main roundabout outside Lewisham Rail/DLR/Bus station at 12 noon on Saturday 26th January.

March through Lewisham shopping centre along to Lewisham Hospital, then up Davenport Road to Mountsfield Park for rally, music and giant petition. Details of the route will be available here shortly.

RALLY AT THE END OF THE MARCH
This will take place in Mountsfield Park in Catford. There will be speeches, music, food, and other entertainments.
The web site also gives details of other actions we can take to support the campaign, such as writing to Health Secretary Jeremy Hunt and to our local MP and signing the petition supporting Lewisham A&E and maternity services.