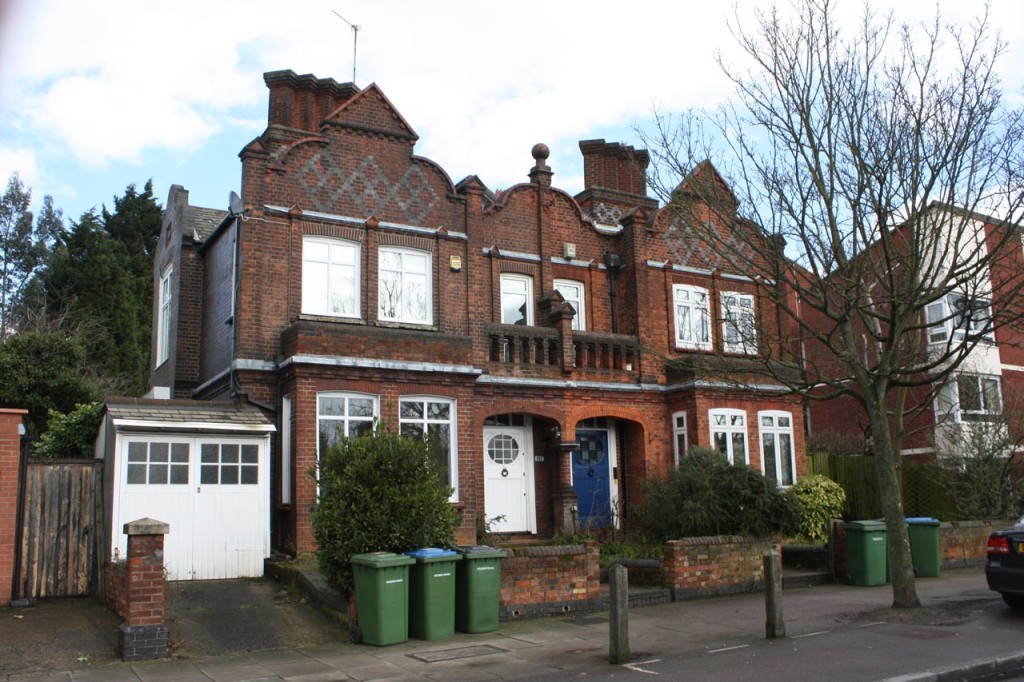 Whilst browsing in the local history section at Woolwich Library I came across a slim, typed, A4 document entitled "Buildings of Local Architectural or Historic Importance" by Councillor N.R. Adams and Borough Planning Officer C.H.J. Pollard-Britten, published in April 1983. It lists and describes interesting buildings across the borough, including quite a few here in Shooters Hill. I hadn't come across many of the building described, and the descriptions sounded quite interesting, which seemed like a good excuse for a stroll round the local streets with my camera. Also the selection of buildings didn't include quite a few that I thought would be essential members of such a list, so I arranged my route to pass some of them too.
I started on Shooters Hill itself.  The list included the Police Station, Christ Church and School, Samuel Phillips Memorial Shelter, and the Castlewood Day Hospital, but not the Water Tower or the Bull, though the nearby houses in the photograph at the top were there:
Nos 157 and 159

Built in 1907, a pair of semi-detached villas in the Dutch style, standing on the previous site of "The Bull". 2-storey in red brick with blue brick diaper work in the two main front gables. Slate roof and English Tudor style chimneys. Example of Edwardian romanticism uncommon in this area.
"Uncommon Edwardian Romanticism" – a good start. I headed round the corner into Shrewsbury Lane, where several of the document's entries are remnants from Victorian times when the area was dominated by large houses. Two walls from that era are described. The one between number 55 and Occupation Lane marked the boundary of Haddon Lodge, which appears on the 1866 OS map and according to Bagnold was built by William Jackson Esq. in about 1860. Then there's the wall next to number 61, which was part of the enclosure of  Park Villa and West Villa, former 19th century buildings which were demolished in the 1960s.
On the other side of  the lane is Elmhurst Cottage, which is described as:
No. 40

'Elmhurst Cottage'

Small single storey timber building – originally appeared on Ordnance Survey map of 1846, but rebuilt in previous style in 1976. Lidgebird, brickmaker for the Royal Arsenal, lived here. Built of wood with slate roof and sash windows. Decorative trellis work to sides of windows and projecting porch.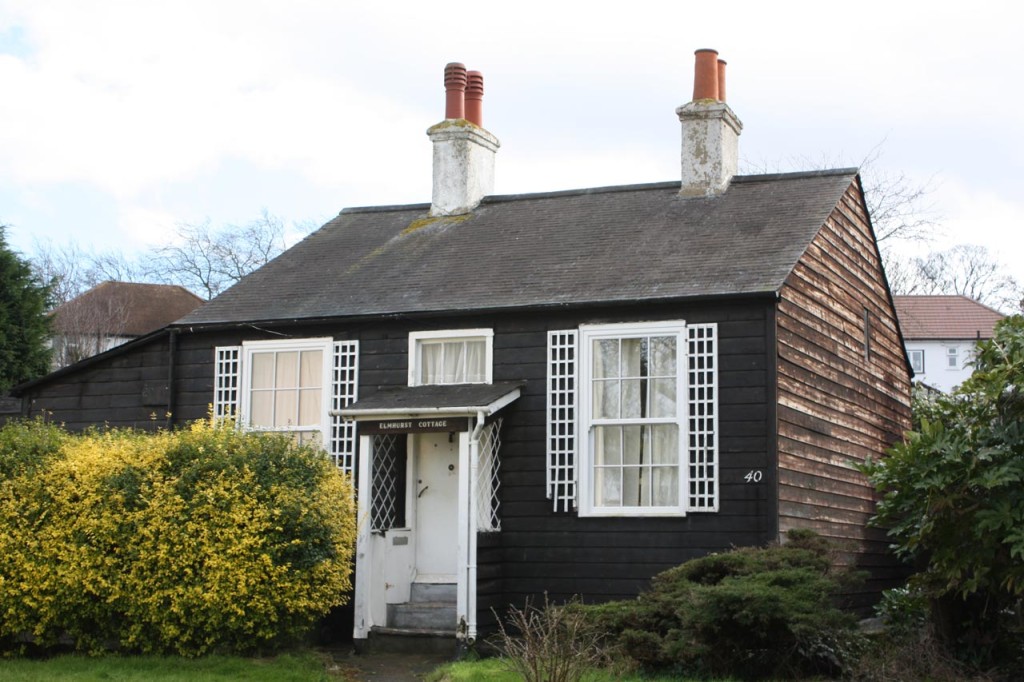 The cottage is all that remains of a much larger residence in spacious grounds called Elmhurst, which Bagnold describes as " a substantial residence built by the Dallins in 1859 and occupied by the family up until 1868 or later." The Lidgbirds and Dallins were significant families in the history of Shooters Hill. John Lidgbird, who was made High Sheriff of Kent in 1741, was a major landowner in the area. The eagles in his coat-of-arms are one possible origin of the name Eaglesfield. In the nineteenth century the Rev Thomas Dallin was the first vicar of Christ Church. He was married to Mary Lidgbird, a descendant of John. I guess that's where Dallin Road got its name from.
The only other houses mentioned in Shrewsbury Lane are 48 and 65. The fire station and Furze Lodge, the former gas decontamination centre, aren't in the list. I notice the conversion of Furze Lodge is now complete and ready for people to move in and enjoy the views.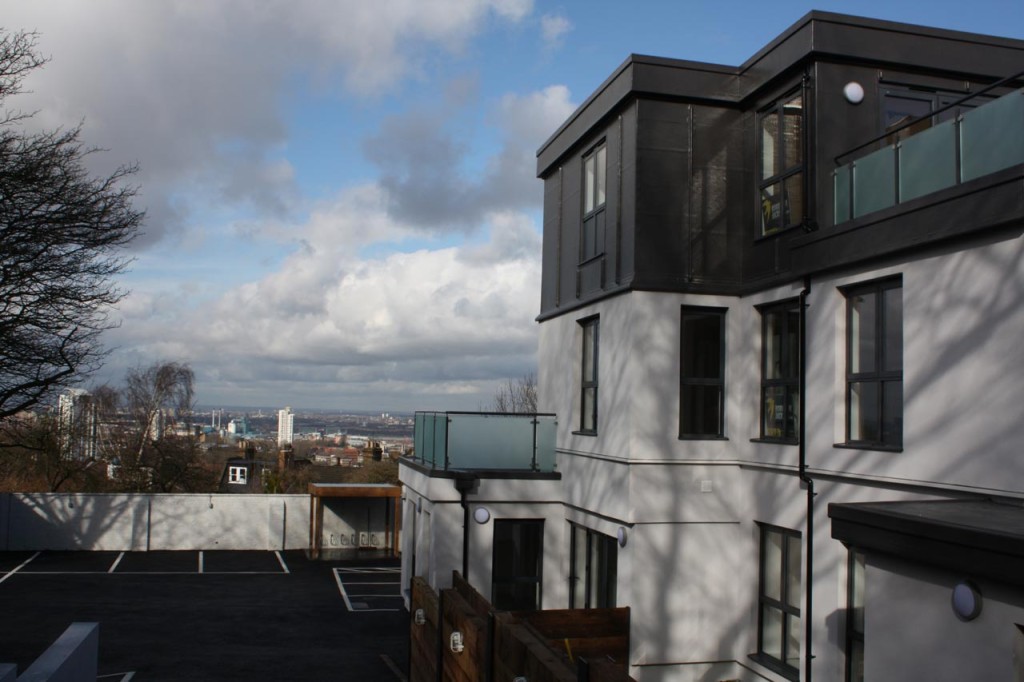 I continued down the hill into Plum Lane where the document describes a terrace of pretty cottages:
Nos. 10 – 32 (even)

Mid Victorian period – two terraces, split by Vambery Road, of small 2-storey yellow stock houses with slated roofs. Stone dressings to front doors and ground floor windows. Some houses have been pebbledashed. Terrace north of Vambery Road bear inscription, 'Shrewsbury Villas – built 1858'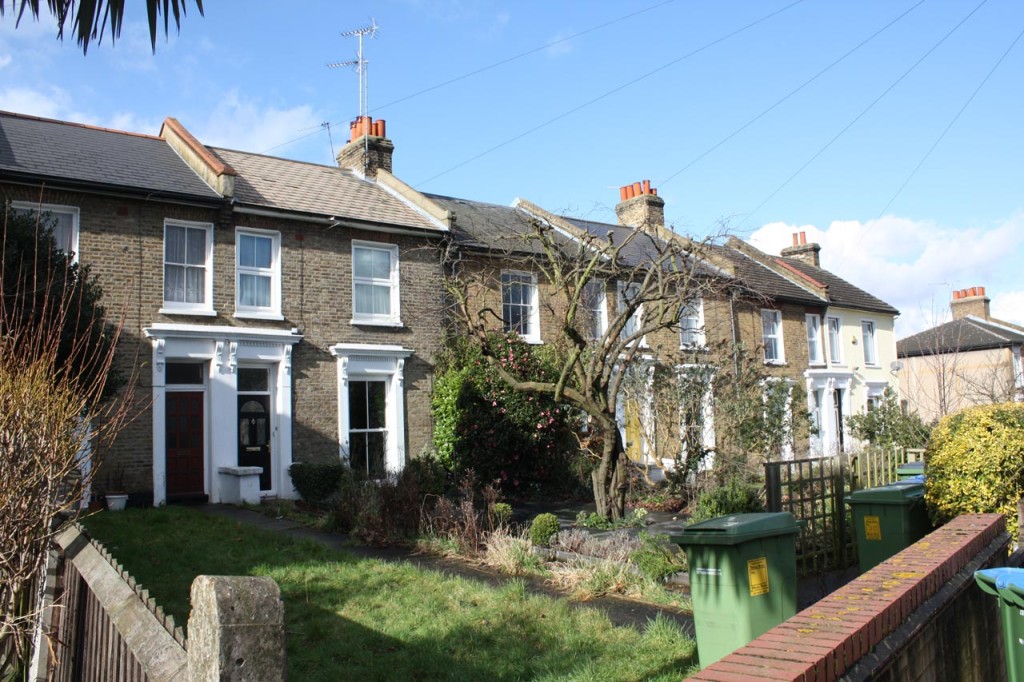 I decided to head back via Genesta Road to take a look at another building that isn't in the list – the United Kingdom's only modernist terrace. On the way I expected to see the only wall post box left in SE18: a "Victorian letter box in wall adjacent to No. 90 Plum Lane".  I was disappointed to find just a blank wall, which must mean that there are now no wall post boxes in SE18.
Russia-born architect Berthold Lubetkin's terrace at 85-91 Genesta Road is Grade II* listed, and is described on British Listed Buildings as follows:
Terrace of four houses. 1933-4 by Berthold Lubetkin, in conjunction with A V Pilichowski who secured the commission from C J Pell and Co. developers. George West Ltd. builders. Monolithic reinforced concrete construction, painted, with flat roof. Narrow frontage houses, 7.7 metres deep, on three floors, the ground floor lower than the road owing to the extremely steep site. Houses arranged in mirrored pairs. Ground floor with entrance halls, loggia rooms and garages, first floors with reception rooms and kitchens, the second floors with three bedrooms and bathrooms.
Entrances set back behind single pilotis to each house, which support the projecting upper storeys, and given further enclosure by curved projection to side. Most houses retain their original Crittall metal doors, and No. 91 has original bell. Garages, set further back, retain original doors. All windows to front are the original Crittall metal frames with side-opening casements, as are those to the rear except where noted. First floor with continuous horizontal windows across facade, each of ten vertical lights with some opening casements, set in projecting concrete frame – a very early use of such a feature. The second floor has a similar five-light window, with to side, doors on to balcony with cyma-curved concrete front and steel sides. This is a very distinctive and classic Lubetkin design, perhaps derived from the Bauhaus but evolved by him into one of the most characterful design features of the 1930s. Rear elevation simpler, though with similar Crittall windows surviving to Nos. 87 and 91 and to the upper floors of No. 85. The small bathroom and toilet windows to No. 89 survive, but the others have been altered. Ground floors originally with open loggias, now infilled with wood or glass but retaining their 'garden room' characteristic. The interiors survive remarkably well in all the houses, though No. 91 is the most complete.

Entrance halls with magnesium chloride floors, save that to No. 87 which has woodblock floor. Curved cloakroom in projection to side of front doors. Circular staircases with cupboards underneath, their timber newels scooped out on ground and first floor levels to make semi-circular features, admitting more light and space. A series of curves completes this newel wall at the top of the houses. First floor landing with cork floors. Reception rooms in two halves with square archway between, devised to give a sense of division without loss of space and light, and with two doors opening on to landing to enhance circulation space. On the second floor, No. 91 retains its original bathroom fixtures, with tiled walls and floors. The bedrooms have composition floors. Ladders secured over the stairwell give access via rooflight to flat roofs.
The front and side retaining walls with planting boxes are an important part of the composition, as are surviving gates and gatepiers. The rear gardens incorporate some walling and edgings in their steeply sloping sites.
Lubetkin was an emigre architect from the Soviet Union who settled in Britain in late 1931. This is his first building here, yet it is a confident and mature work which reveals many of the design details which were to appear in his later and better-known public commissions. The houses are the only completed terrace in England built in the modern idiom during the 1930s, and they are remarkably well preserved. Lubetkin himself designed only two other private houses, both in Whipsnade and including one for himself.
One of the terrace was recently up for sale, and there are currently some great pictures of the interior and a floor plan on The Modern House web site.
I headed back via Eglinton Hill. The first two houses in Adams' and Pollard-Britten's list had changed unfortunately: the red brick front and yellow stock brick return at number 29 had been pebbledashed and the carriage doors at number 35 are now a window. The houses further up were interesting though, and I'll write about them in a future post.
I took quite a few more pictures on my stroll around Shooters Hill buildings of interest,  which I've uploaded to a flickr set of Shooters Hill Interesting Buildings. I'm planning future photographic perambulations to visit the other buildings of architectural and historic interest in the area, which I'll add to the set. Suggestions for buildings that should be included would be welcome.