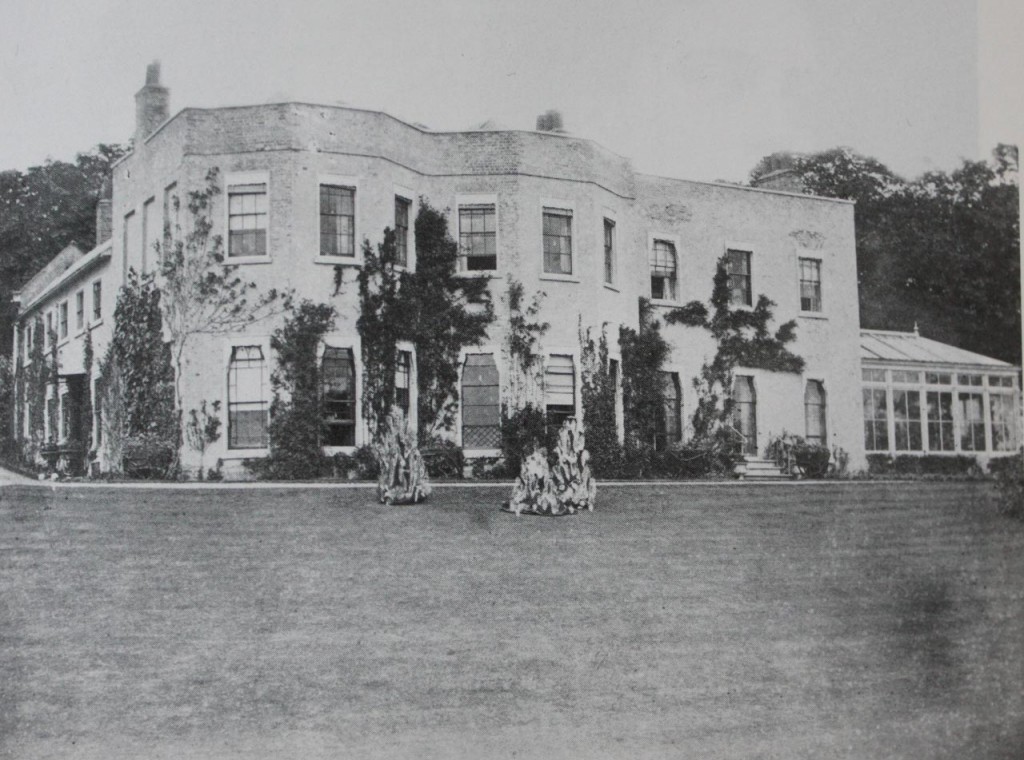 I recently got hold of a copy of Mike Ashley's fascinating in-depth biography of  Algernon Blackwood, Starlight Man The Extraordinary Life of Algernon Blackwood, which is now sitting on top of my bed-side Jenga pile of books to read.  It looks an interesting read: Blackwood led a very varied life. Wikipedia records that his career included "working as a milk farmer in Canada, operating a hotel, as a newspaper reporter in New York City, bartender, model, journalist for the New York Times, private secretary, businessman, and violin teacher". He was also a prolific author of supernatural and ghost stories, a TV broadcaster and an occultist – a member of the Hermetic Order of the Golden Dawn.
My interest in  Blackwood is partly because he was born in Shooters Hill, in Wood Lodge – one of the grand houses on the hill which have since been demolished. The old OS maps of the area show that Wood Lodge was situated roughly where the Oxleas Cafe is now.  Starlight Man includes the photo above, the only one I've come across of Wood Lodge, and the following description of Blackwood's first home:
Blackwood was born at Wood Lodge, Shooter's Hill in north-west Kent, not far from the suburbs of London. Administratively it fell within the parish of Eltham, but it was closer to Blackheath. Wood Lodge was a significant property. Built shortly before 1800 it had been extended and developed until a surveyor's report, in the early 1800s, called it 'a situation superior to any within this Manor'. It stood in over thirty acres of land with rights over a further twenty-three acres of adjoining woodland. Originally the house was called Nightingale Hall, and the song of the nightingale was still heard there many years later. Wildlife abounded in the adjacent woods. The house had at least three sitting rooms, seven bedrooms, two dressing rooms, a brew house and stabling for six horses, and this was before it was enlarged by another tenant in 1860. Arthur Blackwood and his growing family moved there in January 1868. The 1871 census reveals that they had eight servants and a governess.

Wood Lodge is no longer standing. The property reverted to the Crown in 1916 when it was used by the War Department as an antiaircraft unit. It remained unused for the next fifteen years, became dilapidated, and was pulled down in 1932.

It is just possible that Blackwood's earliest memory dates from those days. In his radio talk 'Minor Memories' he recalled that when he was just old enough to 'grip the lower bar of the nursery window' he saw the face of God. His parents spoke much of God but he had no idea what he looked like. The vision turned out to be a balloon sailing over Kent from Crystal Palace but it remained an indelible memory.

Increased demands on Blackwood's father, with a greater number of evening engagements, meant that he often returned home late, and Wood Lodge was not conveniently situated near the railway station. In June 1871 the family moved to the Manor House, Crayford. This was the home that remained fixed in Algernon's memory. He lived there from the age of two till June 1880, when he was eleven. It was the home of his childhood, the home of the 'Starlight Express', and the house that appears in many of his stories.
The Starlight Express mentioned is not the Andrew Lloyd Webber musical, but a 1915 children's play by Violet Pearn  with songs and incidental music written by Sir Edward Elgar which was based on based on Blackwood's novel A Prisoner in Fairyland.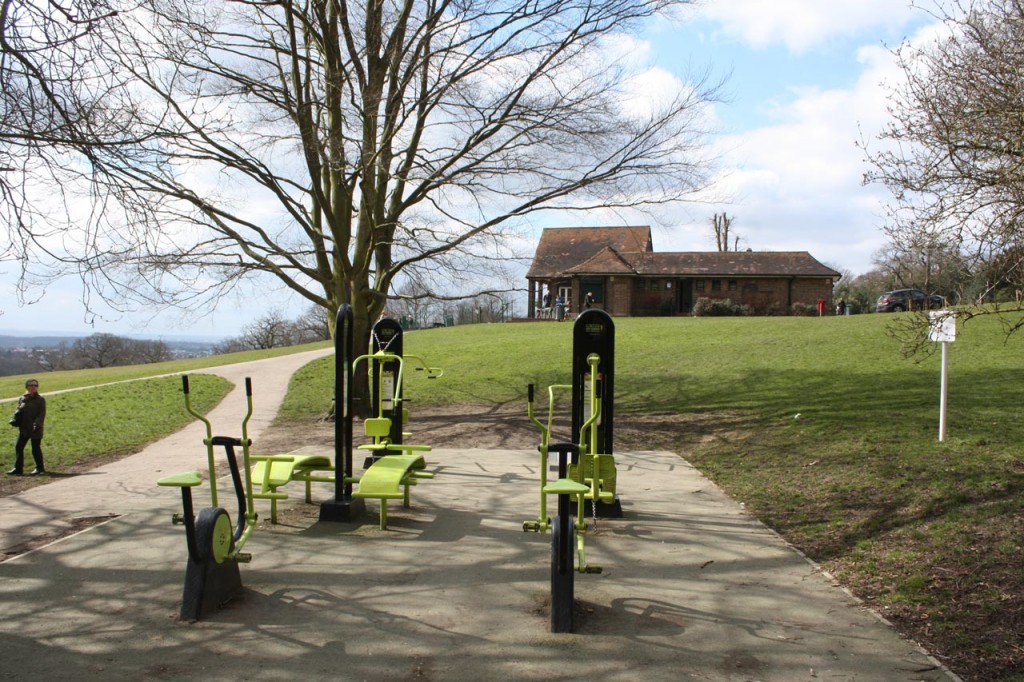 Wood Lodge was mentioned by Charles Booth, the Victorian philanthropist and social researcher known for his poverty maps of London, in volume B371 of his notebooks recording his perambulations around London streets. Digitized copies of these notebooks are available through the Charles Booth Online Archive, and  Volume B371 covers Districts 46 and 48 – Greenwich, Charlton, Kidbrooke and Woolwich. On page 209 he writes:
Bicycle ride through the streets of Woolwich between 10pm and 12.30pm and a visit to the Woolwich Music Hall while staying with H.F. Donaldson at Wood Lodge Shooters Hill,
Page 209 also gives Booth's description of Saturday night in the Market Place, Woolwich. Later pages have descriptions of people's clothes, prices at the market (fair sirloin 6d a pound, meat (not joints but not scraps) 3d a pound), Woolwich streets such as the Dust Hole  and the Music Hall in Beresford Street. It would be only too easy to waste a lot of time browsing through these notebooks deciphering Booth's descriptions of local streets and the social status of their inhabitants in May 1900.
Charles Booth was staying at Wood Lodge with Sir Hay Frederick Donaldson KCB, who at that time was Chief Mechanical Engineer at the Royal Ordnance Factories, Woolwich – the Royal Arsenal. I believe nearby Donaldson Road was named after Sir Frederick, who went on to become Chief Superintendent of the Royal Arsenal and was praised by Lloyd George for his "skilled, prudent, tactful, and resourceful administration". He stepped down from his Chief Superintendent position when he was appointed Chief Technical Adviser to the Ministry of Munitions in September 1915
Sir Frederick was one of the advisers selected to go with Lord Kitchener, Secretary of State for War, on a mission to Russia which ended in disaster. The  firstworldwar.com web site gives the details:
On the afternoon of 5th June 1916 HMS Hampshire set sail for Archangel, Russia with Field Marshal Earl Kitchener aboard.

He was bound for Petrograd at the invitation of Tsar Nicholas of Russia who wanted talks with the War Minister about the war on the eastern front.  Three hours into the voyage, the cruiser struck a mine off Marwick Head, Orkney and sank almost immediately.  Kitchener and his Staff perished, along with the officers and nearly all the men of the ship.  Just 12 survivors from a crew of 655 managed to find their way ashore.
A tragic end for Donaldson, who was praised in his obituary in Nature as "an engineer of distinction" who "was associated with, and largely responsible for, the great improvements in the power and mechanism of naval and land artillery".