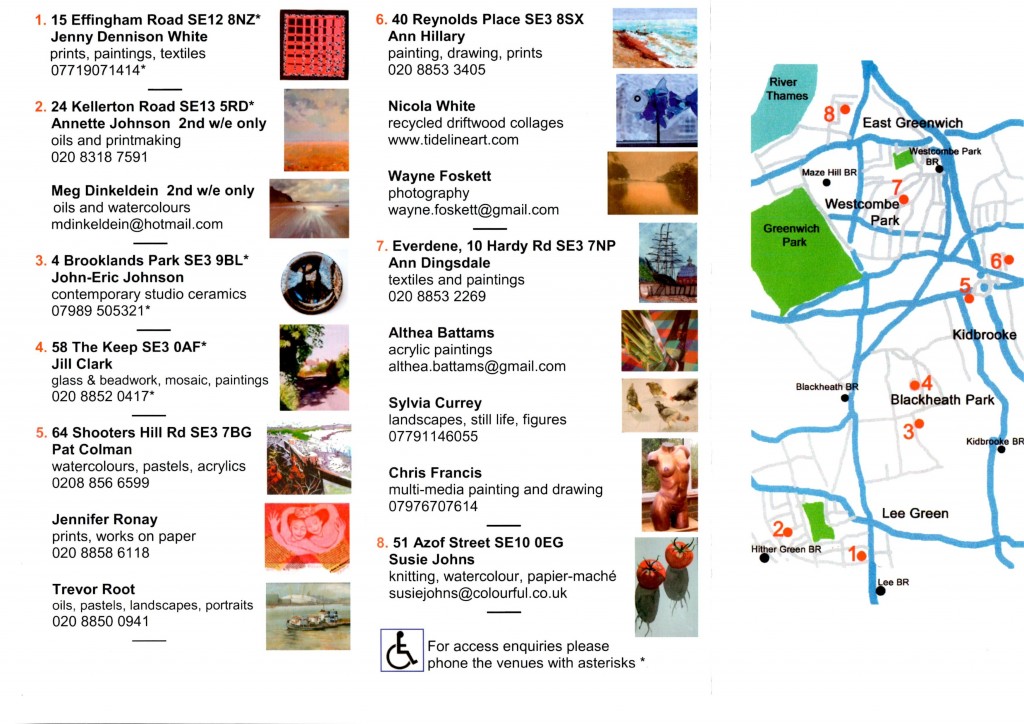 Opportunities for art lovers to meet and talk to local artists in their studios start this weekend when some of the members of the Blackheath Art Society  open their workplaces to the public. They are open from 12.00 noon to 6.00pm this Saturday and Sunday (27 & 28th April) and then again on the weekend of the 4th & 5th May. Admission is free.
The Blackheath Art Society leaflet, above, gives details of the artists and where they can be seen (click for a larger view).  Some of the artists I saw last year are open again this year. I particularly enjoyed the creations of Nicola White, who  makes her art from flotsam and jetsam found along the banks of the Thames such as  lengths of driftwood and pieces of glass worn smooth by the tide. I must admit that the Thames Bottle Fish we got from Nicola last year is still waiting, with the wooden Roopachanda fish from Bangladesh, to be put up on the bathroom wall – it really needs a third fish to make a plaster duck like cascade.  I also liked the acrylics, water colours and pastels of local scenes by Pat Colman, who teaches art at the University of the Third Age in Greenwich.
Blackheath Art Society also have a Taster Exhibition on at the moment until 19th May at the Greenwich Tourist Information Centre in Cutty Sark Gardens, and will hold their Summer Exhibition at the Blackheath Halls, Lee Road from 5th to 18th June.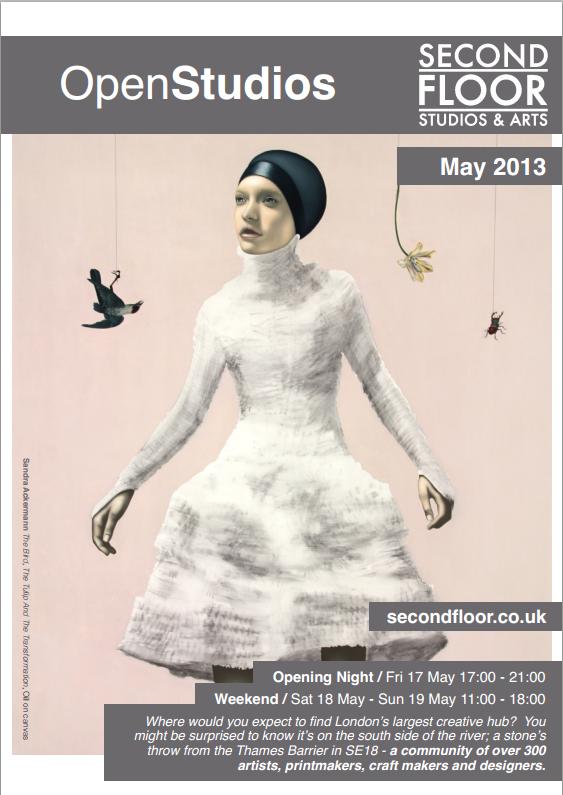 There are so many artists working at the seven acre site of  Second Floor Studios & Arts that I still haven't got round them all, despite visiting on a couple of their open studios days. The next one opens on the evening of  Friday17th May from  5pm – 9pm and is open on Saturday and Sunday 18th & 19th from 11am – 6pm. The range of creative work going on down by the Thames Barrier is enormous, as their web site says it includes:
painting, drawing, sculpture, printmaking, photography, animation, illustration, fashion, accessories, jewellery design, mosaic, glass-making, ceramics, cabinet-making, architecture, interiors and soft furnishings, bookbinding, silversmithing, installation, textiles, garden design + more…
SFSA have produced  a Family Trail map and activity sheet  to guide families with children on their exploration of the site and studios.
Also on the SFSA site over that weekend, the no format gallery has an exhibition of contemporary furniture and lighting produced by SFSA members, and the gallery will be the venue for the launch of Stephen Baycroft's new book "On Sublimity and Synaesthesia".  And of course there's the Thames-side Social Enterprise Arts Café CANTEEN to relax and recuperate in when you get studio-ed out.