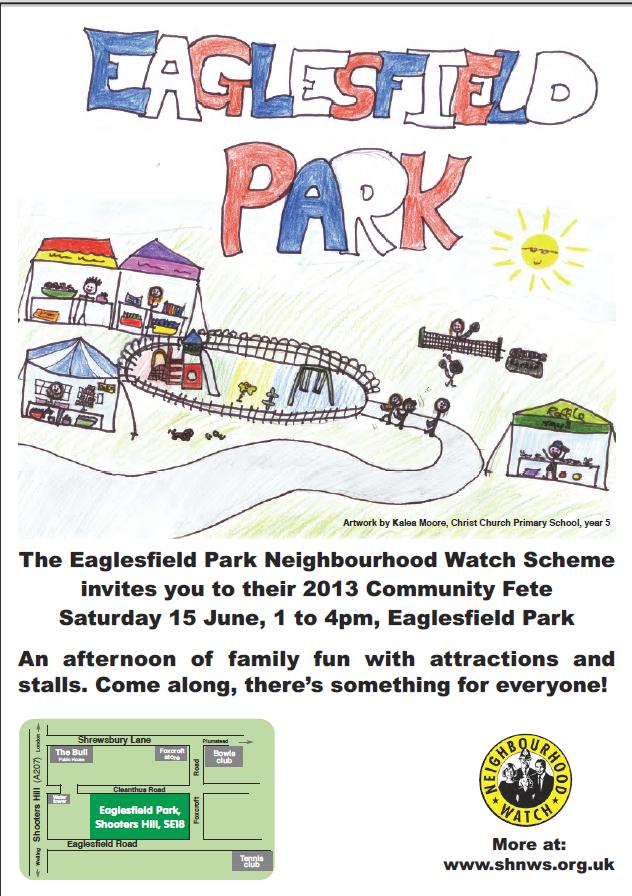 The Eaglesfield Park Neighbourhood Watch Scheme (EPNWS) Community Fête looks like it will be even better than ever this year. It takes place this Saturday, 15th June from 1.00pm and, as well as over 30 stalls, the attractions include the Kings Troop Royal Horse Artillery. As the EPNWS Summer Newsletter says:
This is the sixth year that the fete has been held to help promote the benefits of Neighbourhood Watch and foster community spirit. The fete will be opened at 1pm by Borough Commander Detective Chief Superintendent Richard Wood, poster competition winners from Christ Church Primary School and resident John Pead in memory of his wife and fellow EPNWS co-ordinator Annie Pead who died suddenly in February.
There are over 30 activities and stalls this year. New attractions include a puppet show, model trains and the Kings Troop Royal Horse Artillery. Other activities include mini tennis and golf, children's story telling, face painting, pond dipping, hurdles and frisbees. Greenwich Met Police teams will be on hand as well as the Eltham Fire Brigade. Pets at Home Charlton will be providing pet care advice and Woodlands Farm will be bringing some of the farm animals, and there's much more.
Saturday will also be the first anniversary of the grand opening of the restored Eaglesfield Park Lilly Pond, and the Friends of Eaglesfield Park will be host a display of photos about the changes to the pond and an opportunity to try pond dipping. Madeleine from the Friends wrote:
We will be holding a Pond Dipping Session at the Neighbourhood Watch Community Fete on 15th June, between 1 pm – 4 pm.   So do please come and see us.   We will supply the equipment.
We will have a photo display which will show the pond and meadow through the stages of restoration, grand opening and various events.  The pond life is beginning to establish and photos show what we have found already and those yet to be discovered.  It will also provide details of the meadow preparation and the flowers and plants we hope to attract (and those we don't want).   The butterflies and insects are important and they are also detailed in the display.  We haven't forgotten the birds.  As we gather information, we will add to our on-going "Life at Eaglesfield Pond".
A not-to-be-missed event.