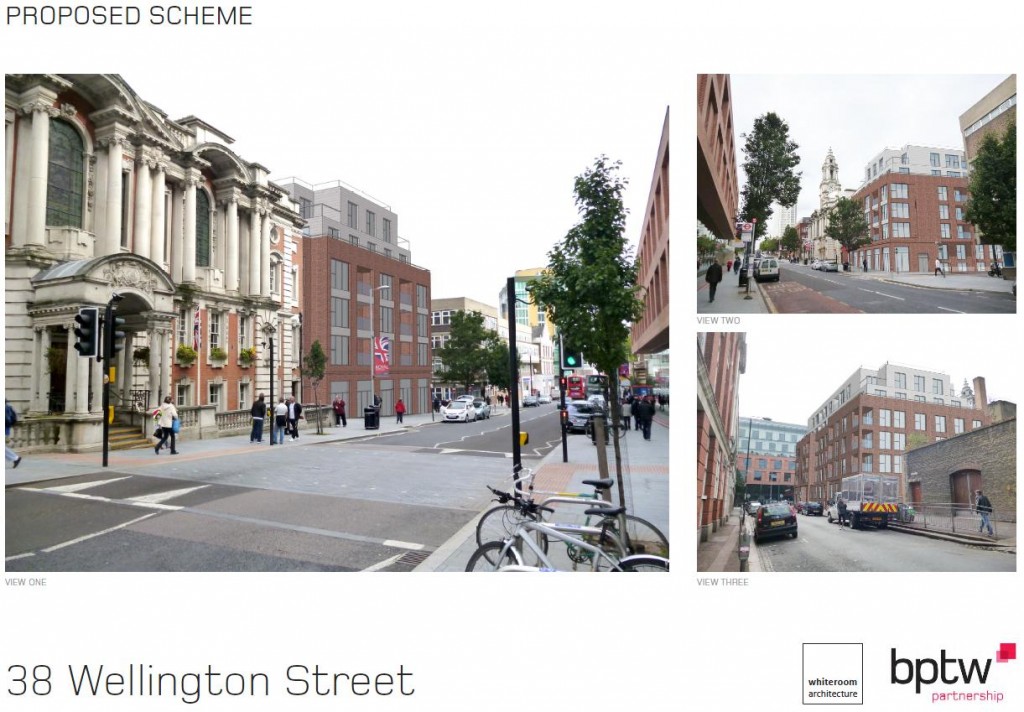 The Woolwich Grand Theatre will be demolished and replaced with a six storey block of flats with room for a café at the front if current proposals are implemented. There will be 46 one- and two-bedroom flats of which 20% will be "affordable" according to the consultants from bptw partnership and whiteroom architecture at the consultation event last week.
Their original plan was for a seven storey building, but this was reduced to six following discussion with council planners. The design of the proposed red-brick building aims to harmonise with the adjacent Town Hall, with strong verticals and horizontal lines which continue the Town Hall's. The flat's are arranged around a central courtyard which also mirrors a space in the Town Hall.
The consultants said that the "commercial space" at the front of the building could be used as a café, and that it could be let to the Grand's impresario Adrian at favourable rates to continue as a cultural space. They also said that it is larger than the current Red Room café at the Grand, and that it could be arranged to show films to people sitting at café-style tables. This seemed to be stretching things to me, and there is no getting round the huge reduction in space available for performance compared to the Woolwich Grand as it is now.
The developers had wanted to hold the consultation event at the Town Hall but were refused permission, and their time at Gunnery House was limited. There had not been a huge number of visitors, and I was the only person there with the consultants when I dropped in. They sent out a pdf containing the consultation displays today, and indicated that I could communicate them to people who could not attend. The two images in this post are taken from their pdf.
Planning permission will be applied for in a few weeks; we'll get another chance to say what we think then.