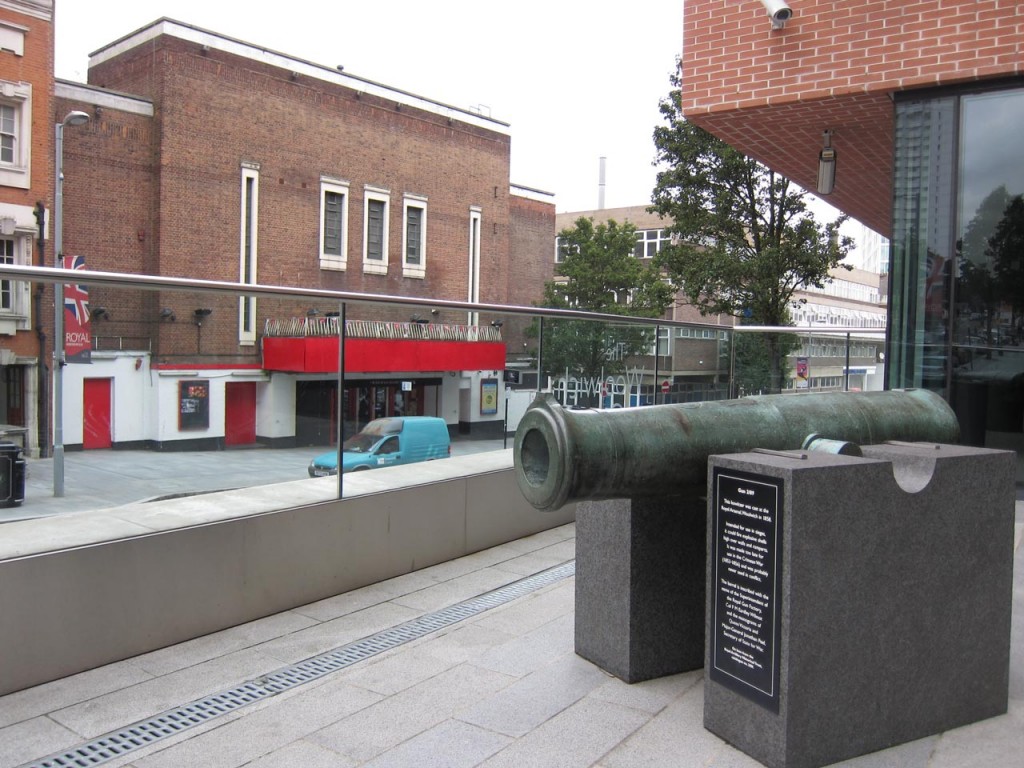 Is the Woolwich Grand Theatre under threat of redevelopment? Yes, it is, if the leaflet sent to people living nearby is true. It is an invitation to a consultation event about  a proposal to redevelop the site. The leaflet I saw said:
INVITATION TO CONSULTATION EVENT

Proposals for 38 Wellington Street

You are invited to view and comment on proposals for the site of the former Grand Theatre and Regal Cinema at 38 Wellington Street for a mixed use development incorporating commercial on ground floor with residential uses

Event details:

Thursday 26th September 2013 from 2pm to 5.30pm at 9-11 Gunnery Terrace, Room 22 Gunnery House, Woolwich Arsenal, London SE18 6SW
The leaflet I saw had no indication who had produced it or who was running the consultation event. I couldn't find any application for planning permission for the redevelopment of the site, so I guess this must be an early stage consultation before permission is applied for.
What a set-back for Woolwich town centre this would be – removing one of the few places where cultural activities such as  film, music and other events can and do take place. And how discouraging for the people who have worked hard to bring such cultural activities to the town.
Also it doesn't seem consistent with the Woolwich Master Plan which states that the cultural use should be promoted in the Bathway Quarter where the Grand is located. It also says:
The protection of the town centre's important heritage value should continue. This will be enhanced by the refurbishment and bringing back into use of historic buildings within the Bathway Quarter. This area should also be given additional heritage protection to conserve its distinct character, as should Powis Street and Hare Street.
I wonder what happened to that additional protection, and the proposal to designate the Bathway Quarter and Powis and Hare Street as Conservation Areas?
It's a shame that the consultation event is during office hours, but I hope that won't stop people going along to support the Woolwich Grand.