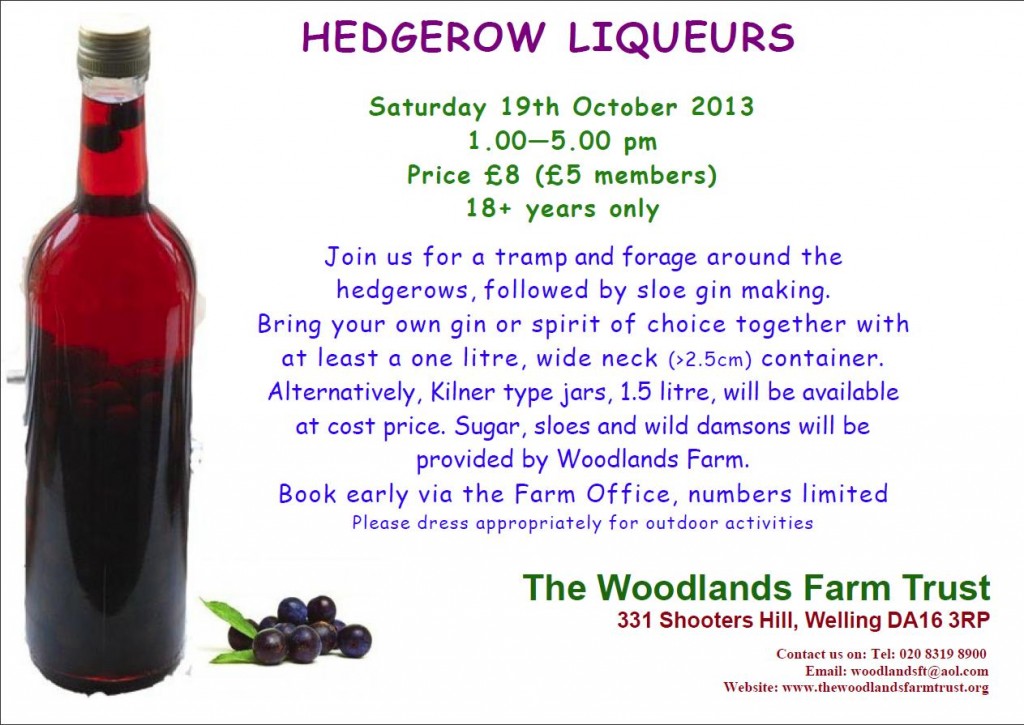 Autumn is a fruitful foraging season, and Woodlands Farm is a fruitful place to forage for sloe berries and wild damsons. They will be foraging on Saturday, and using some of the fruit they gather to make Sloe Gin. Barry Gray from the farm wrote with details:
I attach a flyer for our autumn forage for sloes and wild damsons, with an opportunity to make sloe gin. This is a chance to see Woodlands Farm in autumn, hunt for wild fruit in the hedgerows and learn to make delicious country liqueurs in time for Christmas. Every participant leaves with a bottle of delicious hooch!

HEDGEROW LIQUEURS

Saturday 19th October 2013
1.00—5.00 pm
Price £8 (£5 members)
18+ years only
Join us for a tramp and forage around the hedgerows, followed by sloe gin making.
Bring your own gin or spirit of choice together with at least a one litre, wide neck (>2.5cm) container. Alternatively, Kilner type jars, 1.5 litre, will be available at cost price. Sugar, sloes and wild damsons will be provided by Woodlands Farm.
Book early via the Farm Office, numbers limited

Please dress appropriately for outdoor activities
You can contact the farm to book a place by phone on 020 8319 8900 or by e-mail on woodlandsft@aol.com
Just so you know what to look for there are some photos below of sloe berries on the blackthorns at the farm, and there's a Sloe Gin recipe in a previous post.