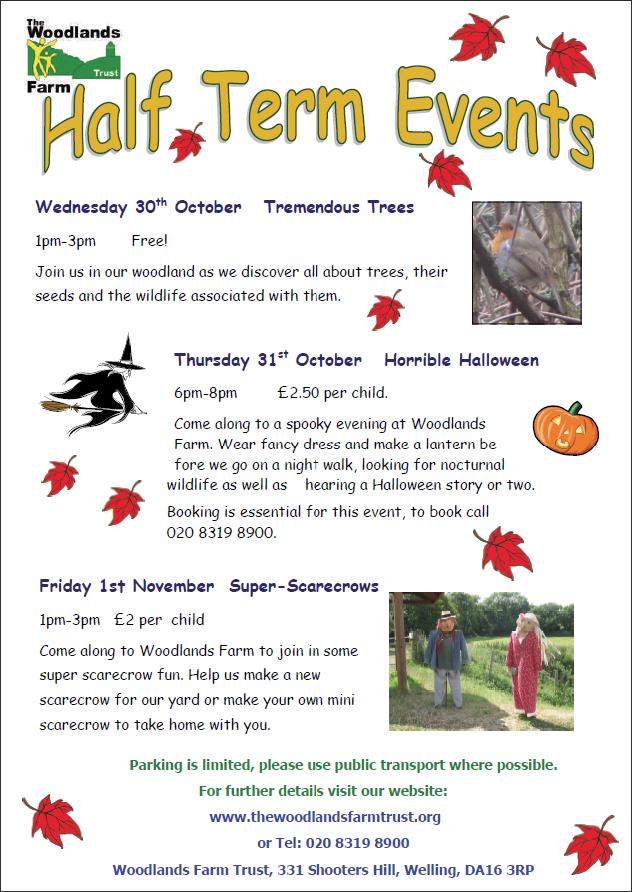 Hannah, the Education Officer at Woodlands Farm sent details of their October half term events for children:
October Half Term Children's Events

Wednesday 30th October
Tremendous Trees
1pm-3pm
Free!
Join us in our woodland as we discover all about trees and the wildlife associated with them.  We will also be collecting some seeds for our tree nursery.  Come down any time between 1-3pm to join our afternoon of tree discovery.

Thursday 31st October
Horrible Halloween
6pm-8pm
£2.50 per child.
Come along to a spooky evening at Woodlands Farm.  Wear fancy dress and make a lantern before we go on a night walk, looking for nocturnal wildlife as well as hearing a Halloween story or two.  Booking is essential for this event, to book call 020 8319 8900.

Friday 1st November
Super scarecrows
1pm-3pm
£2 per child
Come along to Woodlands Farm to join us in some super scarecrow fun.  Help us make a new scarecrow for our yard or make your own mini scarecrow to take home with you.  Drop in anytime between 1-3pm to join the fun!

For more information, see our website or contact Hannah Forshaw on education@thewoodlandsfarmtrust.org
Work on the new education building at the farm is progressing rapidly; the building itself was already in place when I wandered down to the farm yesterday. I wonder if it will be open in time for the half term events?