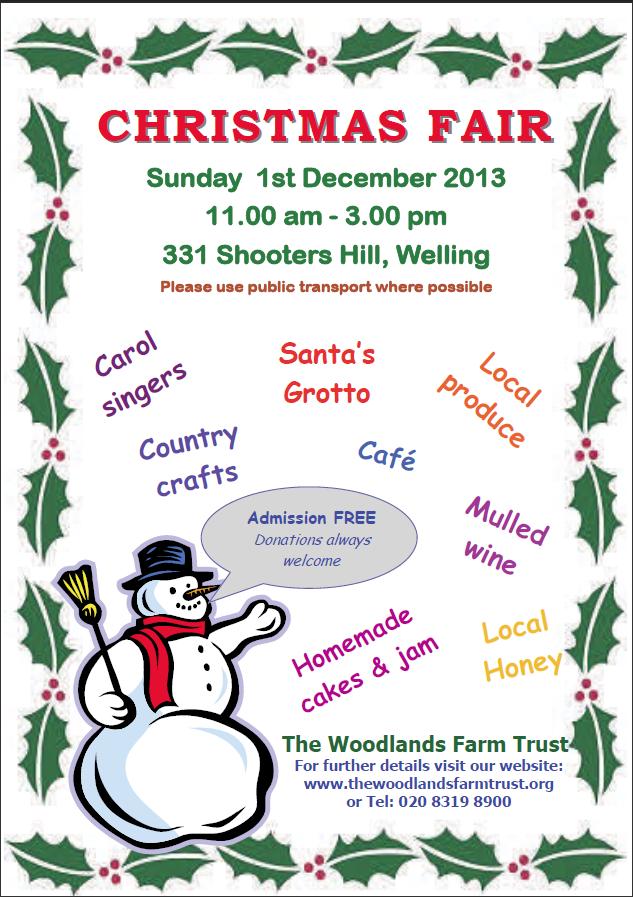 Woodlands Farm and Shrewsbury House are holding their Christmas Fairs on the same day again this year – Sunday 1st December. As only a short, scenic stroll separates them it's easily possible to visit both and will be a good day to go shopping for some distinctive and unusual Christmas presents.
Maureen from the farm wrote with details of their Fair:
All are welcome at the Woodlands Farm Trust Christmas Fair at 331 Shooters Hill, Welling on Sunday 1 December 2013 from 11am-3pm. Visit Santa's Grotto, sip mulled wine whilst browsing stalls of local produce and crafts for early Christmas present ideas, or relax in our cafe while the kids enjoy crafts and games. A great festive day out for all the family. Entry is free, but donations are always welcome and go towards the running of the Farm.
Volunteers at the farm have been busy recently. The farm was badly affected by the storm-force winds a few weeks ago, with a number of trees and large branches down along the footpath to Garland Road, and lots of work to clear them away. Also the farm's new education building has been erected, remarkably quickly, and will soon be ready for the large number of schoolchildren who visit – 3,500 every year according to the farm's web site.
Up the hill from the farm, the Christmas Fair at Shrewsbury House has also become a regular fixture in the calendar. Last year they hosted a wide variety of hand-made craft stalls – ceramics, jewellery, textiles and many different cakes and sweets – as well as paintings by local artist Ray Marshall and photographs from the aperture Woolwich Photographic Society.
And, of course, both fairs will have mulled wine and festive music so we can make an (early) start on getting in to the Christmas spirit.