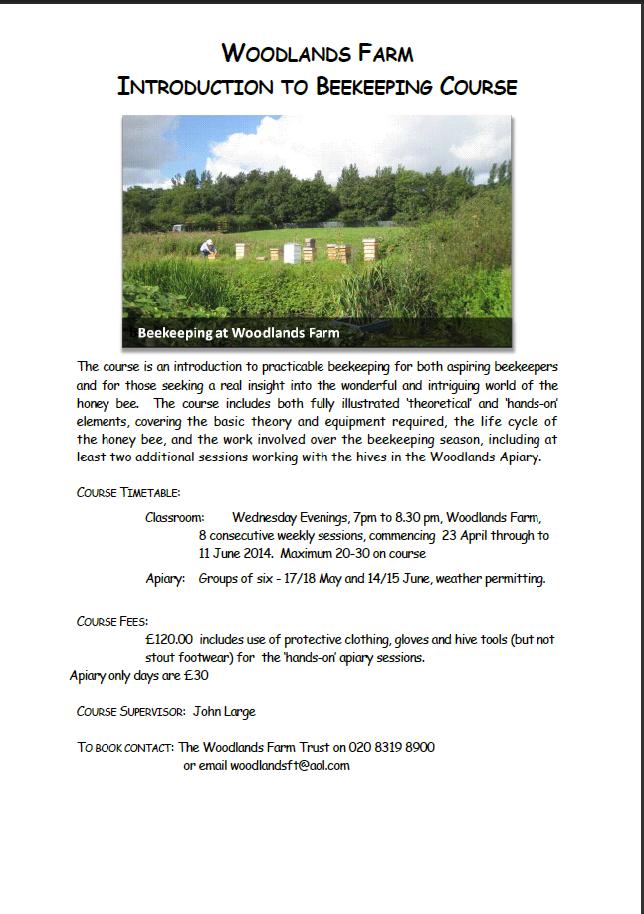 Maureen from Woodlands Farm wrote with details of a beekeeping course to be run by John Large and held at the Farm:
The course is an introduction to practicable beekeeping for both aspiring beekeepers and for those seeking a real insight into the wonderful and intriguing world of the honey bee. The course includes both fully illustrated 'theoretical' and 'hands-on' elements, covering the basic theory and equipment required, the life cycle of the honey bee, and the work involved over the beekeeping season, including at least two additional sessions working with the hives in the Woodlands Apiary.
Course Timetable:
Classroom: Wednesday Evenings, 7pm to 8.30 pm, Woodlands Farm, 8 consecutive weekly sessions, commencing 23 April through to 11 June 2014. Maximum 20-30 on course
Apiary: Groups of six – 17/18 May and 14/15 June, weather permitting.
Course Fees:
£120.00 includes use of protective clothing, gloves and hive tools (but not stout footwear) for the 'hands-on' apiary sessions.
Apiary only days are £30
Course Supervisor: John Large
To Book Contact: The Woodlands Farm Trust on 020 8319 8900 or email woodlandsft@aol.com
Perhaps the gold that yesterday's rainbow was pointing to was the golden colour of honey.