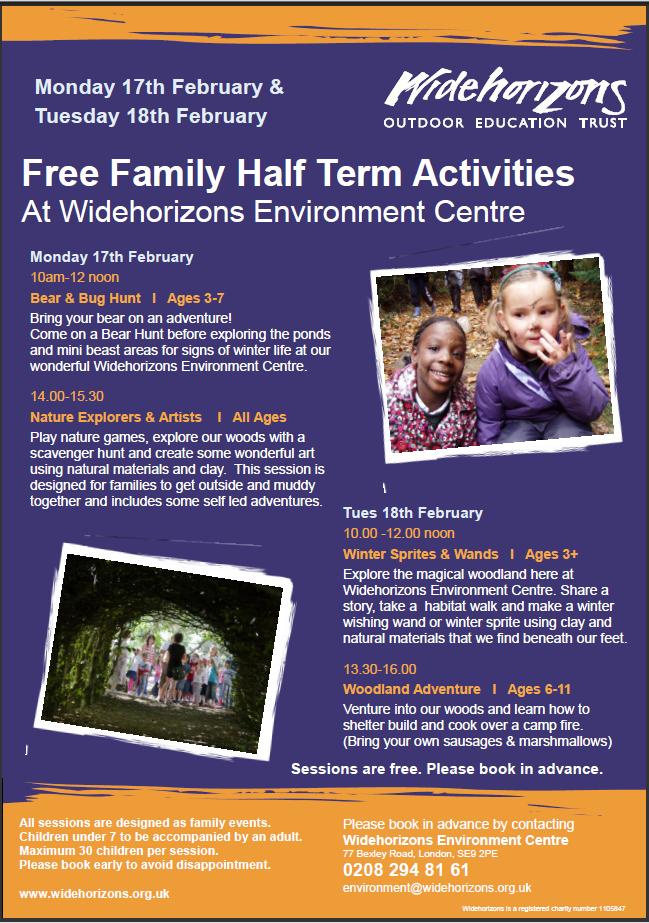 Nicola from the Widehorizons Environment Centre in Eltham sent me details of their free half-term events for children. As there are a maximum of 30 children per session it is essential to book. They can be contacted by 'phone on 0208 294 8161 or e-mail environment@widehorizons.org.uk. Children under 7 must be accompanied by an adult. The activities take place on Monday and Tuesday:
Monday 17th February
10am-12 noon
Bear & Bug Hunt I Ages 3-7
Bring your bear on an adventure!
Come on a Bear Hunt before exploring the ponds and mini beast areas for signs of winter life at our wonderful Widehorizons Environment Centre.
14.00-15.30
Nature Explorers & Artists I All Ages
Play nature games, explore our woods with a scavenger hunt and create some wonderful art using natural materials and clay. This session is designed for families to get outside and muddy together and includes some self led adventures.
Tuesday 18th February
10.00 -12.00 noon
Winter Sprites & Wands I Ages 3+
Explore the magical woodland here at Widehorizons Environment Centre. Share a story, take a habitat walk and make a winter wishing wand or winter sprite using clay and natural materials that we find beneath our feet.
13.30-16.00
Woodland Adventure I Ages 6-11
Venture into our woods and learn how to shelter build and cook over a camp fire. (Bring your own sausages & marshmallows)
Widehorizons Environment Centre is located at 77 Bexley Road, London, SE9 2PE. Conveniently the activities do not clash with those at Woodlands Farm which take place on Wednesday to Friday.