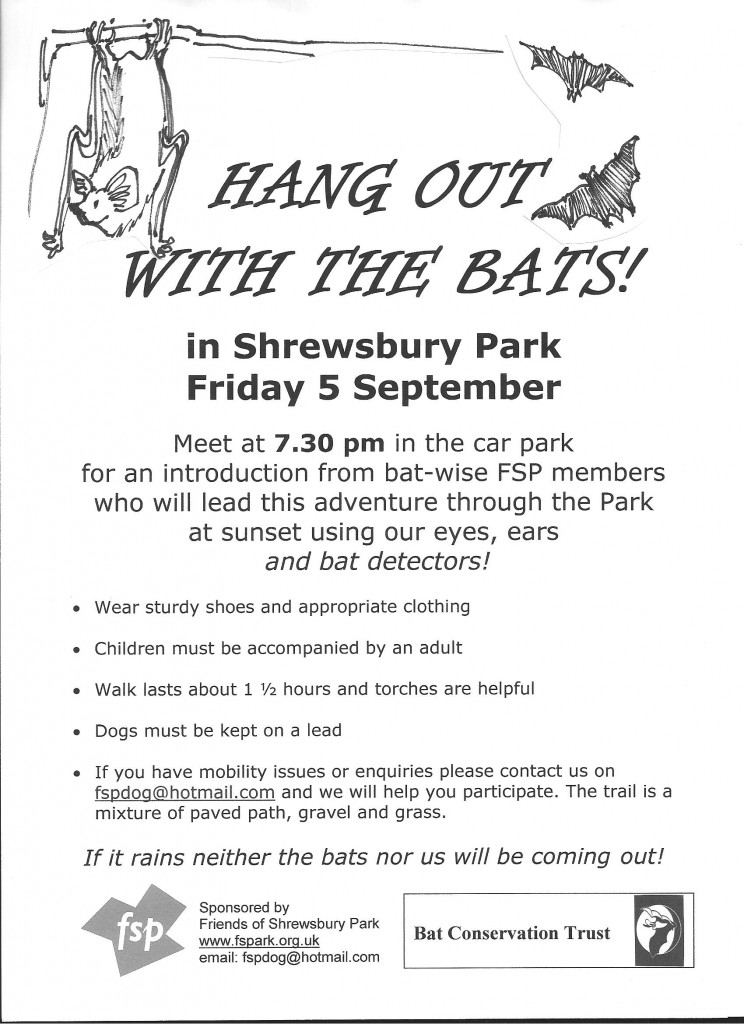 Bats have become very popular, perhaps surprisingly given their past unfortunate associations with blood-sucking vampires. Bat walks are consistently fully booked up: both Woodlands Farm and Hall Place had no spare spaces on nightime strolls with bat detectors  in the last couple of weeks. And in July the Bat Conservation Trust's  Bat Fest weekend at the Natural History Museum had its busiest year yet with nearly 3000 visitors.
The Friends of Shrewsbury Park's bat walks have always been very well attended. This year's will be held next Friday, 5th September. An e-mail from the Friends gave the details:
We will be providing a bat walk on Friday 5th September.  If you would like to attend, please meet in the car park at 7.30pm for an introduction to bats by Kris and Les, and a demonstration on how to use the bat detectors.  The walk will last about an hour and a half.
– please wear sturdy shoes and appropriate clothing
– children must be accompanied by an adult
– dogs must be kept on a lead
– please bring a torch.
If you have mobility issues, please contact us so we can help you to participate.  The trail is a mixture of paved path, gravel and grass.
If it rains, neither the bats nor us will be coming out!!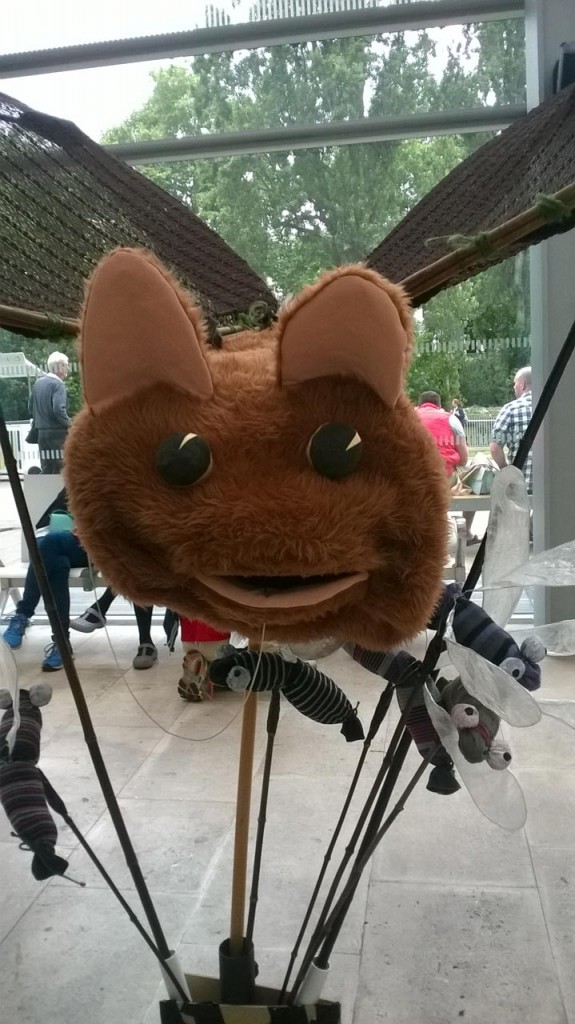 Bats' popularity isn't confined to the UK. This Saturday is the 18th International Bat Night, an event which started in 1997 and is marked by batty events in more than 30 countries all over the world. The Bat Conservation Trust in the UK is holding a Creative Competition for International Bat Night:
To enter the competition all you have to do is create something original and inspiring that represents how you celebrated International Bat Night. Your entry could be a drawing or painting of a bat you saw whilst on a bat walk, a picture of bat shaped cookies you baked, or a poem or short story inspired by your activities.
The closing date for entries is next Friday 5th September.
Why the increased interest in bats and bat walks? Part of the reason, I think, is that bat detectors have become less expensive, and they are also available for loan for bat walks from the BCT, London Bat Group and park groups so it's easier to find bats. Also, though, they are such fascinating creatures. They can detect and then capture insects such as midges on the wing using their echolocation – they shout continually as they fly around and use the echoes from tiny insects to "see" where their prey is. They have wonderful wings, constructed from layers of skins over elongated finger bones, hence the name of their order, chiroptera, meaning "hand-wing".  This gives them great agility and control in flight, as you can see in the amazing film footage included below.