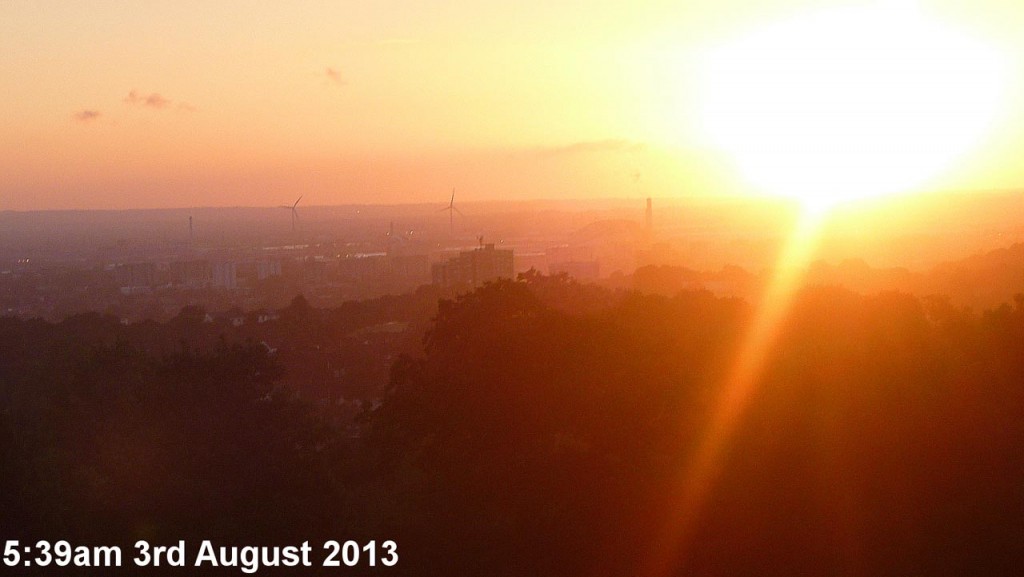 There's another opportunity for an overnight ramble along the 22 miles of the Green Chain Walk from Crystal Palace to Erith on Friday, 5th September. As before the walk will be led by Ian Bull, who regularly leads walks near Shooters Hill, such as the Best Landscape and Views in London,  the Thames Path Super Walk and London's best woodland and views – without doubt. He e-mailed to say:
MIDNIGHT MEGAWALK – FRIDAY 5TH SEPTEMBER 2014.
CRYSTAL PALACE RAILWAY STATION at 23.30.

At last… There's finally a strong chance of clear skies on Friday/Saturday 5th/6th September. No rain is forecast and it's going to be nice and warm as well. There hasn't been a clear Friday/Saturday  since late May – not one!
This is your chance to experience a very pleasant walk in remarkable  conditions. There are miles of dense woodland on our route and in them it will be jet-black. Barely a photon will disturb us when we stand still for a moment and listen to the nocturnal wildlife quietly scurrying through the undergrowth. As first light begins to show at  about 04.00 the sky will gently become turquoise from the North  leaving black to the South and from our best vantage points, London's  streetlights gleaming gold beneath us. The views are glorious, the darkness delicious, and the landscape is London's best.

There's no need to book and no charge, just turn up, but feel very  free to ask me in advance for further information.

What we're going to do…
* We meet outside Crystal Palace railway station at 23.30 on Friday 5th September.
* The pace will be leisurely, we don't even have to make average  walking speed.
* The aim is to see the Sun rising over East Anglia and the Lower Thames from Shooters Hill, very nearly London's highest point, at 06.21 and we will achieve this.
* The overall distance is 21.5 miles but a 1.5 mile diversion through excellent woodland will be offered to see the Gothicky (spooky?) Severndroog Castle. There are benches for a nap for those who don't want to do this.
* After sunrise we'll traverse Bostall Woods and Lesnes Abbey Woods.  About four miles of these, and the latter has been there for 8,000  years, London's finest ancient woodland.
* Finish at Erith about 08.30 for a train home. No engineering works – 33 minutes to London Bridge.
* Some participants traditionally have a breakfast together in a Café near London Bridge after the event.
Ian can be contacted by e-mail on  ianbull at btinternet dot com
If you prefer to walk the Green Chain in the light of day Ian is also planning to hold a day-time megawalk on Saturday 27th September.