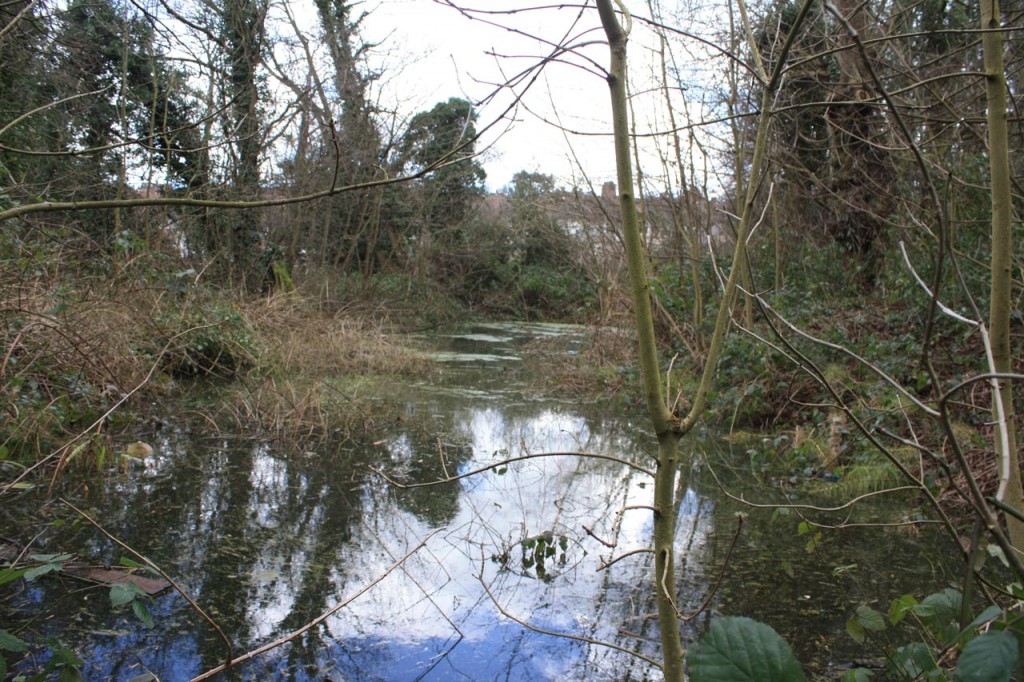 Wide Horizons  have been making progress on their project to turn the 5-acre woodland site on Constitution Rise into an outdoor learning centre. Their Director of Operations Hamish Cherrett recently e-mailed local residents with an update:
 Since my last communication we have been working hard on various fundraising bids to secure essential funding to improve the access and ensure basic amenities such as water supply and toilets are installed along with works including remediation of the ponds at the north of the site.
We have also been talking with some local primary schools about long term partnerships to assist with regeneration and conservation work as well as using the site as an education base, any partnerships are still to be confirmed however we hope that classes from at least two schools will start to use the site regularly from October. Over the coming weeks we will have groups of young people undertaking conservation and ground clearance work so you will likely see activity around the entrance at various times. All activities will be structured and are being led by Wide Horizons tutors, any activity will take place between 10am-4pm.
Wide Horizons are planning to hold an open evening at their centre in Eltham where they will present their proposals for the woods over the  next 2 years. They also hope to have the Head Teacher of at least one of their partner schools present to share their thoughts about the woods project. The date for the open evening hasn't been announced yet.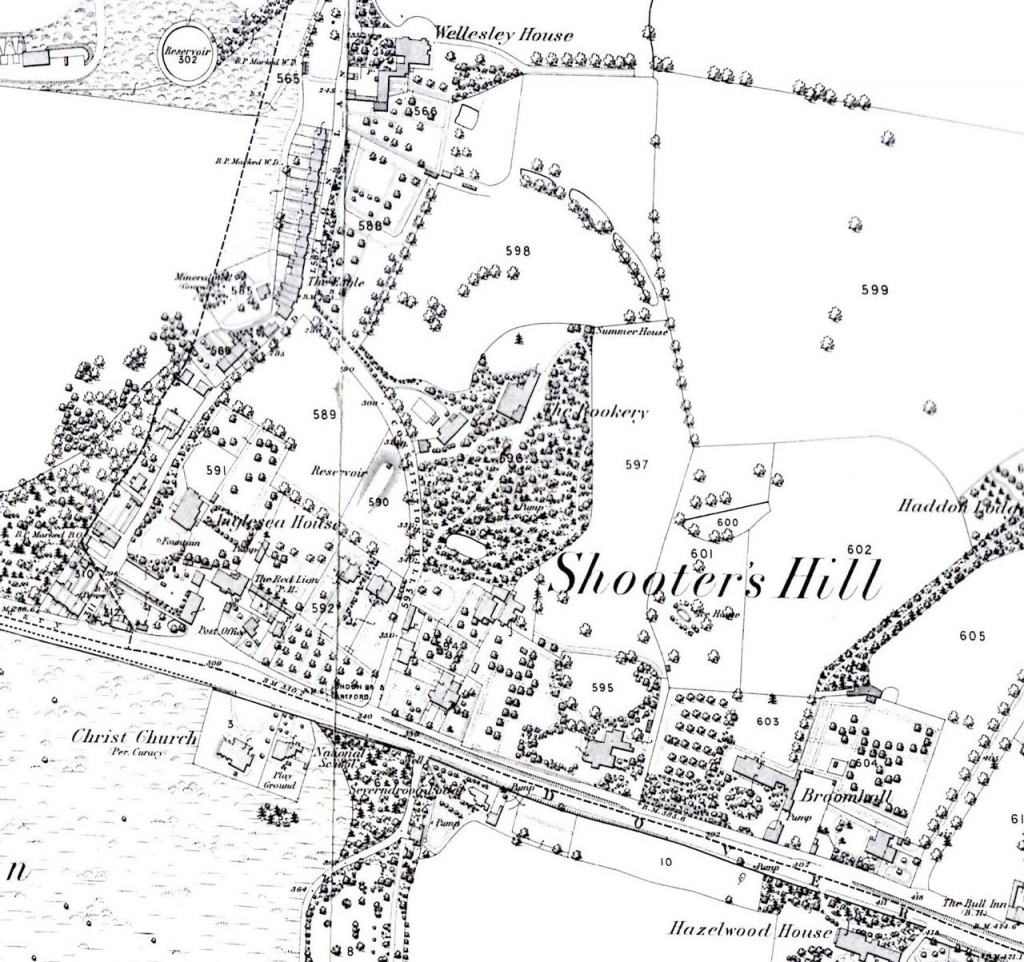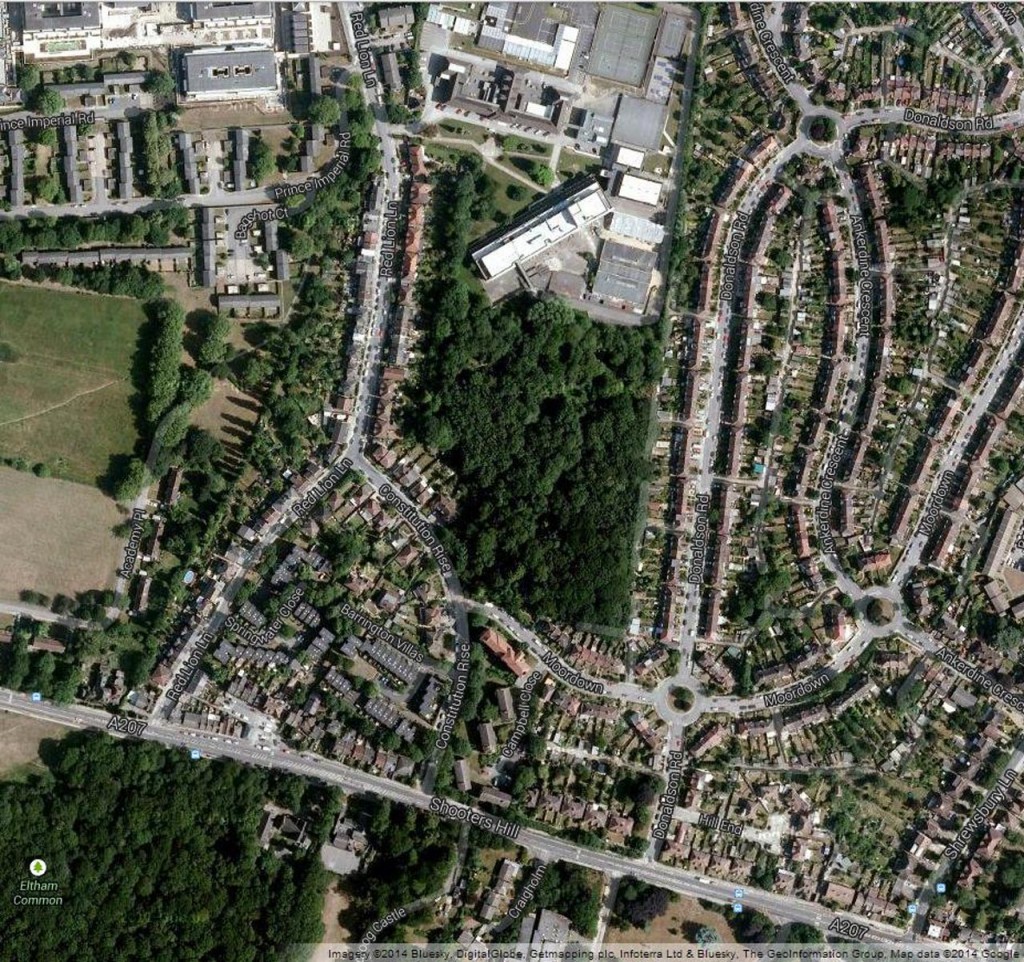 As can be seen on the snippet above from Alan Godfrey's 1866 OS map, above, the woodland on Constitution Rise used to be part of the grounds of a large house called The Rookery.  According to Bagnold it was once called The Grove and in 1802 it was leased by Henry Lidgbird to a G.T. Goodenough who lived there until 1819. After that it was the summer residence of Edward Strachey, the second son of Sir Henry Strachey, and his wife Julia. They called the property Goodenough House, and it was referred to as such by the philosopher and historian Thomas Carlyle who visited the Stracheys in Shooters Hill a number of times. Carlyle, in his Reminiscences, described the house and its gardens as follows
They lived in Fitzroy Square, a fine-enough house, and had a very pleasant country establishment at Shooter's Hill ; where, in summer time, they were all commonly to be found. I have seldom seen a pleasanter place ; a panorama of green, flowery, clear, and decorated country all round ; an umbrageous little park, with roses, gardens ; a modestly excellent house ; from the drawing-room window a continual view of ships, multiform and multitudinous, sailing up or down the river (about a mile off) ; smoky London as background ; the clear sky overhead ; and within doors honesty, good sense, and smiling seriousness the rule, and not the exception.
Edward Strachey was an employee of the East India Company and worked in India for many years in various posts culminating in his appointment as a judge of the provincial court of appeal at Dacca. On his return to London he held a post at East India House where his colleagues included James Mill, his son John Stuart Mill and Thomas Love Peacock. The Stracheys were also well acquainted with Edward Irving. Edward Strachey died at Shooter's Hill on 3 January 1832 and his wife on 20 November 1847.
The house was occupied, again according to Bagnold, between 1845 and 1847 by Henry Alwin Soames, and its name had changed back to The Grove. It appears on the 1866 OS map as The Rookery, and has that name in a local directory of 1874. There were a number of other occupants, mainly military men, until it was demolished to make way for the Wimpey Estate around the time that Bagnold was writing in 1936-38.
I doubt that anything remains of the house, and its gardens, while still umbrageous (perhaps too umbrageous), are very overgrown. It'll be interesting to hear more about what Wide Horizons plan for the future of the Rookery's gardens.