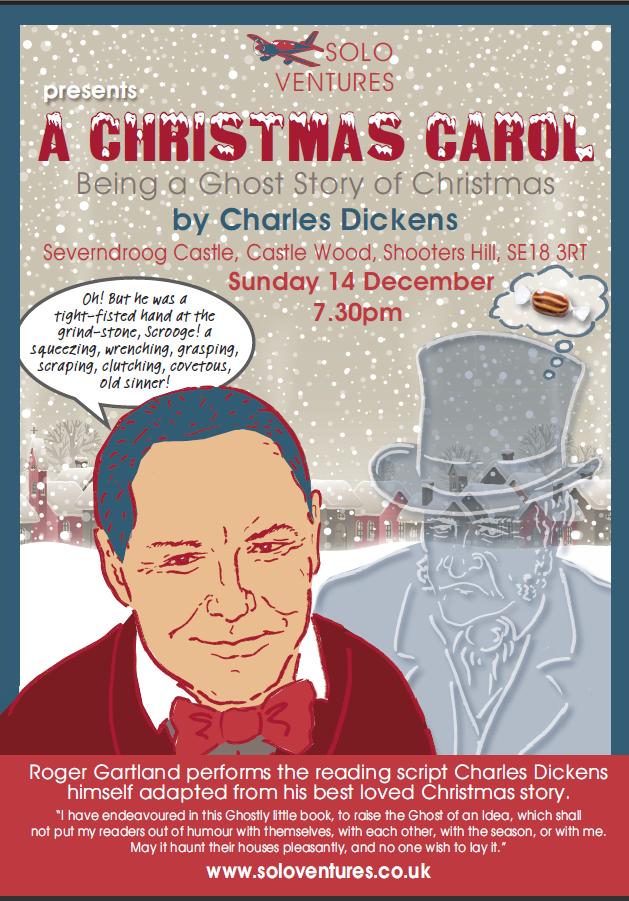 The Lady James Room at Severndroog Castle is the venue on Sunday 14th December for a performance of Charles Dickens' "A Christmas Carol" using the reading script that Dickens himself adapted from his book and followed for his own public readings. Dickens gave the first public reading in December 1853 and read it 127 times up to the time of his death in 1870 with  audiences of up to 3,700 people.
Dr. Barry Gray from the Severndroog Castle Building Preservation Trust wrote with details:
The Severndroog Castle Building Preservation Trust have arranged to have a fundraising reading of Charles Dickens' "A Christmas Carol" for one night only, at Severndroog Castle, on the evening of Sunday 14th December 2014. Seats are strictly limited by the constraints of the castle size, and early booking is advisable. The reading is by Roger Gartland, formerly of the National Theatre company, who has performed this traditional Christmas work for a number of years, to sell-out houses in a variety of venues.
The tickets are £12 each and include a mulled wine/soft drink and mince pies during the interval. Tickets can be brought for cash at the castle during opening times on Thursday, Friday and Sunday, or online from http://www.eventbrite.co.uk/e/a-christmas-carol-a-ghost-story-by-charles-dickens-tickets-14748817109 There is a small booking charge when booking online. Show lasts approx. two hours, including 15 min interval. Probably not suitable for children under 10 years.
Roger Gartland trained in repertory and was a National Theatre player for seven years. He was a co-founder of, and toured with,  the touring theatre company "Not The National Theatre". He has appeared at the Globe Theatre and in the West End, and his work also  includes film, radio, voice-overs and TV.
What a very Christmassy thing to do – a performance of A Christmas Carol in a gothic folly in the woods accompanied by mulled wine and mince pies.