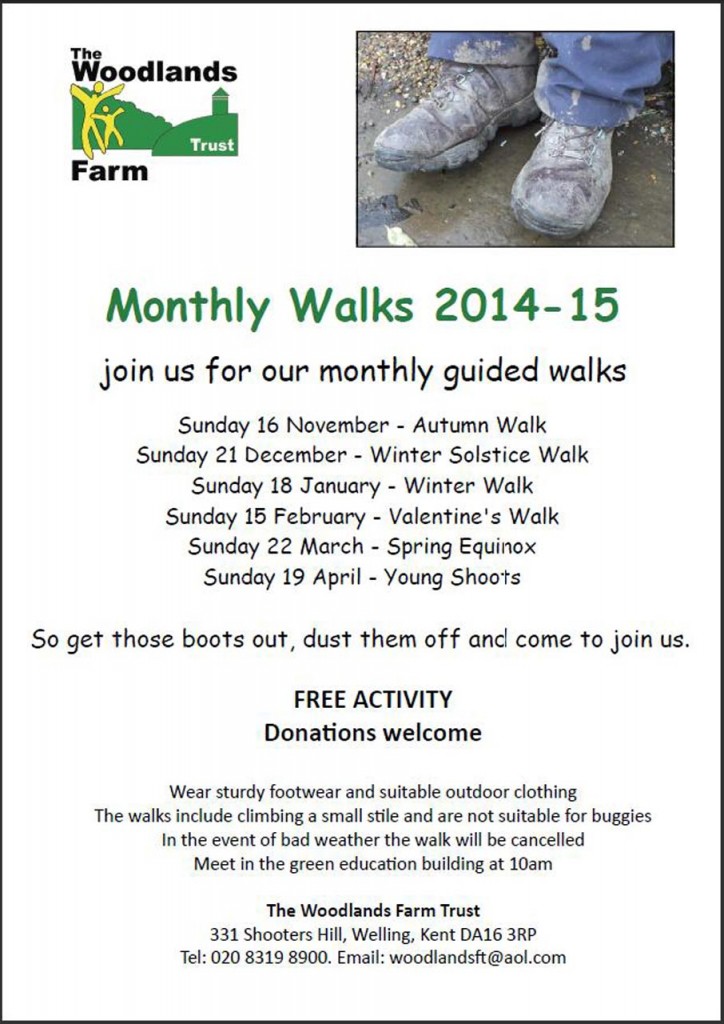 If you'd like to escape from the pre-Christmas hectivity and get some fresh air and exercise, then head for Woodlands Farm at 10.00am on Sunday for a walk around the parts of the 89 acre farm that visitors don't usually get to see. This is one of a series of monthly guided walks at Woodlands: Hannah, the Farm's Education Officer e-mailed details:
Monthly walks at Woodlands Farm
Most people who visit Woodlands Farm don't get much further than our farmyard, however there are a further 85 acres of wonderful London countryside, wood, hedges and meadows, to explore.
So join us for our monthly guided walks around the farm in all seasons and all weathers. Our walks will highlight seasonal farm activities such as hedging, lambing, the history of the farm and how it works.
Meet at the Green Education building at 10 am. The walk will take about two hours. Please wear stout footwear and appropriate clothing for a winter walk. As we will be going through the fields we regret that the walk is not suitable for buggies or those with restricted mobility.  In the event of bad weather the walks will be cancelled.  The walks are free, but we appreciate any donations.  Although you do not need to book if you would like to let us know you will be attending or have any questions please call 020 8319 8900.
Sunday's, 16 November – Autumn Walk
Sunday 21 December – Winter Solstice Walk,   On our solstice walk there will be a seasonal hot drink at the end.
Sunday 18 January – Winter Walk,
Sunday 15 February – Valentine's Walk;
Sunday 22 March – Spring Equinox and spot the first lambs;
Sunday 19 April – Young Shoots
So get those boots out, dust them off and come to join us.
Woodlands Farm is located on the borders of the London boroughs of Bexley and Greenwich.  At 89 acres, it is the largest city farm in the UK.  Our priorities are education and conservation, and we are part of the Natural England Higher Level Stewardship Scheme.  Our education programme attracts visitors from pre-school to third-age groups.  The Trust aims to involve local community groups, schools, volunteers and businesses in farming and conservation, helping to bridge the current town-country divide.
We are open 9.30am-4.30pm, Tuesday-Sunday (except Christmas Day).  There is no entry charge except for special events, though donations are always welcome.
And as an extra bonus on Sunday the walk will finish with a glass of mulled wine.