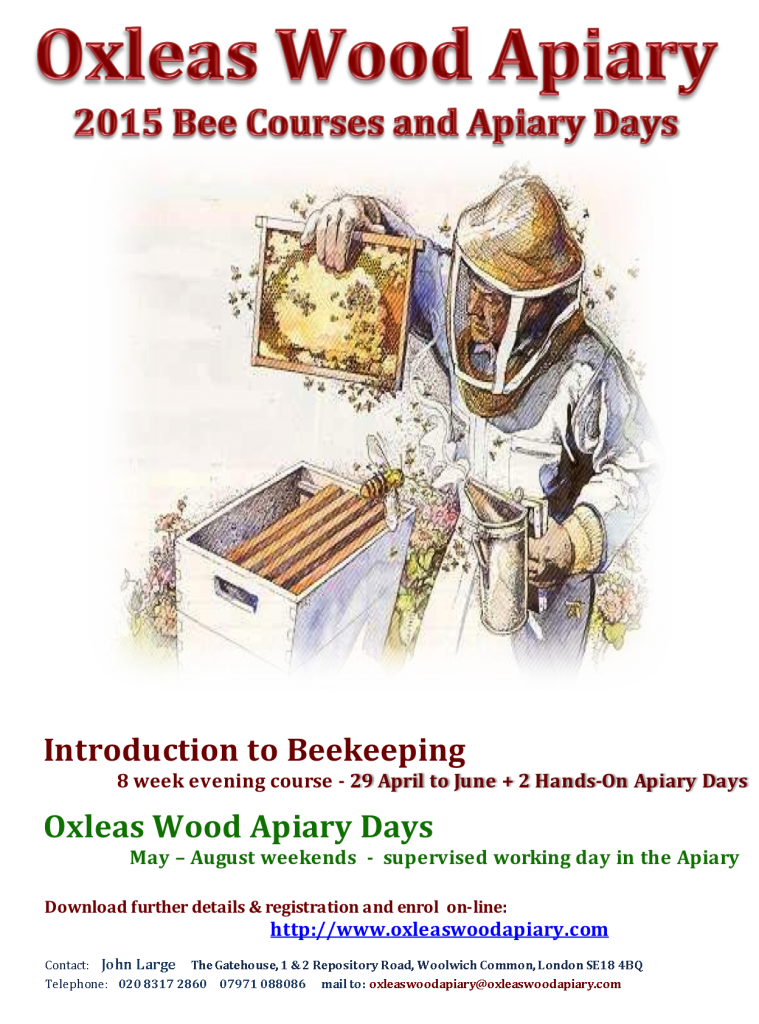 Good news for bee keepers, and honey lovers. A new apiary, the Oxleas Wood Apiary, has been established in the Royal Greenwich Parks & Open Spaces Depot, Crown Woods Lane, and they are running an Introduction to Beekeeping course and apiary days through 2015. The 8-week course starts on 29th April, and  the evening classroom sessions will be held in the nearby Oxleas Cafe.
John Large, who set up the apiary wrote to let me know about his new venture and the course:
Details of the course are available on the 

Oxleas Wood Apiary

website under the tab 

2015 Beekeeping Season

and registration is available via the

online enrolment form

.  The 2015 Introduction to Beekeeping course commences on 29 April and the Apiary Days are bookable throughout the beekeeping season (May through to September).

For enquiries about the wonderful world of the honey bee I can contacted direct at oxleaswoodapiary@oxleaswoodapiary.com and/or johnlarge@oxleaswoodapiary.com.
John praised the generosity of the Greenwich Parks and Open Spaces Department who "virtually jumped at the opportunity to provide the present Crown Lane Depot site for the Apiary." The apiary's aims are to be self-sufficient, and also to promote knowledge of bees (and other pollinators) and beekeeping in the Borough.
The apiary at Woodllands Farm will also continue with, I understand, support from Sidcup Beekeepers. So that's twice as much honey coming from the wild flowers of  Shooters Hill.