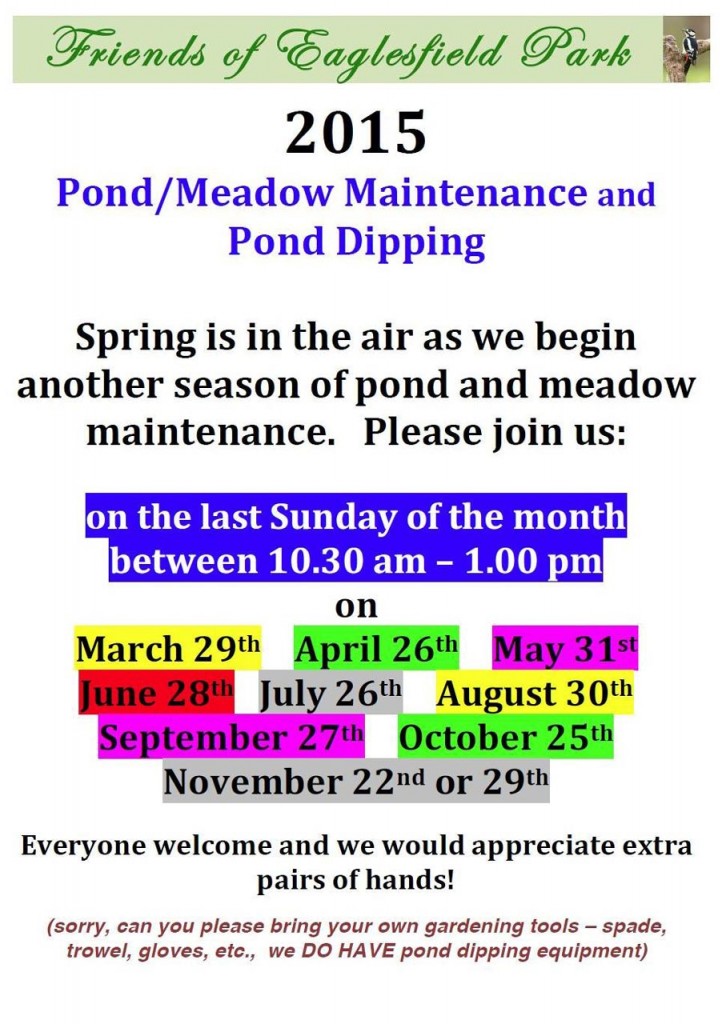 The colourful display of crocuses in Eaglesfield Park tells us that spring has arrived, and the Friends of the park are planning their monthly pond maintenance and pond dipping sessions for the year ahead. Madeleine wrote:
We are continuing with our "last Sunday of the month" pond and meadow maintenance, beginning 29th March. Attached is a poster we will be displaying on the Eaglesfield Park noticeboard and I wondered if you could use it. (I admit it is a bit colourful !). We really do need more folk to help us and to become involved with the park We would like to hear the views and comments of park visitors.
The Friends will be meeting at the park between 10.30am and 1.00pm on the last Sunday of the month from March to November. At the first meeting of the year they will be probably be thinning out unwanted plants such as docks, stinging nettles and brambles, cutting back shrubs,  thinning out the pond margins and litter picking, and there will be an opportunity to do some pond dipping. There has already been frog action in the pond. After the March meeting they will be getting together, weather permitting,  on 26th April, 31st May, 28th June, 26th July, 30th August, 27th September, 25th October and 22nd or 29th November.
The Friends now have a very comprehensive, regularly updated blog, eaglesfieldpark.org which is well worth a visit – there are lots of interesting topics, photos and videos. They have also changed their email address to: foepshootershill@aol.co.uk.