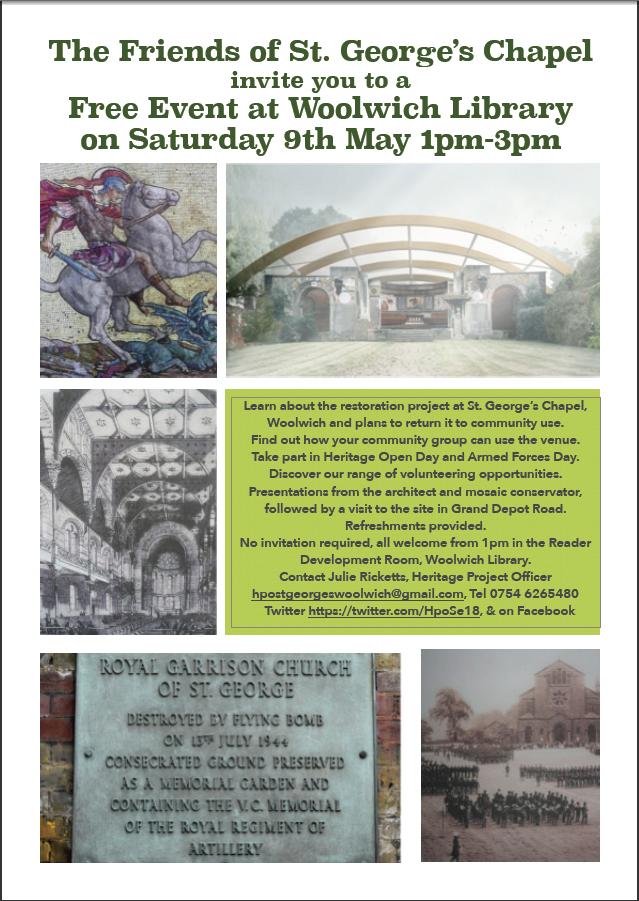 If you have been past the grade II listed St George's Garrison Church recently, you'll have noticed that the restoration work is well under way, with the substantial wooden beams that will hold the new tensile fabric roof all in place. The restoration of the marvellous mosaics has also started. Pictures of the restoration have been published on the chapel's new twitter feed @HpoSe18
There's a rare chance at 1.00pm this Saturday, 9th May,  at Woolwich Library to learn more about the restoration and visit the chapel. Julie Ricketts, the Heritage Project Officer for the restoration, sent details:
Learn about the restoration project at St. George's Chapel, Woolwich and plans to return it to community use. Find out how your community group can use the venue. Take part in Heritage Open Day and Armed Forces Day. Discover our range of volunteering opportunities.
Presentations from the architect and mosaic conservator, followed by a visit to the site in Grand Depot Road. Refreshments provided.
No invitation required, all welcome from 1pm in the Reader Development Room, Woolwich Library. Contact Julie Ricketts, Heritage Project Officer, e-mail hpostgeorgeswoolwich@gmail.com, Tel 0754 6265480 Twitter https://twitter.com/HpoSe18, & on Facebook
I understand that the plan is to set up a friends group for the chapel and make it available to community groups. Should be an interesting afternoon, I'm really looking forward to learning more about the restoration of the mosaics.