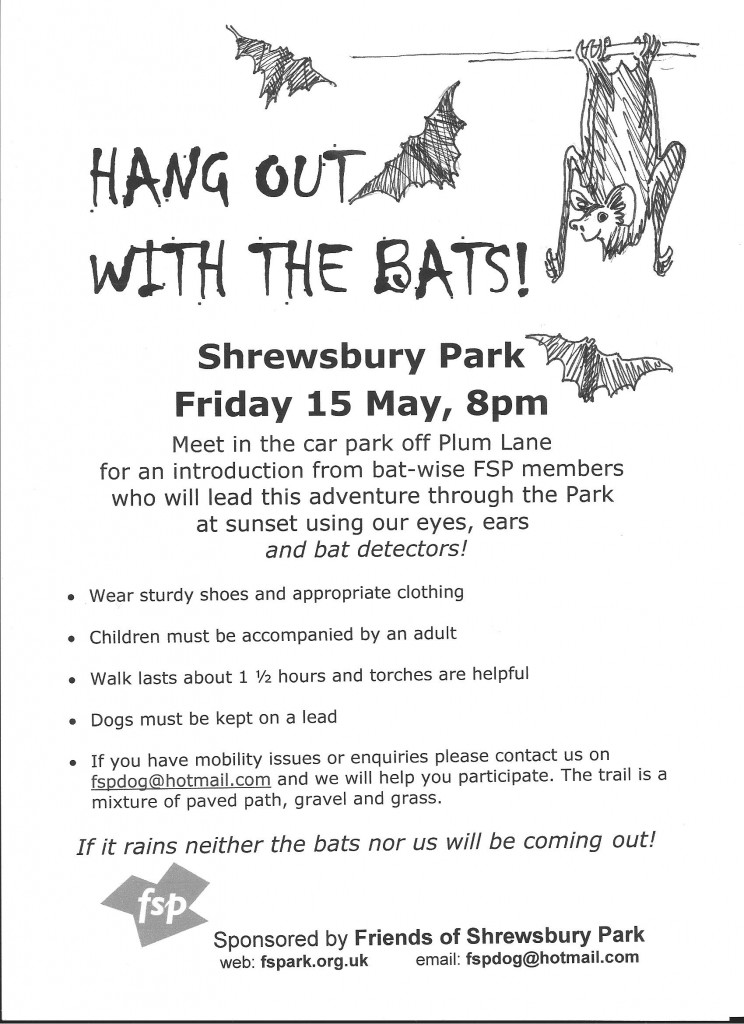 The Friends of Shrewsbury Park's bat walks have become so popular that this year they will be holding two. The first will be held next Friday, 15th May, and the second later in the year on 11th September. An e-mail from the Friends gave the details:
Hang out with the bats
Shrewsbury Park 15th May 2015
Meet in the car park off Plum Lane at 8.00pm for an introduction from bat-wise FSP members who will lead this adventure through the park at sunset using our eyes, ears and bat detectors!
– Wear sturdy shoes and appropriate clothing
– Children must be accompanied by an adult
– Walk lasts about 1 ½ hours and torches are helpful
– Dogs must be kept on a lead
– If you have mobility issues, please contact us on fspdog@hotmail.com and we will help you to participate.  The trail is a mixture of paved path, gravel and grass.
If it rains, neither the bats nor us will be coming out!!
The Friends will be borrowing bat detectors for the evening from the local parks forum,  the Bat Conservation Trust and London Bat Group.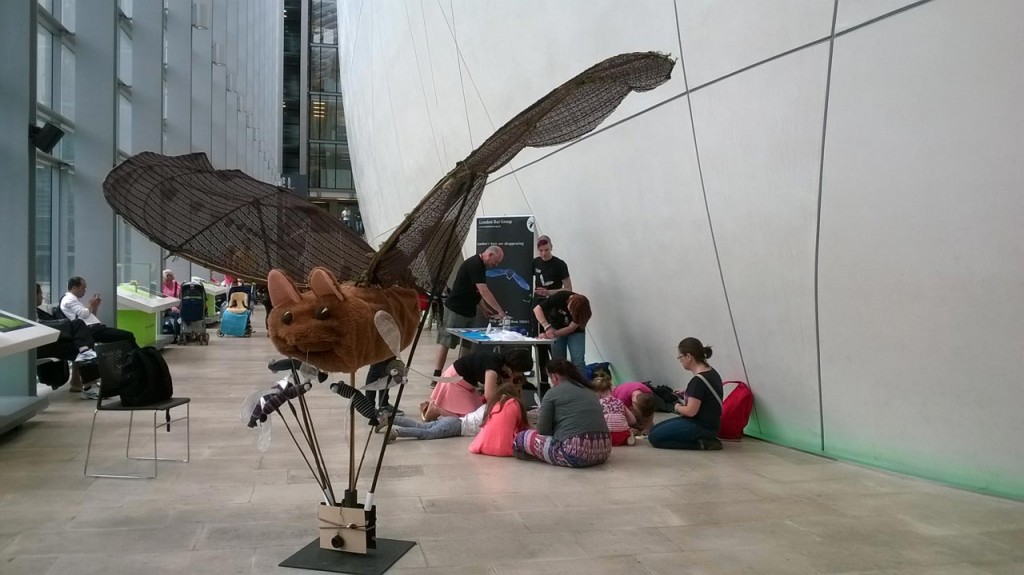 If you're interested in bats then there will be lots of other chances to see them during the summer months. You can get really close to bats at the annual Bat Fest held at the Natural History Museum. This year it will be held over the August Bank Holiday weekend, 29th and 30th August from 12-5pm. One of the many highlights is Jenny Clark and her education bats, as the BCT website says:
Sussex Bat Hospital –  One of our most popular attractions!
Learn about the work of Jenny the bat carer a.k.a. 'BatLady' who will bring her bat lodgers in for the day. These bats have been previously injured but sadly cannot be released into the wild. However, they live a comfortable life with Jenny who caters to all of their batty needs.
Jenny, who was awarded the MBE in the 2015 New Years Honours List for her services to bat conservation, brings along examples of most of the UK bat species and shows them off to visitors.
There will also be a number of other bat walks in the local area during the coming months. Woodlands Farm and Hall Place haven't published the dates for their bat walks yet, but Crossness Nature Reserve have. The Bexley Wildlife blog has the details:
Fri 14th Aug, 20:15 – 22:30
BAT WALK– A walk round Southmere Lake and Crossness Southern Marsh, south of Eastern Way, identifying bat species with the use of bat detectors. Daubenton's bats will be putting on a show over the lake, and Pipistrelle bats – and hopefully other species – will be hunting over the marshes. Feel free to bring children along. Bring a torch if you have one and you might want to wear some insect repellent. Sorry, there are no refreshments provided for this event
PLEASE BE ADVISED THAT THIS DATE MAY NEED TO BE CHANGED. PLEASE BOOK ON IF INTERESTED IN ATTENDING AND I WILL UPDATE YOU IF THERE IS A DATE CHANGE – THANK YOU
Meet 20:15 at the Southmere Lake/ Lakeside Complex car park off Belvedere Road (SE2 9AQ)

Fri 11th Sept, 19:00 – 21:00
BAT WALK– A nocturnal walk around the nature reserve north of Eastern Way after sunset, identifying bat species with the use of bat detectors. Hopefully we'll see some other nocturnal species too. Bring a torch if you have one, and you might wish to wear some insect repellent.
Book for these by contacting Karen Sutton, the Biodiversity Team Manager at Thames Water Crossness Nature Reserve by phone on 07747 643958 or Email: Karen.sutton@thameswater.co.uk.
If you can't wait to see some bats here is a video of a pipistrelle bat in the hand. Remember though, if you do find a bat you shouldn't handle it, but follow the BCT guidelines for containing it and contact the Bat Helpline on 0345 1300 228 or email enquiries@bats.org.uk.