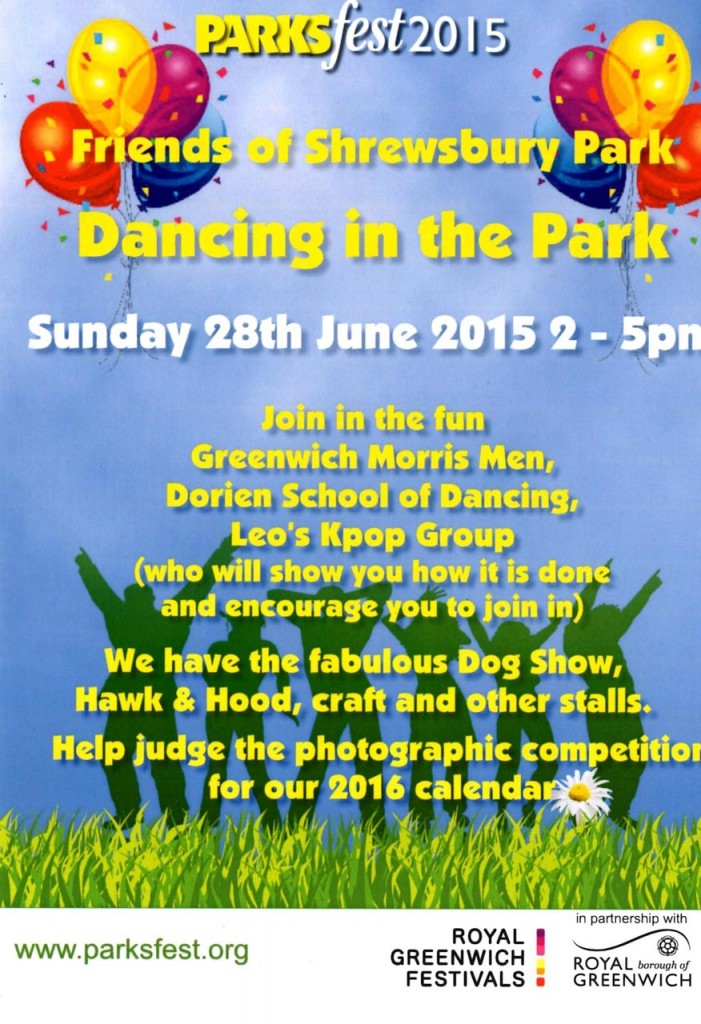 The Friends of Shrewsbury Park have excelled themselves with the number of attractions and events in year's Summer Festival, which takes place on Sunday 28th June from 2-5pm. Kathy from the Friends wrote with all the details:
We hope to see you at our Summer Festival on 28 June.  The fabulous dog show will start registration at 1.30pm, and the classes are:
*  fun agility course
*  best rescue dog
*  best child handler
*  sing with your dog
*  puppy class
*  obedience class
*  fastest dog.
It costs £2 per class, and the profits go to Friends of Shrewsbury Park (to go towards our drinking fountain).
We will have the Doriel School of Dancing at 2pm, Greenwich Morris Men at 3pm, and Leo's Kpop group at 4pm.  They will be presenting a routine, then teaching any willing participant to do a routine.
We will have the Greenwich Rock Pop Community Choir from Abbey Wood who will run a small singing workshop. They will get a bunch of passers by, give them a lyric sheet and teach them the harmonies to a song like daft punk's – Get Lucky,  Beatles – Help, Mama/Papas – california dreamin'.
Hawk and Hood will be there with their birds of prey, and Woodlands Farm Trust will bring along some of their sheep to the event.
We will also have the Dogs Trust, Flamsteed Astronomy Society, Friends of Pet Cemetery, Friends of Bostal Heath, Guide Dogs, the Police, RSPB, Severndroog Castle, Paws and Co, Riverford Home Delivery, Season, the local Councillors, Aloe Vera alternative, Robert's Walking Sticks, Shabby Chic, and Phoenix Cards.  The Friends of Shrewsbury Park will be providing a Tea and Cake stall, lots of goodies in the bric a brac, a children's play area, used books and membership stall.
It's worth going to the Shrewsbury Park Summer Festival just for the brilliant, entertaining dog show, but with all the other events and stalls too it is just unmissable.